Stuart Hultgren has contributed the following piece regarding the upcoming vote on Propositions One and Two.  These ballot measures are on the ballot on April 4th, and Stuart has been following the process closely.  Find him at the tailgate saturday for more information on what the measures mean for the city's progress.  
It has been a long journey for St. Louis, but we will finally be making major decisions on April 4th. With the mayoral race being all but over, with the nomination of Lyda Krewson as the Democratic Party's mayoral candidate, focus will shift to Proposition 1 and Proposition 2.
Proposition 1 will determine whether or not St. Louis increases its sales tax by half of a percent to expand the Metrolink to include a North-South line. Proposition 1 will also increase Metrolink security and public safety. The increase in the sales tax triggers an automatic increase in St. Louis' use tax on city businesses that conduct business outside of the city limits. Proposition 2 determines if that use tax will be used towards building an outdoor stadium with its primary tenant being a Major League Soccer (MLS) team.
MLS has long wanted a team in St. Louis. Our city's history with the sport is rich and well-documented, but St. Louis checks other boxes for MLS as well. A team in St. Louis would provide a natural rivalry for the MLS teams in Kansas City and Chicago, both of whom currently lack close geographical rivals. In addition, St. Louis still has a large corporate base and, even more importantly is the 21st largest TV market in the United States.
The overtures from MLS have been obvious for years now – primarily what has been lacking is an organized and financially viable ownership group on the St. Louis side. That all changed in January 2016; the Rams may have and left for the sunny climes of LA, but an ownership group called SC STL, associated with Saint Louis Football Club (STLFC), quickly started making their move to bring a MLS team to St. Louis.
A little over one year later, SC STL has put forth their expansion bid to MLS. An essential component to their plan is St. Louis city residents passing Propositions 1 and 2 and which would utilize $60 million of use tax funding to help build the new stadium. SC STL has pledged to invest nearly $250 million into this project. Of that figure, $95 million will be put into the stadium, which will be owned by the city of St. Louis.
As a city resident, I was torn when I saw the original stadium proposal which asked for $80 million in city funds and another $40 million in state tax credits. On one hand, I am obviously a very passionate soccer supporter; on the other, I am generally unhappy at the thought of civic regions being held hostage by sports teams. Over the last four months, the stadium bill has been dismissed, brought back, voted down, and then finally voted through the Board of Aldermen. Through the compromises of SC STL and the hardnosed demands of Ward 24 Alderman Scott Ogilvie, a better proposal was hammered out for St. Louis city.
Under the current proposal SC STL will:
Pay the equivalent of a 2.5% ticket sales tax, which will equal $12.7 million over 30 years. (This is a tax the Cardinals do not pay).

Cover all maintenance costs for upkeep of the stadium (unlike the Rams).

Invest in the city through a Community Benefits Agreement (CBA), an agreement that will set the tone for future developmental partnerships in St. Louis. This is between SC STL and various non-profit organizations in the city.

It will provide 30 annual scholarships for underprivileged youth, who otherwise would not have the opportunity.

Soccer camps conducted annually in both North City and South City.

$5 million over 20 years to youth soccer programs inside the city.

Pre-apprenticeship programs with inner city St. Louis.

Internships opportunities with SC STL to graduating St. Louis city public high school seniors.

Up to 10 jobs annually to Mission: STL graduates.

100 tickets to every home game that are available to inner city youth organizations.

Sign an ironclad 30-year lease which guarantees the team will play in that stadium for that period.

Pay any construction overages and any difference in costs if the use tax fails to reach the needed amount: this act will protect current use tax projects from having their budgets negatively affected.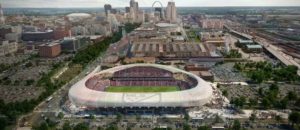 These compromises have gone a long way to making this a good deal for St. Louis. The details in stadium projects are important and the details show that this stadium is a positive investment for the city. Union laborers would provide the jobs building the stadium, and union laborers would help maintain it. The stadium will help connect Downtown West and Midtown, which have been disconnected since the '70s by the failed I-755 project. According to the Economic Impact Study, a soccer stadium with an MLS team will bring St. Louis a net revenue of $17.9 million (out of $77.9 million total) over 30 years. $48.9 million of that money is estimated to come from local sales taxes. Public safety, education, parks, streets, and other essential services draw funding from sales tax revenue. The revenue raised due to this stadium would help educate and build a safer St. Louis. The positive ROI that the stadium is estimated to bring into St. Louis makes this a project that is feasible and desirable to accomplish without county support, which will just dilute any tax revenues being returned.
Many people are curious why this stadium is needed and if a MLS team cannot just use the recently vacated Dome. Unfortunately for soccer fans, the Dome is well…a dome, and costs to bring in and maintain a grass playing surface would be prohibitive. Altering the Dome's exterior and removing the roof to allow natural grass to grow would be more expensive than building a new stadium, and would make it impossible for St. Louis city to generate money from the site year 'round like they currently do. So unless anything major happens, the Dome isn't a viable option for any St. Louis MLS team.
St. Louis is a sports city, – anyone who grew up here knows the hero worship that we throw toward Blues and Cardinals players. Outside of Jon Hamm and John Goodman, our athletes are our celebrities. They are the ones that receive hushed whispers when eat in the Central West End or shop in Clayton.
That is why, as a St. Louisan the last few years with the Rams were bittersweet. We loved our Rams, we were with them through the initial bad years, the GSOT days, and even until the wheels fell off with the Scott Linehan era.
When Stan Kroenke took over, I think a part of each of us knew the Rams days in St. Louis were numbered. Most of us who followed the team were aware of the lease clause that allowed the team to move after 20 years. For years, fans of other cities' teams criticized our support of the Rams, mocking us for our inability to sell out the Edward Jones Dome. As a city and a region, we have been dealt a solid string of losses, but the winds of change are blowing and positive momentum in the city is building.
If you are unsure or on the fence about bringing MLS to St. Louis, I implore you to attend one of the many neighborhood meetings that SC STL is holding throughout the city. You can also contact them via email or Twitter with your questions. This is an ownership group that is about as far removed from the sleeze of Stan Kroenke as possible. On April 4th, Kroenke might get his final revenge on St. Louis if the reverberations from his actions with the Rams poison the well for this necessary development.  
There will only be one shot at a MLS team. There are 11 other cities in the bidding for four expansion slots, if Proposition 1 and 2 fail to pass on April 4th, there won't be another chance. The voters of St. Louis are getting a golden opportunity presented to them and it is up to them to seize it. Please vote yes on Propositions 1 and 2 on April 4th.