Hi…… Not penned anything for awhile. My bad, been busy with normal person stuff. Not that there was much going on. The Premier League didn't play for two weeks, and didn't we hear about it?
All across England (and some in the USA) fans of Premier League teams are upset that the International break was upon us.
"International Football is stupid" cited on SBNation article. (Written by an expat too) Using lame excuses that International football is irrelevant and meaningless.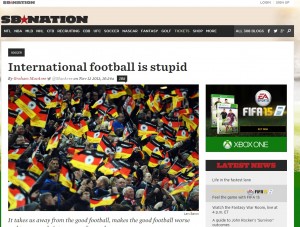 The English often wonder why, they wonder why they're hated. Why hasn't the world cup been there since 1966? Why are we not taken seriously around FIFA.
Because of this attitude.
In a league such as the Premier League, if you live in say, Manchester or Nottingham or Barrow. You can get in your car and drive to the Emirates and watch Tomas Rosicky. Or you can get the train to Manchester and watch Sergio Aguero or Edin Dzeko. On any given weekend you can chose to buy a ticket to a game to watch some of the best players in the world. Or, if you're really flush with some extra cash go to the Nou Camp to watch Lionel Messi.
How about if you're Czech, or Bosnian or Argentinian? When can you get to watch your heroes?
The 5 times a year they go home to play in front of their own people is when.
England, you don't know how good you have it. Seriously. Give me a break when it comes to Internationals. Using the excuse that only 35,000 showed up at Wembley to watch England v Norway is more down the to FA charging upward of $90 for a cheap ticket to a midweek friendly game.
Until the recent influx back into the MLS from Europe, the only time the American fan could watch the likes of Tim Howard, Clint Dempsey and Michael Bradley was when they came back for international duty. I recognized this on my first outing with AO to Kansas City. This was our cup final. It's why the atmosphere is so good.
And complaints that the European qualifying now is meaningless is nothing but arrogant nonsense. Of course it is a valid argument that Netherlands, Germany and Spain only need finish 3rd in their group to qualify for France 2016. That sounds a joke doesn't it.
However the majority of Europe isn't made us of teams like Germany and Spain and Netherlands. UEFA is predominantly made up of teams like Finland, Bulgaria, Wales, Poland and Austria. Where finishing first in the group is unattainable. But third isn't. It gives more teams more opportunity to fight for a place in the expanded Euro 2016.
Get off your soapbox. You can wait 2 weeks for your precious Chelsea and Arsenal. Allow the Czech republic to see Petr Cech and Tomas Rosicky for a change, you get to see them whenever you want.