He received the ball just inside his own half on the left. His pace was obvious, as he left his marker in his tracks running down the field, he cut inside the right back at the top of the 18 yard box and with one deft moment with his right foot curled in a low shot to the goalies left hand corner. It was that moment, against Joplin Demize that Emanuel "Manny" Forbes announced his arrival on the St Louis soccer scene.
This wasn't an isolated event either. Manny went on to be the cornerstone piece of the FC Bordo team that went 500 for their first season in the NPSL  winning 4 games and drawing 2 more. Friendly wins against the St Louis Lions and Joplin Demize were additional notable wins for this first season team.
"That was probably my favorite goal. Going down the left and shooting from there has always seemed to work for me. It was also my first goal playing semipro" he beamed proudly.
A Panamanian native raised on the coastal city of Colòn at the head of the Atlantic entrance to the canal, he played soccer with his older brother, I asked if he had any mentor or youth coaches. "No, I just loved to watch youtube and copy moves of other players, especially Ronaldinho"
Moving to the USA in 2006 to major in Business Administration at Southern Wesleyan University in South Carolina, he found himself thereafter moving to Lindenwood in Belleville IL to pursue his Masters in Human Resources. This brought him into our sights at Bordo where we became accustomed to his bursting pace and clinical finishing.
After the NPSL season, Manny and many other FC Bordo players found their way onto the Illinois Piasa / Andrenaline team, and it was here that he found his way onto the St Louis Ambush roster after shining in a preseason friendly game between the two affiliate teams.
"I like to play in space. I am ultimately an outdoor player, If I have the space I like to take players on." Forbes says when talking on how he has had to change his game to suit the indoor arena. "I had to adjust from playing as a striker to playing deeper, I am not so hot at turning players in confined areas. I prefer to face my opponent and beat them head on."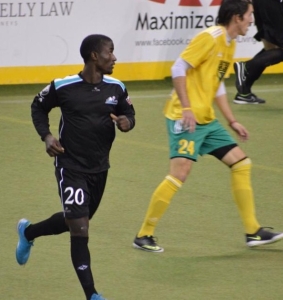 Playing at the Ambush, Forbes states that the biggest improvement has been his mental agility "Playing indoor, you have to think quicker. And that will help me in my outdoor game especially"
Being friends online with Manny for the past month or so, I can't ignore his faith and deep religion. I will leave you with his words "I believe that there is nothing man can offer me that will bring the joy that I got in my life since I came to know Christ. Soccer was a way for me to find some happiness but now there is joy in my heart whether I win or lose because God is in my life."
You can watch Manny play for the St Louis Ambush all winter at the Family Arena in St Charles. In the summer, who knows. Maybe there will be the infectious smile of the adopted local boy playing for Saint Louis FC. If passion, work ethic and love of the game are pre-requisites, look for him in a professional team near you.