This weekend the USL playoffs kick off and we have all the free time in the world.  I'm sure we'd all rather be at the park cheering on our team but it was not meant to be. We can discuss the whys and what ifs, but it really doesn't matter. We're not in the playoffs. The party won't stop just because our season did. Before I elaborate, I want to thank everyone that came out to the park this year to make it a fun season despite the results. We had a great time, watched some soccer and raised some money for charity. So whether you came to one game or all of them- THANKS. None of this would work without all the SiLLy people coming out and having fun. Hope springs eternal for 2017, but as Matt Bird has explained, "It's the hope that kills you." Onward and upward.
Speaking of 2017, work has already begun behind the scenes at Soccer Park. We know the worldwide search for a new manager has commenced. GM Jeremy Alumbaugh has started racking up frequent flyer miles and holding meetings in hotel rooms all over. He hasn't told us any names but we know he's excited by the candidates he's talking to. We also know that some of those candidates have mentioned the strong support STLFC receives- not just in the corner but all over the park. Having large crowds at the games even when the play on the field hasn't been stellar is a huge selling point. Good Luck Jeremy- the hopes of a city are on your shoulders. No Pressure.
We've got about 6 months until the games start counting again, but we're not going into hibernation. We've got some events planned and I'm sure there will be other things that pop up.  First up is the October 8th match at Soccer Park between the US U-17 team and the STLFC U-18 Academy team. Get Tickets HERE.  American Outlaws St. Louis will join us at Soccer Park that day and the corner will be a mix of USA & STLFC jerseys. In reality we support both teams so we'll be there to have fun and celebrate. We'll also be drinking beer, so everybody wins. Hopefully a few of the AO members that haven't given STLFC a try will see the fun we have and be encouraged to come back next season.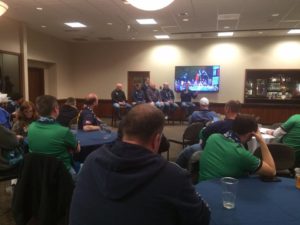 At the end of last season we had a special Town Hall podcast with the front office and coaches. We plan on doing that again but it's on hold until the new coach is announced. Whoever it ends up being will be there to answer questions and get to know the Louligans. No definitive timetable is set, but assume this will probably not happen until November at the earliest. Those that were there last year know it was a great event where fans get to ask questions directly to the powers that be. Again, we'll record and release it as a podcast episode for those that can't make it to the forum.
USL & MLS championships also tend to get some people together. If/when those things are decided, we'll let you know where we'll be. Last year the MLS final was an event hosted by STLFC and was a good time for us to get together after having been away from each other for a while.
Moving into December we'll be having our Annual Holiday Party with AO. In addition to drinks and SiLLiness we also do a toy drive. Good times for a good cause. This event usually takes place at the AO home bar the Amsterdam Tavern or our home bar iTap Soulard. Details will be announced when we have them.
January will see us hanging with AO again for our Annual Charity Match. Last year the match got flooded out with the devastation at Soccer Park. This year it will return in glorious fashion. The series is tied at 1 win a piece. This year will be for pride and as always will be a canned food drive for the STL Area Foodbank.
In March we're doing a Louligan night at a Blues game. We'll have a link which will get you into our section and a green Blues scarf. We'll try to bring our brand of SiLLy support to the Scottrade Center and see if it works for hockey.
By then we're well into preseason with players getting signed and training starting. We'll start having season ticket holder events all leading up the the St. Louligan Annual General Meeting. If you were there last year, you know we've outgrown iTap. We'll find a bigger venue so everyone can squeeze in. We'll talk about all things 2017 and our plans for league domination. The coaches and players will be on hand to talk to the fans and we'll be there to let them know just how important they are to us.
So, with all that and more coming in the off season you need to do something. You need to get your 2017 STLFC season tickets. It's more important than ever this year with the news that section 10 is becoming a reserved seating section. We'll only have 8 & 9 available to us as a GA supporter section. 2016 had section 8 completely sold out with season tickets and most of 9 too. There won't be a lot of room left over for gameday ticket sales in our section or for tourists to come over to check it out. It's gonna be full and loud and we want you to be a part of it.  Go to STLFC's website to order season tickets HERE. Ask for our friend Darien Baez to be your ticket rep and tell him you want to stand with us- he'll take care of you.
Finally, continue to follow us on social media: Facebook, Twitter, Instagram and listen to our podcast "This is SiLLy", subscribe on:  iTunes, Stitcher, Google Play or TuneIn. That's where you'll find out about everything we're doing in the off season. We'll see you out and about. Until then- Thank you for being the best fans in USL. Keep it up!
(main article photo by Mark Guthrel)