Well……. I timed my last article to be published about 20 minutes before Michael Bradley was transferred to Toronto……. so nobody read my stuff, instead we were all refreshing ESPN.com and mlssoccer.com for info on what maybe the biggest transfer in modern American soccer history.
It's hard to be objective with the Michael Bradley transfer to Toronto, You're either delighted that a truly great player is coming to ply his trade in his home league at the peak of his career or you think he's selling his dreams for the almighty dollar.
I am of the latter camp. I'm not saying it is wrong what he's doing but I am saying there are pros and cons to this and I would like to be objective with each consideration.
First of all. The big glaring elephant in the room is the $30,000,000 over 6 year deal. You find me anyone who is 26 that wouldn't jump at those figures, He's a 26 year old with a mature head and a young family. It's complete and utter financial sense for him to take this deal and he has $6 million reasons per year to tell people to kiss his ass.
Even so, you can't help but wonder, you can't help but imagine him playing in the Champions league next year, be it for Roma or for another team. Because he is that good. You don't play in a team with Daniele De Rossi and Francesco Totti if you're a chancer. Bradley is that good. He's not merely the best American player of his generation, he's one of the best players of his generation whom happens to be American.
I am confident that he would happily slot into a top 8 team in any major league. So here in lies the big question, where were they? How can they let one of the best, dynamic box to box midfielders just up and leave? More fool the likes of Everton, Manchester United, Lille, Marseilles, Lyon, Valencia, Ajax, Newcastle. He'd have gotten into any one of those teams. Although naturally they wouldn't have paid him $6million a year either. However if they'd offered him $2million and a 4 year contract to Goodison Park or wherever I think he'd have took it.
And don't think for a minute I am being blasé about him playing for Manchester United. Carrick is 32 and Fletcher can't stay off the toilet. If Anderson and Cleverley can get a game then a €8 million gamble on Michael Bradley doesn't seem much like a bad punt.
So why the price tag. why $6,000,000 a year? Who were they bidding against? I made the point that European teams only pay crazy prices and wages if there is demand for a player from rivals. So I'll ask. There has to be rival bidders that put the price up no? If not why did MLS/Toronto offer so much money? Why not just $3,000,000 a year?
I also don't know where MLS is going. What is the aims of the league. Five years ago Jozy Altidore joined Villarreal of La Liga for $10,000,000. I was told constantly by Don Garber, Alexi Lalas et al, that this was great for the league, how it proves we're producing quality players which were in demand by top clubs in Europe.
Now, what's changed? This will be lauded as a great thing for the league, but is the polar opposite. It is Don Garber saying how great it is we can attract these players to come back and ply their trade in the MLS, it's a testament to how the league is on a global scale.
To be fair, anyone whom thinks that is talking absolute horse manure. Didier Drogba and Nicolas Anelka went to China for boat loads of cash, nobody thought it was a viable realistic football destination and it didn't add any credence to the Chinese League. The rise and fall of Anzhi Makhachkala who threw money at players is not an indicator of how the Russian league is. (although the racist abuse Samuel Etoo and Chris Samba received is)
I think Bradley is a top player and good luck to him. I have objections to the league buying players and doling them out to their favorites, but that's what it is. I won't object to a player working for the mighty dollar, we all work for money. I don't really care if he is a success or not at Toronto. I think he will, but am also afraid where is his motivation to train and fight for a place in the team. With Pjanic Totti and De Rossi at Roma, he had to fight and scrap for every game he played. I also would have to imagine that training every day with those playersimproved his own game. I can't think for a minute that he'll become a better player training every day alongside Reggie Lambe and Kyle Bekker.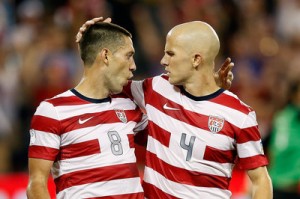 And that is what my concern is for the National Team. The precedent sadly has been set with Dempsey. 1 goal since his move to Seattle is disturbing in a world cup year. He may be a top notch player, but if his teammates can't get him the ball then it's immaterial. Same with Bradley, he can make great passes all he wants at Toronto, but if the donkeys up front of him can't finish (and I include Defoe in that category) then it's just a waste of his talent.
Thankfully, that's not going to happen because MLS is the best league in the world and next year when Seattle and Toronto compete in the MLS cup final you'll all be able to throw this rubbish drivel back in my face.
I await the I told you so's.
Matthew Bird
@matthewb76