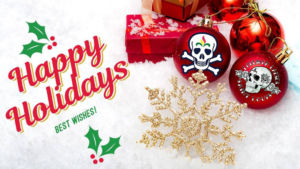 If it's the holiday season, it's time for the holiday movies!
The Ladies love them and have a get together every year to put on the PJ's, drink their hot cocoa (maybe with Bailey's in it), and watch the Hallmark/Netflix/Lifetime soon-to-be-classics.
But since 2020 continues to be a grinch, they are changing it up this year. They opened it up to not only Louligan Ladies, but Louligan Lads(?!??!) as well. The Louligan Elves will be watching the holiday movies on their own, and playing bingo while watching. So who will complete the most bingo lines?
That's where you come in! Vote by making a donation, and choosing who's stocking it goes into. It's like mouse races, only these mice win by watching more movies on the couch and the real winner is Project Backpack STL.
Project Backpack was organized to distribute backpacks to children who have been removed from their homes in situations of domestic violence, neglect, abuse, or natural disaster.
The backpacks contain age and gender appropriate items including but not limited to: toiletries, clothing, toys, books, school supplies, and other comfort items.
So who is the merriest, cheeriest, couch-potatoiest Louligan Elf? Vote now with your dollars, and help put coal in 2020's stocking.