Start time: 7:30 PM CT
Toyota Stadium at World Wide Technology Soccer Park
Gates open at 5:30pm CT for tailgate

DO NOT ARRIVE EARLY!!!!!


March into Stadium at 7:00 pm
Opponent's Record: 0-3-2
15th place
Last Results: Loss, 1-0 vs Phoenix Rising
Matt Bird, newly minted father of twins, gives us the lowdown on our opponent:
I mentioned on the podcast that I haven't watched any Los Angeles Galaxy 2 games. I mean why the fuck would I? They lost midweek to Phoenix so they have 3 losses and 2 draws so far this season. Los Dross.
Saying that, last week I said we'd win and we didn't so I am done making predictions.
These players are in an MLS system for a reason so are potentially dangerous anytime their teams starts to gel, plus you also don't know who'll be sent down from the mothership to get some minutes.
(the proud father and two of the 2038 Saint Louis FC starting lineup)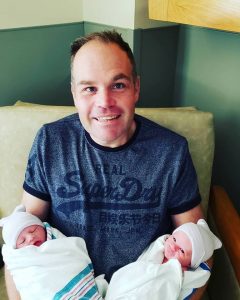 Latest This is SiLLy! Podcast: (with guest GM Jeremy Alumbaugh): https://stlouligans.com/archives/3333
Saint Louis FC sits in 10th, at 1-1-2
How to watch: ESPN+
For full information on the new broadcast partnership, click here. 
Charity Du Jour:
This week is Meals On Wheels.  This charity holds a place dear to one of our members, whose father passed away last year.  The father was active with Meals on Wheels, so continue the good outreach and throw a few bucks in the CDJ box.
Louligan Cartels:
Drums and capos: We march in 1/2 hour before kickoff. Anyone can join the march in! Drummers usually need assistance carrying in the drum stands, so if you can help out, see them as they organize prior to the march.
Tailgate: It's felt like spring the past few days, so what better way to celebrate than with burgers and hot dogs!  They'll have all the fixin's and sides to go with.  A recommended donation is $5; you can pay them cash, or pay at the merchandise stand.
Newligans: If you're new and this is your first game day, say hi! There will be several of our Newligan Cartel walking around, wearing badges showing their name on it.  Feel free to grab one of them and introduce yourself; they're wearing that badge as a way to indicate they're there to help you join the crowd.  There will be a Newligans table by the trailer in case you don't see a badged member.
You also can exchange your ticket at their table for a wristband for the march in, so we can proceed through the gate more efficiently.
Season ticket holders, you'll be able to pick up your drawstring bag and cup at the table as well.
Merchandise: We will have the 2018 Louligan scarves and the 2018 This Is Silly! Podcast scarves.  if you pre-ordered one, you'll be able to pick it up.  If you didn't and you want to get one, we will have extras for sale.  $20 per scarf, cash or credit.  There aren't many left of the podcast scarves, so get them while you can!
The red line will be the march to the game.  The march starts 30 minutes before kickoff (7:00pm).