The Louligans, while founded in 2010, didn't become charitable activists until 2014.
We'd contributed a shirt or scarf to someone looking for a raffle item, but hadn't started acting on our conscience just yet. That all changed in late 2013; Jim Shipley, GM of the St. Louis Lions, told our group we could do more with our growing profile. Jason Patrylo, who's employer had worked with the St. Louis Area Foodbank, recommended doing a food drive as they were a deserving charity who could make an impact. He and Pat Mahoney made some efforts, and the concept starting taking shape. As many of the St. Louligans are also American Outlaws, we thought it would be funny to do a "Winter Classic" against each other (ourselves?) and raise donations for the Foodbank. Jim got the Glavin complex to host the first Winter Classic on January 4th, 2014; we thought doing it in winter when families are most needy, especially after the holidays, would be a great time. Playing the first Saturday of the new year also would be a great way to kick off each year. And a tradition was born.
As expected, the level of sporting ability was at an exquisite level, and the American Outlaws won the tournament for the first of many times. The precedent was set for AO taking the game more seriously than the Louligans; John Clemens, before breaking his ankle, had a beer holster on his leg. Brad DeMunbrun played with a cigarette in one hand and a beer in the other. A great recap by two participants is found here. Playing the game in snow, the concept of suffering for glory was in full display. But at the end of the day, the event raised over 400 meals for the Foodbank, and we now had a tradition.
In 2015, with Saint Louis FC preparing for their first season in the USL, the game moved to Soccer Park. Jim Kavanaugh and Tom Strunk (President and CFO of Saint Louis FC respectively) stressed early on in the club's existence that giving back to the community is a core tenet of it's operations. (This will come back many times!). This time, led by Mario Camere, the Louligans took home the prized trophy and we bested the previous year's figure. We more than tripled the first total, raising 1486 worth of meals donated. And every year, the event does spectacular numbers. We also raised $1000 for the Komen foundation during this year.
But 2015 saw our charitable efforts begin to morph into what we are today. Saint Louis FC GM Jeremy Alumbaugh was on the podcast, and let it slip that the first game in Louisville, the host team was not very generous in the post-game match, having only a few room-temperature pizzas for the team. As we do, we took the joking around farther than appropriate, and railed on Louisville. A few of the Louisville Coopers started a GoFundMe page to bring food to a Louligan tailgate since we were complaining so much. Instead of letting it devolve into ugliness, Brad and the Coopers decided to turn it into a competition to raise funds for each team's local food bank.
We rarely bested them on the field over the history of the two teams, but in this case, we ran them off the pitch. Over $18,000 was raised by the two groups; $13,000 was on the St. Louis side! We were boosted by a gracious gift of $5000 by Jim and Tom to get us over the Coopers. But even with that aside, $8000 was incredibly generous from our members and friends. This #Pizzagate has turned into a yearly charity effort; when we play Louisville, the receiving charity is always St. Louis Area Foodbank.
A roadtrip to Oklahoma City gave us a chance to meet the Grid, the Energy's supporters group. They had a special situation at their tailgate where they were collecting donations for a member's charity. On the bus ride home, several of us realized, hey, we could do that at every game and raise money for charities close to the Louligans. And it started with just a little donations container, named "Charity Du Jour". Yes, Charity of the Day. We are classy like fine French dining. We had been collecting extra tickets at the merchandise table, and getting them into hands of new people to the team/group. But now at this point, we were having more tickets than new people. So Brad came up with the idea that we would "sell" these extra tickets for a charity donation. Give what you can for a ticket; this way the ticket gets used and a charity gets a nice little bonus. Fans who maybe couldn't afford season tickets or even door prices could get a ticket a bit cheaper, and everyone wins. We added stickers, buttons, and other trinkets that the entire purchase price went to the charities. That first year, 2016, saw us raise $10,271 for local charities. A nice start.
2017 saw a Winter Classic played in single-digit weather. We fell short of the previous year at 1211 meals raised, but we did see some other initiatives take place. Kids were added to the rosters, and Urban Chestnut provided cases of "Adult Sports Drinks". After a few AO players took it way too seriously, we introduced "Multiball" during the last few minutes, sowing chaos and silliness. We even talked Tom Strunk into taking a shift or two on the field. This was great for the membership, because it showed how partnered with the Louligans the STLFC front office is.
In that spirit, Tom and Jim promised a $10,000 donation to be split between our charities for 2017. And we were off and running. We had to best that $10,000. More items, and the raffles started this season. They become legendary soon enough. And we did best that donation; we raised $11,144, for a yearly total of $21,144 for our Charity Du Jour. It was a difficult year on the pitch, and the crowds dwindled, but we stood tall and kept doing our thing.
2018 saw a difficult start to the CDJ efforts. Due to flooding, Soccer Park was under water. No Winter Classic was held. The food drive was going to be smaller as a result, but we held it at a STLFC sponsor location, opened up a monetary way to donate online, and set a new record with 6345 meals raised. And then we learned about Wil Ohler.
Wil was a Lindbergh High School soccer player who was battling cancer. At the children's cancer ward, he realized there weren't many things for older kids to do. So he made the best of his time, and decided to start a soccer ball collection to get balls to these wards. He set a goal of 100 soccer balls collected. Then we found out about it.
In hindsight, this is where we learned of the impact we can have. The Louligans started blowing out his Amazon wishlist for balls; his family had to keep adding more as we bought everything. Then we got our social media behind it. We got local media involved. We held a blood match drive. USL promoted it; ESPN mentioned it on a game broadcast. Players, both from STLFC and other teams, made donations. USL league sponsors, local leagues, and schools made donations. I personally delivered over 400 balls to their house; their garage, dining room, and family room were overrun with soccer balls. The UPS and recycling guys knew what was going on and laughed at the sheer volume of support. At last count, Wil was over 1300 balls donated, and it was still going.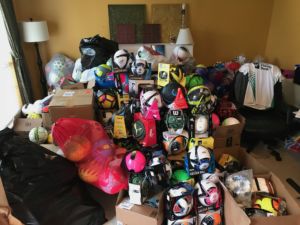 Saint Louis FC made the playoffs for the first time in 2018. We rode the coattails of the team's success, and CDJ took off. In 2018, we crossed the $30,000 mark, $9000 more than the previous season. Our CDJ total was now north of $75,000, and the foundation we'd set was a machine that had no where to go but up.
In 2019, CDJ truly became a juggernaut. First off, our friends at Schlafly, Wil and Lo, who'd already treated the Louligans so well, wanted to help out with the partnership and the charity. We received several pallets worth of Schlafly merchandise, from glasses and keychains to coolers and patio umbrellas. They became such an integral part of the charity raffles that they were jokingly nicknamed "Schlaffles" by Joe Chambers, and the name stuck. Secondly, after leaving her job with the team, Nancy Carver and her husband Patrick took over the Schlaffle organizing, taking it to a massive level. Every game had several top notch items to win, with Nancy flexing her contacts with the players and adding team signed merchandise and game used equipment. Nancy acquired so much stuff that some games had several packages that could be won, and the donations soared.
The Winter Classic broke the record again, raising 6892 meals for the Foodbank. Tom and Jim again did a match, up to $20,000 this time. Sugarfire44 BBQ did a few Dine to Donate evenings, where a proceeds of the Louligan sandwich went to charity. Schlafly and Wild Sun Brewing kicked in kegs, so people could have liquid encouragement to donate more. Claude and Michele Karraker organized a "Louligan Yard Sale", where we cleaned our closets out of old jerseys and the proceeds went to charity.
The Louligan Ladies established themselves as a charitable force as well in 2019. They had a tradition of watching the Hallmark Christmas Movies together; they made the event a fundraiser this time. A competition between the Ladies to see who could raise the most, Sarah Robertson won and the Ladies raised $4300!
We ended 2019 with $41,192 raised for charities. 2020, with a new coach, and a team motivated to forget about the collapse at the end of 2019, was going to be amazing!
2020.
Yeah.
We had big plans. Tenth year of the Louligans. Team was looking great. Tons of new Schalffle stuff, including experiences that could be won. And then COVID hit.
Another magnificent Winter Classic, blowing away the record as usual…10,772 meals raised.
Our friends at West Community Credit Union stepped up, and donated $100 per STLFC goal this season, bringing their total donation to $2400. We'd like to think that the shortened season really kept that number low the way this team played. We had the season kickoff against The Miami FC at home, and then…the world stopped.
The shutdown was devastating to the community. We saw people lose jobs, lose family members, lose resources. The USL did a Rocket League eCup and streamed it; Keith Mayfield represented STLFC well, dominating the group stage and getting to the quarterfinals. Keith's efforts raised $3300 for CDJ, and that just shows how we came through even during the pandemic. Once we could have limited attendance at games, we modified CDJ to be both virtual and in person, and the group did not disappoint.
Then St. Louis County shut it all down. No fans.
The virtual CDJ/Schlaffles were explosive though. The team offered the This Is SiLLy! podcast crew to livecast at games, and this spurned donations like crazy. People started "betting" on results, goal scorers, one-upping each other, and the numbers grew to amounts we'd never seen. We set a single-game record in the last regular season game, raising over $8500 for St. Louis Crisis Nursery. Getting two playoffs games in our last season was bonus for the CDJ effort; with the matching, virtual CDJ's, and partner donations, we set a new record.
$66,003
Then, just to top it all off we had our largest Schlaffle prize ever. Saint Louis FC donated a 4 seat bank of their actual bench used on gameday. We added another $10k for charity with that.
All totaled, we raised $201,954 for charity in the STLFC era. If STLFC had to end, at least we did it with a bang.
So what does the future hold? How will we do this with no team to support regularly until 2023, when Saint Louis City SC starts play in MLS?
Stay tuned…