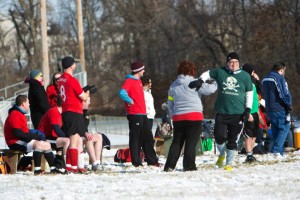 It's been a while since we played our charity match to collect food for the St. Louis Foodbank.  I wanted to share two accounts of the day. One by Andi Gebhart and one by Rocko. I'll let you decide which is which. (I don't think it will be hard to guess.)  Thanks to everyone that participated and we look forward to doing it again.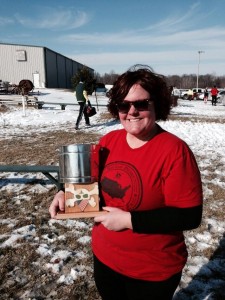 What could go wrong when you bring the St. Louligans and AOSTL together for a charity soccer match? Typically, A LOT, especially if canes are involved, but thankfully at the end of the day, despite a few broken bones, no one died and everyone had a great time. AOSTL may have won the game but the ultimate winner was the St. Louis Foodbank who collected enough food for 400 meals from our little groups. That is amazing! . Here are a few observations I took away from the game and day itself.
1)AOSTL will need to drink more next time to be able to make things a little more fair. We will do our best to rectify this for the next game.
2)The epitome of athleticism is a man who can drink beer, smoke and play soccer at the same time…fair play Brad!
3)Never leave a beloved trophy out at any Louligan event. I'm sure it is being used as a waste basket or worse at this point. (A case of beer still stands for its safe return)
4)What an awesome group of friends I have and it is all because of the beautiful game. We are all brother and sisters in arms (if not slightly dysfunctional at times). I wouldn't trade the friendships I've gained through soccer for any in the world. We may all be a tad nutty but really I wouldn't have it any other way. That's the stone cold truth…because I say so!
It was a great event with great people for a great cause! Cheers to all of us in 2014!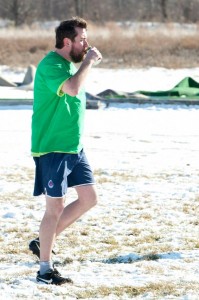 It's hard to feel cold when you're surrounded by so much warmth…
What a great time we all had this past Saturday at the Glavin complex. Out in the snow in short sleeves and even shorter shorts, (I think I've owned those shorts longer than Kenny's been a disappointment) meandering around and exhibiting the thimble full of natural athletic skill I was gifted, I couldn't think of anything I'd rather be doing.
I had expected to be somewhat disappointed with the turnout, what with there being several inches of snow on the ground but when I pulled in to the parking lot, blasting some Motorhead and finishing a SODA (edited for legal reasons), I was surprised to see that most of the parking spots near the main building were already full. Full parking spots translated in to a full SUV worth of food for the STL Food Bank, which I'm told provided over 400 meals to hungry folks in the area. Putting it another way that's keeping a down on their luck family of four fed and nourished for an entire month, not bad for a bunch of lushes running around in the snow.
Match preparations were rigorous and carefully executed, after regaining the feeling in my feet I knocked back a few VITAMINS (edited for legal reasons) rubbed about half a tub of Vick's Vapo-Rub on the front of my shirt and got down to business. Within 90 seconds of kick off I determined that there were approximately 5 people who were even remotely in shape and all of them were playing for the American Outlaws instead of the Louligans. What they didn't realize is that I had a secret plan already in the works…
After complaining loudly about the horrible jock-jams and slamming a couple more beers I decided I needed to be substituted in order to cough up some blood/stomach lining/lung and let someone that didn't have consumption play for a while. I believe some goals were scored at some point although I was more concerned with how many beers I had left and far less concerned about the score.
Right after I subbed back in the American Outlaws had a corner which I believe they scored from. I'm adamant that if everyone had followed my defensive lead (pick up an opposition player and carry them out of bounds) we could have defended more effectively.
It was around this point in the game that I decided I needed to get properly drunk in order to play to my full potential so I slammed a few beers and had some fireball, then I took a beer back out on to the pitch with me (shoving some in to the snow by our goal of course), sort of like Popeye carries a can of spinach in his front shirt pocket. It was around this time that the redrunkening really kicked in from the night before. It was shortly after the redrunkening that I picked up my Singapore Cane and charged one of the AO players, I made sure to pick a guy I didn't know very well as a sort of introduction/shock and awe campaign. This tactic worked extremely well as he froze up and made no attempt to play the ball, instead defending his head and neck area from cane strikes.
Some time after this we realized Exit 6 was opening soon and decided that spending any more time doing anything even approximating physical activity would just detract from getting drunk. Andi Gebhart was presented with a glorious trophy celebrating AO's victory in our first inter-club match and we all took some photographs that I vaguely remember. At this point I noticed John was on crutches but it turns out he had no painkillers so I cut the conversation short and went and found my beer.
From the Glavin complex we adjourned to Exit 6 Brewery – 5055 Highway N, St Charles (636) 244-4343 It comes Rocko approved! – and continued drinking. They have some fine beers on tap including the now famous 'F-Word', well worth a try, amongst dozens of others. It was at Exit 6 that the aforementioned Andi Gebhart in an all too familiar act of disdain for the feelings of others lost (or more than likely simply threw away) the beautiful trophy that she had been presented as the captain of the winning team.
Placed in a state of mental duress by her behavior as well as a state of drunkenness bought about by the art of PWICB I decided it was time for me to head back across the bridge before my natural fear of suspended roadways was rekindled.
All in all a fantastic time was had by all, we achieved our goal of helping the food bank, everyone got good and drunk and Greg only took his shirt off for 15 minutes.