Ours was pretty great no?
I'd say it was probably the best week for soccer in St. Louis in at least a decade, probably longer. Since the heyday of the Steamers and Ambush. The first 2 Saint Louis games and a US national team game in our own back yard. Not too shabby I'd say.
The game in Louisville for me was a bit of a washout, I was in Buffalo NY on a family visit that I had committed too long before the schedule was out. I knew it was going to be an away game, I just never expected it to be that away game, not straight off the bat. I made the most of it though. I was as nervous as anyone. I looked longingly at the photographs and video on Facebook. I should have been there but ultimately made the best of what I had. What I had was a chromecast and a widescreen TV. All in all, and I know first game teething troubles aside the stream worked well and I saw in all it's glory how we froze on the big day. Our players, without being too critical didn't play upto what we know they can. I spoke to Tom Rogers afterwards. He put it in some perspective that half our team has never played in front of 60 people before, let alone 6000. It's a fair point in what must have seemed a pretty hostile environment for a first competitive game. He also added that for him, his job next week would be insurmountably easier if we weren't 0-2 going into the home opener. More on that later!
Louligans however. Ever so proud. Due to the camera angle I couldn't see the away fans on the screen. I could certainly hear you though. Non stop….. All game….. The only thing the announcer got right all day, was to give you credit for bringing the fun.
The result didn't go our way. C'est la vie. Louisville are a good team, no doubt about it. The announcers best get used to saying "Long ball up to Fondy…….." though.
Monday
On a personal level was pretty epic. I received the press release from US Soccer that the flight was landing at Lambert at 6:30pm. I was there early. Big crowd of Scott Gallagher girls were there early too. To them it was their heroes in front of their very eyes. They dressed up and had signs in red white and blue welcoming the players here. It was fantastic. US soccer really did a great job of managing it. They only brought out 2 players at a time to meet the girls so there wouldn't be a mass scrum of people trying to get different autographs and selfies. However, that said, it left the others in the squad hiding behind an arrivals board. And with that I went and asked Alex and Sydney to do their bit to help spread the word of Louliganess…… When I showed Brad the picture, his reply was "Holy shit, kiss her for me."
What was great to see was their interactions with the kids. Tobin Heath, here and now is my favorite player for the USWNT, just for the way she was with Derek Gottman's little girl. I am so glad Kadyn got to see her heros. She was sick when there were due to go watch them play in KC. I hope this more than made up for it.
Tuesday
It's fun to see the best players in the world train where we were playing kickball drunk a few weeks ago.
I was only really allowed 15 minutes to take shots. But still. It's not an everyday occurrence to have such access.
Thursday
Well what a day. All the hopes and dreams you put into a team. To be so emotionally invested you kick every kick, slide in with every tackle, you celebrate early like Jamiel then cuss when the shot hits the post. The boys played like how we knew they could. Bossed the game. No two ways about it. They had their chances, but so did we to totally put the game to bed. The game was only half the fun, the threads on facebook were superb. As 700 people watched the game online, I am sure most of them posted on the Louligans or Reddit game day threads. This is the in depth Louligan written commentary of our first goal. Bill McDermott eat your heart out, you won't find analysis like this on the radio.
So, as it stands right now. With the 2-0 win in Tulsa We stand 4th in the league! granted we've played a game more than most but minor details……… But I am serious, Tulsa, Charlotte and Colorado Springs Switchbacks are struggling. It's really only Louisville against us who've looked to be able to challenge so far. Plus, we've been on the road. Let's see how Louisville fare on the road in Richmond this weekend. Although these comments usually come back to bite me on the arse. [edit – they drew 1-1]
Saturday
Am really not sure where to begin with this. It's difficult to convey exactly how amazing everything that happened. Do I start of eulogizing the work Ryan and Andi did for American Outlaws? or how grill maestro Erich fared on the grill feeding the best part of 500 people? Or Shannon and Kavita selling merchandise and taking donations? Dave, Ryan and Zack on drums! I am sure I missed people out. Saint Louis looked great.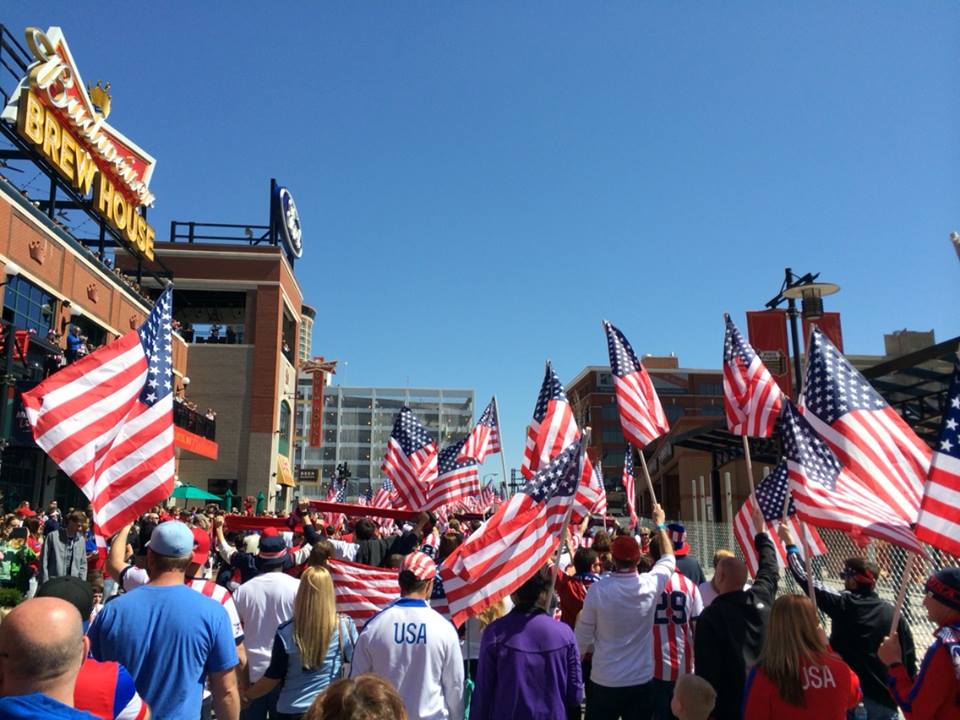 Sitting around enjoying the company of your best friends talking football in 75f weather is a grand way to spend the best part of a morning. STLFC sent some players over and they are slowly coming to grips I think with the level of support the they have here. Now they're seeing more the same faces they are becoming more comfortable with us. It was nice to get the perceptions of Sam Fink, a local player who you could see was enjoying being part and witnessing the soccer renaissance in his city. Nick Bibbs, the Philadelphia native who recently moved here stated, "I've never really been here before, but I'm really loving St. Louis, what's going on here right now is blowing me away". Also they're just really nice lads.
Well wasn't that a missile from Meghan Klingenberg? That was some smash by Chalupny, even the looping header and cool shoot off the post were pretty goals.
It was a tidy game. We deserved the result no doubt. I would like to think the atmosphere, drums, flags, chants that we brought on top of the record attendance will prove once again that this game is still at the forefront of this city.
Want to do it again next Saturday? #SYATP.