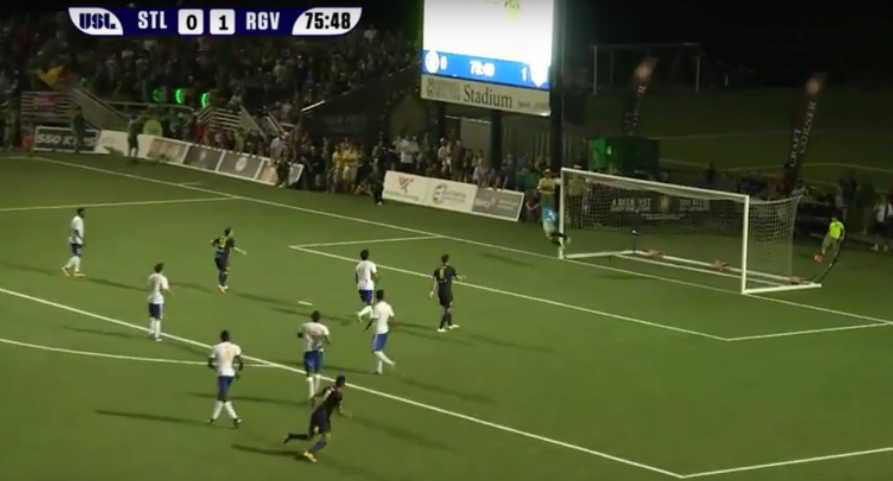 Can't sleep…. How about you?
We don't typically do match reports, or in depth match analysis. We kinda leave that to the Grant Wahl wannabes. But I think right now we can make an exception to the rule.
Holy fuck what a goal.
Games are coming think and fast and I had the privilege of speaking to both Jeremy and Dale about the upcoming fixture congestion and who they plan to get through it. Jeremy says point blank that they have a duty as a St Louis team to take the Open Cup seriously and they really want to be the last USL team standing. Dale was a little more pragmatic, He said if we lost to RGV then he has 20 more games this season to make up the three points, there is only one chance to play SKC here in our house.
My God, what a fucking goal.
The problem with the Western Conference is that there are a lot of really tough teams, as we saw playing Vancouver and upcoming at Colorado Switchbacks, it always seems we're playing the current best in form team in the league (except Tulsa obviously) and thankfully we kept our cool and didn't pick up any silly yellows that would have put some players in suspension going to Colorado next week. Chad and Musa are on four yellows and I think Sam Fink is on three. So at least we can go to Colorado with our strongest team.
Did you see that fucking goal??? I watched it like 20 times already.
As for the guys being rotated in, I get it is hard to come into a team that's had time to gel and hit the ground running, but I think Lurie has done well, Jake Bond did too against Cleveland, I am especially pleased for Jordan Roberts though. Seems to have found himself a niche in coming in late to hit tired defenders with pace on the wing and getting some shots away. Jordan Robben am I right? Glad to see Tyler David still doing work when asked of him filling in at DM when Chad Bond had a break.
Fuck me what a nasty golazo that was.
Apart from Sacramento and Swope, every single point we've won has come from a losing position. You have to admire the team character. Last year once we went behind we simply could not score enough to get back into games to give us a shot of victory. Whilst we've drawn the last 2 games, we're always in position to take three points rather than grimly hanging on or celebrating a moral victory in defeat like last year.
Mother of God what a filthy fucking goal.
I know it sucks to have drawn, we have to make Wednesday count otherwise the rotation tonight will have been for nought. Take some silver linings away, first of all we've lost just 1 game now in 9 or 10? The sole loss at Louisville then we have to go back to LA Galaxy? We'd have only dreamed to have had a streak like that last year. Our players seem to be remaining healthy. Barks is like a new signing in and of himself, and Thompson is back carrying the torch for us in the Copa. Despite three draws at home, I am still optimistic.
WHAT. A. FUCKING. GOAL