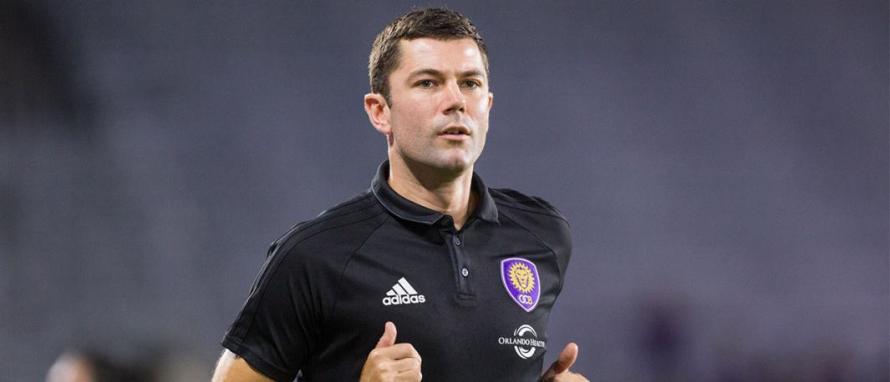 Because I am a bit ring rusty here, I forgot to bring along my camera to meet with new Saint Louis FC head coach Ant Pulis. So I've had to nab a picture off the internet, which is a shame as it still shows him wearing the Orlando City garb. It's a different Ant Pulis now; he greets me with a pensive smile that hides an "I've got to meet another new guy?" In his green sweater and blue jeans, he's into the clubs colors already.
Well yes, Ant, you do have to meet another guy. I do this for a lot of the new players and you don't get away with it either. I always try to steer clear of talking football at first. So I ask him simply what he likes to do away from football, what's the real Ant Pulis like when he is away from the tactics board, away from talking to agents and players?
"I like to spend time with my kids." He states quickly without hesitation. "I like golf too, but don't play so much anymore, the kids are four and two. With them still in Orlando with my wife, I spend every minute I can with them right now. We're looking to move to Saint Louis as soon as possible."
Of course, being the nature of the business, the conversation quickly reverts back to football, Everyone will ask him about his dad. Not me. screw that. He's not his dad, he's his own man, the only time I mention his parents is when I ask if he considers himself English or Welsh. "Both my parents are Welsh, my aunts and uncles are Welsh, all the extended family really, however I was born in Bristol and grew up near Bournemouth, so I was born in England and raised there. When England play Wales in anything, either football or rugby for the spirit of harmony within the family, I always hope for a draw."
Manic Street Preachers or Stereophonics? He took a while to answer; it's a tough question and worthy of pause to consider. Stereophonics is of course his, and the correct answer. (Editors note: this is incorrect. Manic is correct.)
Ant Pulis came to Orlando through his friendship with Adrian Heath. Heath brought him to the original Orlando City USL franchise (Now Louisville City after the team moved) where his friendship with James O'Connor stems from. "I was at Stoke and just got this offer to come to Orlando. I mean, why not? British people know Orlando: It's where we all go on holiday. But it's not until you travel around the country and see other cities that you get to experience real America. I like it here, reminds me of England right now. Well, the weather certainly does."
So you were at Stoke? I ask. "Yeah, they were in the Championship at the time."
So, I follow. You've played in a lot of nice stadiums and nice pitches then? So, just how bad is Louisville's pitch? "Oh, it's a disgrace" he chuckles. "Although it gives them a hell of an advantage even though the coach moans about it. I won there this season though so it's all good."
Harking back to the two games we played against Pulis teams this season, I have two further questions to end the chat. Was Bjurmans goal offside when we played that 0-0 draw? "Yes." He says to which I vehemently disagree. I then ask, of the two games we played, which of our players stood out to him? On the pitch, who did he look at and think "l'd love him in my team"?
Again, without hesitation, Pulis answers immediately. "Christian Volesky. We tried to sign him while he was at Rochester: he's a natural born goalscorer. I am really excited to see him and Corey [Hertzog] play together."
Finally, I mention that STLFC tries really hard to implement as professional an organisation as possible. I give the example that last year they fed the players breakfast and lunch every day before and after training to ensure the guys get the right nutrition. Does he go for all the sport science?
"Absolutely, it is very important. Marginal gains of an extra half a percent performance from nutrition, half a percent from recovery, half a percent from a massage, all starts to add up. I try to take it as far as I can. I will certainly look at everything, including travel. If you lose half a percent from taking an early morning flight at 6am, rather than a midday flight to a game where you won't lose any sleep having to get to the airport at 4am is something we'll have to consider. Those marginal gains all stack up and give you an edge."
Anthony Pulis everyone. Family man, golfer, our manager.