We haven't had a Living Louligan article in a while.  But this is a great one to post as we sit at the proverbial starting line, waiting for the USL Pro season to start.  Kyle Scarborough, one of the original organizers of the Louligans, lives and breathes the group to the point of having an artistic interpretation of the logo tattoo'd on his leg.  Kyle shares his introduction to the game and the supporter life.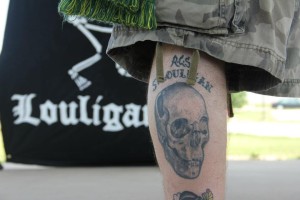 In all my years, few things have sparked as much excitement as match day. Once soccer took hold, I never looked back. I think about where it started. Like most boys I played a little when I was young, following the footsteps of my older brother. It was just what you did. Then you moved on to little league baseball and so on. Soccer simply wasn't popular, and without any kind of real exposure to the world around you, you would never know just how massive it all was.
Truth is, my newfound love of the sport didn't really come via the sport itself, but rather the culture that surrounded it. I can't recall what initially sparked the interest, but I remember a long time ago listening to passionate fans argue over their respective clubs. The folks involved weren't American, but rather students here. I remember the jerseys they wore. It was odd how appealing it was; different worldly cultures getting into heated debates over a sport, adorned in their chosen clubs kits. Something was different. It felt bigger than the game itself. It planted the first seed, I realize now.
Almost 10 years ago now is when I really took notice of the supporters culture, especially that of England. What I came to learn was that, to many, the game isn't merely a sport, but a way of life. Truly the weekly visit home and away to follow your club was a religious experience. So much so it almost wasn't about the sport anymore at all, but rather gangland warfare. Perhaps that's an irresponsible way of wording it, but my initial exposure of the hooligan element both in England and around the globe was just that: Gangs. What I'm not afraid to admit was how much it interested me. Now, don't get me wrong, I don't support or condone it whatsoever, but to say that anything else drove my pursuit of learning about the Beautiful Game would be a lie. Such an ugly stain on such a gorgeous sporting event, but it did it. While the majority of it's influence is moreso a thing of the past, the overly romanticized view of it all drew me in.
It made me wonder, why would you love a sports team that much? It was the passion, not the sport, that motivated me to learn more. I wanted to expose myself to the sport of soccer at an alarming rate. I've been told I can't just dabble in anything. Once I go, I'm gone. Soccer consumed me. Oddly enough it wasn't the popular teams that drew me in but rather what teams had the biggest and rowdiest fans. One could make a case for a number of teams at that point but once I saw their crest and colors, I knew I had my club: West Ham United FC.
That was it. It was official. I was a soccer fan. Nothing else mattered. My other passions and interests faded away for a long time. It was the Mighty Hammers, the Claret & Blue Army and I wanted as much of it as I could get. As we all know, especially at the time, options to view matches or…hell, really do anything at all besides walk around your hometown in a jersey know one recognizes and sing about "blowing bubbles" like a lunatic alone in your car was what you had.
I needed more. I needed the real thing. I needed to be there, to let it all out and cheer my fool head off. I needed my weekend match day. Enter Tony Glavin. I began searching for local teams and naturally I came across my first in-person soccer love: The St. Louis Lions. Of course, like before, I dove in head first at a feverish rate. Finding out information online was a struggle. Content for such a small upstart club wasn't satiating my needs. Luckily Coach Glavin obliged me with a personal tour and sit down at his park, The Tony Glavin Soccer Complex. As far as I was concerned, it was the greatest place I had ever been. It felt like home. Green being my favorite color and the Lion my power animal (they scare the shit out of me if I'm being honest), I knew I had my club. Tony and I talked for awhile about the sport and being a supporter. He told me stories of growing up in Glasgow as a young Celtic fan; of his brother who played for the Hoops and what it's like living across the street from Rangers fans. I'll never forget what he told me when I expressed to him my interest in hooligan subcultures and wonderment of what it must be like to be a part of it:
"There's really nothing enjoyable about it. Sure I love my club but not the fights. Being jumped for no good reason. It's like this. Imagine the Chicago Cubs were the St. Louis Cubs. The Cubs and Cardinals were mere miles apart and all their fans living right next the Cardinals fans. Now, imagine it' bigger than soccer. Imagine in order to support one or the other, you were also claiming allegiance to one religion or another; to a political party or another. You were willing to shed blood for it. That's what it's like."
In 2008 word began circulating about a new women's pro team, and wouldn't you know it, we landed the greatest female goalkeeper on the planet. I myself cared not that it was a women's club. It was a professional club, and I was stoked. Now, it still doesn't come off as slightly odd a fat, bald grown man walking around a dominantly female team meet & greet wearing my latest Hammers kit and camo shorts, but hey: I was dedicated. Home opener saw me and my pal Wil sitting in the middle of the pitch, front row, beers in hand. It was an amazing day, but it was also a new discovery: Laclede's Army. They weren't may in numbers but the little red-headed spark plug screaming into a bullhorn like a sociopath was awesome.
Once word came about that the organization would field a professional men's club, I thought I was gonna lose it. All these years, all the waiting and almost pained excitement of a sport I loved with no outlet, I had my pro club. I sat feverishly waiting on the live feed for the news conference. Watching the logo unveiling may as well have been seeing my first child born again. AC St. Louis was here, and I started my supporters group right then and there. Granted it was me…and only me, but damnit, it was gonna be the best SG of all time. I quickly mocked up a logo on MS Paint and Myspace messaged my friend Wil. "We're River City Saints now." "Fuckin' A, man." All two of us. And it ruled.
The pre-match tradition of Growler's Pub. Man, some of my favorite memories right there. Broke as hell but spending my last few bucks on pints of Guinness and scotch eggs. Roll into the stadium buzzing and ready to rock and roll. For a time, it was some of the most fun I've ever had in my life. Then, as quickly as it came, it faded away. It was over well before it was official, our collective excitement held together only with hope and memories.
Still, one amazing thing came out of it: The St. Louligans. At the time we were simply what was left of the numerous groups that began the season. We were the diehards, unwilling to quit on our club. They were like me. Loved the sport and ACSTL so much we simply couldn't walk away when we knew it wouldn't last. I think that's what bonded us. We would toil away at our jobs all week and no matter how terrible life may have been treating us, come Saturday, it was all worth it. We'd pre-game the pre-game. Friendships were born out of kicking a soccer ball all over the parking lot. We didn't have a name but we had a group. By the last game of the season we knew what we had. With multiple mini kegs of Newcastle flowing, The Louligans continued to blossom as a true supporters amidst a dying club. No matter what, we'd still be together.
We focused our attention on the Lions, treating a mere 4th tier soccer club like it's top flight ball. Over the years we would trudge on, nevermind how difficult it was to do so at times. The love of the game is what kept it together. Beers with the lads (and lasses) is what made it all worth it. As far as the rest of the fans across the country were concerned, we were 10 times as big as we truly were. I look back proudly and know in my heart it's because of our passion. We yelled the loudest, cheered the most, jeered the best and loved every single minute of it, even when we hated it. We were Louligans. We took the passion and togetherness of a hooligan culture and made it ours. Made it fun.
Or as I'm proud to say again a phrase I coined, "This is silly."
Now? Now we get to do it all over again. It finally happened. With dedicated folks in place and a proud, established supporters group there to show them soccer in St. Louis is here and isn't going anywhere, we were awarded with our new team. Saint Louis FC. Going back to Soccer Park with the Louligans to welcome the announcement of our new USL-PRO franchise was surreal. So many memories, and now we knew we were about to make new ones. It was step one. Then came our club name. Then our crest and colors. Each new release of information kept–somehow–raising the excitement level. The anticipation has killed us all winter long. Banter had already begun to grow between other supporters in the league. You could feel it. Now? Well now we have our official schedule. Wouldn't ya know it, our new rivals, Louisville City, are first up. An away trip to Kentucky to support our new club. Words simply cannot express what this has meant to me.
My name's Kyle Scarborough. I'm a Louligan. An original. Suffered through the lows and honored to witness all the highs. Seeing so many new faces, watching our Little Group That Could continue to blossom. I hope you all understand what this club has meant to me. If you don't, allow me to say: I'm proud to stand beside you. I'm grateful this beautiful game has brought me something more than a sport. Truly it's in OUR history, and it's in OUR blood. WE'RE YOUR FAMOUS LOULIGANS!
Cheers.