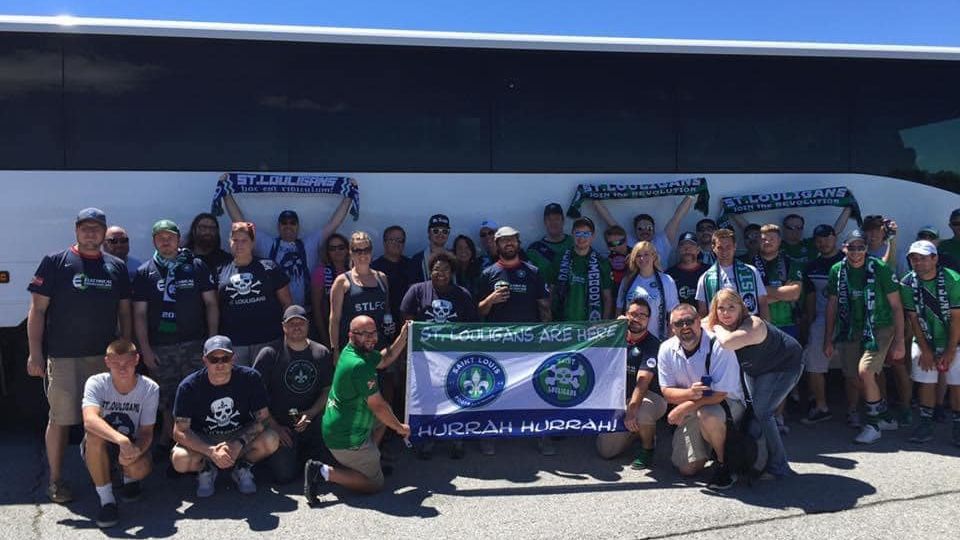 Below is a guest post by Justin Phelps. He was new to the group in 2019 and a bus trip changed all that. He wants to share what it was like for him and hopefully encourage you to take the trip on Wednesday to Louisville for the 3rd round of the US Open Cup. -Brad

You've seen details about the Louligans bus trip to Louisville on Wednesday by now. Maybe you're new to the Louligans, and you're just not sure about eight hours on a bus with a bunch of loud, drunken strangers.
I understand. I was there too. Except it was nine hours, one way. But we had a lot of beer. Damn near a full bus bay of beer. It was glorious.   
First things first, away days are the best. There's really nothing quite like it. And because of that, you need to get your seat now.  As of this writing, there were 27 seats left. Go get yours now. Then come back to see why you made a great decision.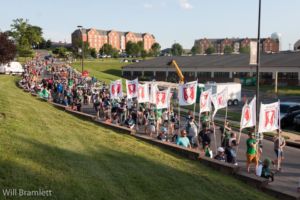 It was the spring of 2019. I had started following Saint Louis FC (rest in peace) more closely, attending a couple games early on. But the team's U.S. Open Cup run against MLS sides was the conduit to more steady attendance during STLFC's USL campaign.
Against the Chicago Fire at Lindenwood University, my then-6-year-old son and I were fully introduced to the Louligans. It was the first time we sat in an adjacent section to the drums, smoke and chanting. We were both hooked. The fact that STLFC clipped the Fire 2-nil that night certainly didn't hurt the atmosphere.
A couple weeks later, my then-8-year-old daughter and I watched the legendary Sam Fink head home a stoppage-time winner against FC Cincy. The result set up a date with Atlanta United in Georgia three weeks later. The Louligans set up a bus trip with STLFC leadership. 
Here's the thing about spending hours on a bus with a bunch of people you don't know: You get to know people you don't know. You get to know some of the Louligan inside jokes (#NeverForget Bus 2). You'll probably hear about trips to SKC, in which the Louligans who were in attendance made a ruckus that should've embarrassed the home supporters. You'll certainly learn about our frenemies in Louisville, The Coopers.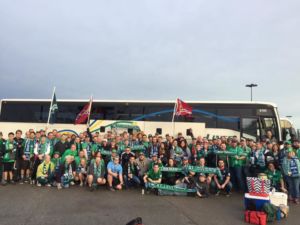 You also walk away knowing you were there for three buses, two sloppy eyebrows and one amazing Cup run, as it were in 2019. You'll be a part of making up road trip drinking games, which will be revived on Wednesday. (Special thank you to 2nd Shift Brewing for a generous donation of beverages to support our trip to the east. Be sure to support those who support us.)
Most importantly, you'll be at Lynn Family Stadium for St. Louis CITY SC 2. We'll probably have drums (if some bourbon soaked sloppy eyebrows don't get in the way), and we'll probably have big flags (if a certain USL front office doesn't get in the way as we're driving). You'll probably be hoarse the next day at work. But if – nay, WHEN – the boys advance at LouCity in a King's Cup/U.S. Open Cup match … you will be able to say you were there. That's gonna be special. 
Next season, when the first team kicks off, these bus trips are likely to happen for away days. Chicago, SKC, maybe Minnesota. Who knows? What I do know is that if you go on this trip, you will make away days in the future a priority.     
If you haven't grabbed that seat yet. Do it. Now. You won't regret showing up, making noise, and having fun in Louisville.
-30-
It's not to late to join us. Click the link to reserve your seat on the bus:  https://stlouligans.com/product/first-saint-louis-city-2-bus-trip-us-open-cup-at-louisville