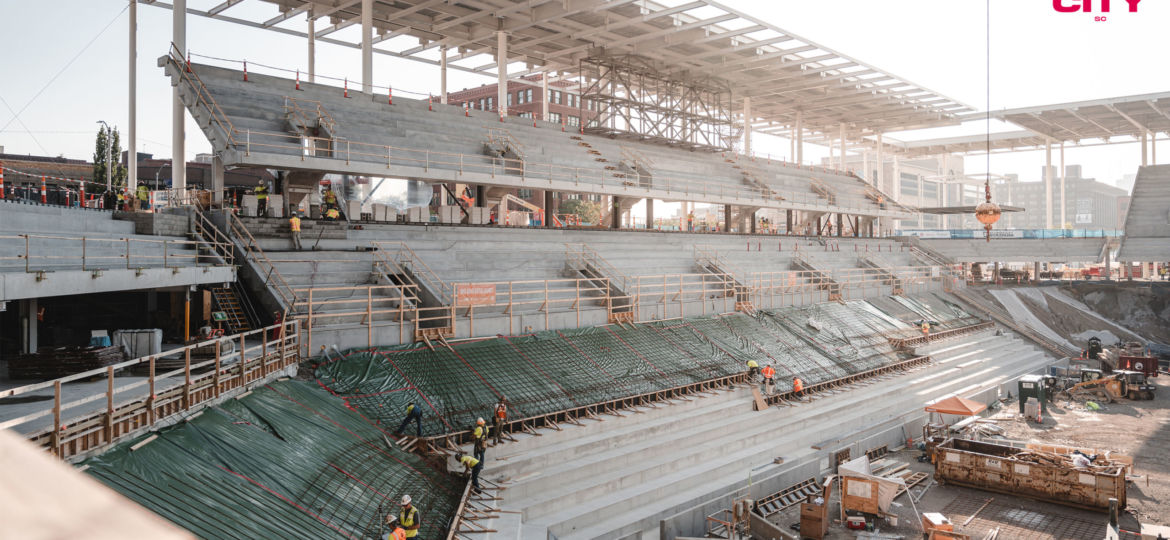 On July 31, 2021, a new era for supporters of soccer in STL truly kicked off. The St. Louligans, the largest organized supporters group of soccer in St. Louis, hosted a meet and greet event at Schlafly Tap Room, just steps away from what will be our brand new state of the art soccer specific stadium in Downtown West. While focused on providing an opportunity for current and new supporters of St. Louis CITY SC to meet, get to know each other, and to provide a platform going forward, we were also joined by Soccer Master who properly outfitted a lot of supporters in CITY merch, as well as the various extensions of the Louligans – The Thieves, our drummers (of Show Up Make Noise podcast fame), the Louligan Ladies, the Louligan Tailgate crew, the Shoot Bhoys, as well as various media and podcasts including the St. Louis Post Dispatch, Lider Sports Media, This is SiLLy, Flyover Footy, Soccer Capital Podcast, LouBoyz SC Podcast, and the City SC Report. Suffice to say, there were a lot of excited people about St. Louis CITY SC brought together and everyone in attendance was privy to some brand-new details surrounding the North End supporters section of the new CITY SC Stadium.
So what did we learn? A lot. After some time to mingle, shop, and learn more about everything the Louligans have to offer, St. Louis CITY SC Chief Experience Officer Matt Sebek hit the stage to share the most expansive list of details thus far, which incorporated an impressive amount of recent fan feedback from avenues such as the Fan Experience Council:
1. Our supporters section will be the steepest supporters section in MLS.
Currently 34 degrees is the steepest and the typical standard used in the three most recent stadiums in Columbus, Austin, and Cincinnati
2. Our supporters section will house 3,000+ supporters in a fully safe standing section.
Some rumors put this around 3,200, but the official comment from the club is 3,000+ right now
There will be seats that will be fully locked and unable to be folded down during MLS matches but will provide flexibility to non-soccer events
There will be 5 full sections in the North End with 2 partial sections on either side
Every space in the supporters section will have a dedicated cup holder on their rail
3. There will be a dedicated supporter's bar just outside the entrance to the supporter's section on the main concourse level.
4. There will be 3 capo stands integrated into the stadium. One in front of the center section and two in front of each of the far sections.
5. An incredibly wide 257 foot long integrated Tifo rigging system built onto the canopy above the supporters section that will provide the capability to create the longest Tifo in all of MLS.
There are currently 6 planned tuckpoints that will enable amazing flexibility to cover all or some of the supporters section for any given game day and will provide a fantastic opportunity to do unique and different tifos each game day.
6. A dedicated drum area located in the central section at the entirety of the center section's 4th and 5th rows. This will provide a platform for drums to stand with a dedicated drum riser.
7. (RUMORED) While not presented, a dedicated supporter's entrance is being discussed that could tie into where a potential March to the Match ends and provide supporters with a entrance that would enable easy access for supporters when the march ends and immediate access to the supporter's bar/section.
From an infrastructure perspective, not much is brand new or earth shattering. By being the 21st soccer specific stadium in MLS, a lot has been done to enhance the experience already. However, it is clear that what we will be getting is taking everything that has come before us, pushing all of the boundaries, giving us everything that we have asked for, and leaving nothing on the table. To that end, it is interesting to look at comparisons to the rest of the league based on what we know our stadium's supporters section will give us.
Overall Size, Supporters Section, and percentage of overall stadium the supporters section takes up, compared to the 7 most recent soccer specific stadiums (Not counting Inter Ft. Lauderdale).
| | | | |
| --- | --- | --- | --- |
| Club (opening of stadium) | Capacity | Supporters | % of stadium in supporters section |
| St. Louis CITY SC (2023) | 22,500 (est) | 3,000 (est) | 13.33% |
| Columbus Crew (2021) | 20,000 | 3,356 | 16.78% |
| FC Cincinnati (2021) | 26,000 | 3,500 | 13.46% |
| Austin FC (2021) | 20,738 | 3,170 | 15.29% |
| Minnesota United FC (2019) | 19,400 | 2,920 | 15.05% |
| DC United (2018) | 20,000 | 1,500 | 7.5% |
| LAFC (2018) | 22,000 | 3,252 | 14.78% |
| Orlando City SC (2017) | 25,500 | 3,811 | 14.94% |
Integrated tifo rigging is becoming more and more the standard for the most recent crop of soccer specific stadiums. This allows game day tifo displays to be strung to the canopy of the stadium. While the inclusion of these are similar to what Portland, Columbus, Austin, FC Cincinnati, Minnesota United and Atlanta United have, the width is what will truly set CITY apart. Columbus' new stadium, for example, has 180 ft wide tifo capabilities and Portland/Atlanta United are often seen as the gold standard for tifo that is raised to their roof. At 257 feet wide, spanning the full length of our 5+ sections, CITY's stadium will provide for one of, if not the longest possible tifo in all of MLS.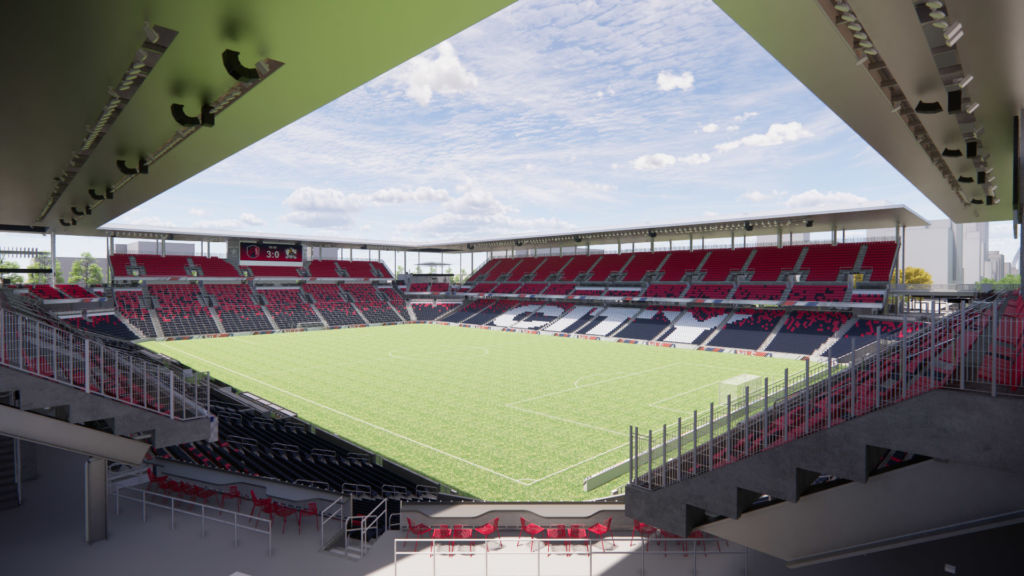 Other amenities such as a dedicated supporters bar, capo stands and space for drummers are more commonplace. Notable supporter bars at recently completed stadiums are at LAFC, Minnesota United, Austin, Columbus, and FCC (though the real key will be drink price comparisons between the clubs. As long as we do not approach Austin's ($10-$12/beer), we'll be ok. A luxury we will have with our soccer specific stadium are integrated capo stands and drum risers, which, while more common among soccer specific stadiums, are a luxury that clubs who share their stadiums with NFL teams are not as easily afforded without significant game day setup (and shout out to our Show Up Make Noise drummers, who were able to provide not only game day thoughts on drum location, but acoustic details regarding the placement of drums for maximum effect).
For anyone in attendance on July 31st, we were treated to a significant amount of exciting news. There were opportunities to meet the STL CITY SC front office as well as hear from Louligan leadership with insight into what it takes to operate a supporters group, and a sneak peek at what exciting things are in store between now and 2023 regarding community engagement and outreach. If you were there, I hope you took the opportunity to makes some new friends and meet some new people. If you weren't able to make it or didn't get a chance to visit with everyone, there are going to be plenty of opportunities between now and 2023 as we follow the build up of CITY including the launch of their Academy clubs this Fall, the launch of their MLS lower division league team in March 2022, and following the hiring of the head coach and signings of players in 2022, just to name a few things in the next year. There is a lot to be excited about and there is a lot of collaboration needed to make it as memorable of an experience leading into our opening season in 2023, whether you are a Louligan, interested in joining the Louligans, interested in starting a different group or just want to stand on your own, make noise and have fun in our huge supporter's section. The time to start building as supporters is here.