In December, our CXO Matt Sebek did an AMA for fans on twitter and while some of the things discussed have since been revealed or expanded upon – I thought it would be fun to continue that conversation and recap what he said. There was some humor – Matt's a curly fry guy, CKB and Khalia are his favorite co-workers, and Matt will not be suiting up for the club in 2023, some excitement – teasing a whole lot of info about the stadium itself, and some reveals (new stadium pics!) in a nice interactive afternoon with CITY fans. Here are the most interesting (from my perspective) questions and answers he gave. Any bold/italicized words at the end are my two cents about his comments.
He didn't shy away from some questions fans had been clamoring for either, such as if our stadium groundbreaking would continue to be delayed. Unfortunately, his answer seemed to indicate we wouldn't be getting a typical groundbreaking thanks to COVID-19 as he noted they're taking a safety first approach to the groundbreaking. He also noted that, at the time, they'd just done a virtual stadium town hall to help scratch that itch, and hinted at an upcoming major milestone. We now know this to be the first steel beams going vertical and the pretty awesome raffle for the Starting XI fans that got to sign the steel (shoutout to Malia!)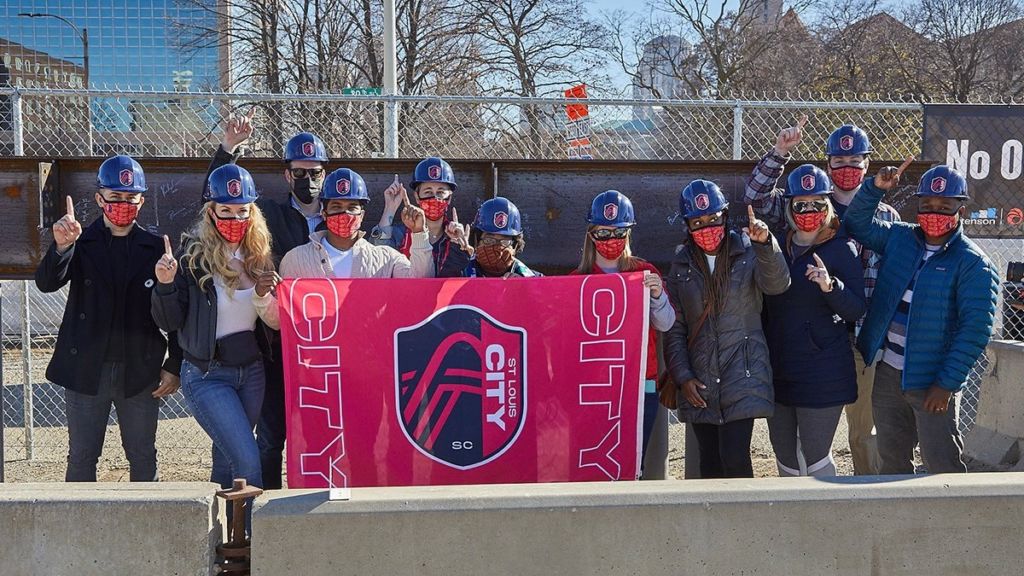 Another COVID-19 casualty has been connecting with the fan base. Responding to a question about building a relationship with fans being difficult due to the pandemic and how has the club pivoted their strategy because of it, Matt noted that they WANT to be out there watching matches with fans at the Amsterdam. They know that's how relationships are formed with supporters, but also said that it's a marathon not a sprint, and that there is plenty of time over the next two years. This has been a huge bummer. Nearly the entire time they were MLS4THELOU, we wanted more fan interaction. We finally get to a place where ownership has put the first pieces to give us that interaction and we can't do it in person because of a damn pandemic.
On a question about whether the supporters section would have capo stands and space for large drums, Matt said they would be looking to their supporters to help craft this section with them in 2021 and that they have great plans for surveys and other feedback mechanisms to come. He noted a painting metaphor, seeming to indicate a blank canvas was there for us all to create something amazing. 2021 is being referenced a lot for big things coming out way in the form of interaction, news, and details.
The south side event area, having been revealed that week with the pavilion, retail store, and green area that bridges the space between the stadium and practice fields is said to be truly remarkable and Matt promised much more to come about this area in 2021. The transformation of the south side from purely a team office/training facility to become more city friendly and community engaged is an extremely welcome surprise. They seem to be making the absolute most of the space they have available to them in that 30+ acres.
A question was asked about the vision for integrating STL CITY brands into the gameday experience such as craft brews, food, etc, and Matt responded that they have big plans for their food experience that will come alive in 2021 and Food + soccer = perfection. This is a no brainer. We know what we want in that Supporters Bar behind the supporters section. I'm confident they know what we want there and what everyone wants in the stadium, but I'm looking forward to 2021 for some reiteration opportunities.
Answering a question about sensory accommodations, similar to the Blues noise cancelling headphone availability, Matt noted the team is already looking at ways to be sensory inclusive. Loving the inclusivity of the planning – and hopefully some gluten free options too.
Matt answered a ticket question that all tickets will be digital and noted that there will be an option to transfer it and it will be easier to transfer than a certain Blue team to the East (the question referenced them, not Matt directly).
Matt noted that they are committed to regular and ongoing construction updates, photos, video, etc. All we can handle – when asked about plans for a possible construction camera for fans to track progress. Expected answer that they'll give us everything we want, which is great. I want lots of updates, photos, and videos too. But I also want that dedicated construction camera. You know who does a really good construction camera? Columbus Crew. That's pretty much what I want.
When asked about the experience for all soccer fans attending events beyond CITY SC fans, beyond MLS, and just soccer, Matt commented that the pandemic highlighted the need for safe and frictionless engagement. While most club are having to scramble to retrofit their stadiums and approaches, our club has the luxury of opening a stadium with it built into the DNA. I'm not the only one who saw people wearing masks in some of those new renderings. I sure hope we're back to a mostly normal world in 2023, but it's good to see this kind of forward thinking. You never know what coming so building for the past would be a huge mistake when you have one shot to get it right.
When asked about season ticket holders being able to pick out their seats in person once the stadium is complete, Matt said they will work with their ticket depositors to pick their seats WELL prior to stadium completion. Selection will happen digitally and through the sales team. Remembering back to the FAQs – premium and suite deposits were said they'd be reached out to in 2021 while general reserve and supporters section deposits would be reached out to in 2022.
Answering a question about stadium seating being such a small capacity with such a large fan base, noting 50,000 season ticket deposits and only a little over 20,000 seats, Matt said that the stadium is being crafted with *some* flexibility from the beginning. But they want the space to have high intensity and intimacy and they think the current numbers achieve just that. The big question on everyone's mind is, just how many season tickets will St. Louis CITY SC make available, given that they had over 50,000 reservations (not 50,000 unique deposits, although the number for that is rumored to be high). Looking across the league, a LinkedIn article from 2019 reported that the percentage of season tickets in MLS is about 55%. With that, we're sitting at around 12,375 season tickets available. Whether our number is slightly higher or slightly lower than that, my personal opinion is that we see a wait list right off the bat, similar to what Austin has done, where specific perks are available to those who are on the wait list for season tickets.
For the last Q&A of the day, Matt was asked about what companies or clubs they are benchmarking against as they develop fan & supporter engagement plans and how Matt in particular as the first & only CXO in MLS, is looking to break ground and really set STL apart and above other cities and clubs. He responded that the extra year has given them much more time to benchmark and do consumer research, which has been extremely enlightening and has helped evolve their approach. They have looked to 3 categories for research: Stadium, Community, and Engagement. With Stadium, they see Providence Park for the Portland Timbers and how well they do food and beverage, Mercedes Benz for Atlanta United with their operational machine, and Craven Cottage for Fulham FC for its' intimacy. For Community, Matt named the Oakland Roots who have a Chief Purpose Officer, LAFC, and Austin FC who are on a similar journey as they are but with a 2 year head start. With Engagement, he feels they can truly be innovative by being like an eComm company (Matt has a very heavy digital background). Brands like Starbucks, Panera, Chick Fil A as well as FPL, Spotify, Slack, and FIFA. Full disclosure, this was my question but I appreciated the examples and detail. Nothing he named is bad to use for inspiration or examples of best practices. If we can take what these teams and companies have done, improve upon them meaningfully, and innovate in new and interesting ways ourselves, then we are in for one hell of a ride.
But wait there's more – on New Year's Eve, Matt circled back to a few unanswered questions to wrap up the AMA including a nice teaser for things to come. Asked as CXO, how he balances the desire for supporters to organically develop routines, rituals, traditions, songs, etc while also promoting the club's desires and beliefs for fan impact/experience on matchday – Matt responded candidly that it's a balance. He said that he has his recommendations on an experience that he thinks serves our region well, but said that 2021 is about providing our fans with a platform to tell us what THEY want. And we're back to 2021 being an exciting year with plenty to come, but this teaser in particular along with a nugget that he mentioned in his interview on This Is SiLLy about a fan advisory council (listen to his episode, it's worth your while) are all incredibly exciting things to look forward to. It really sounds like the community, fans, and supporters are going to help drive the final product of the stadium and the experience, and that kind of engagement is exactly what we are all excited about.