$5 empty cups. Food. Kegs. Pins, stickers, shirts and scarfs. The merch table. Tina's shot mobile. Our ever growing tailgate trailer. Full Kit Wanker Night. Tallboy Roulette. These are some of the iconic symbols of the Louligan tailgate. In the Saint Louis FC era, it started when the club started, in 2015. It ended differently than any of us could have ever predicted and absolutely nobody was happy with it. For a group that has supported soccer in St. Louis for 11 years, through thick and thin, being deprived of an opportunity to say a proper goodbye to our beloved Saint Louis FC was devastating. There are a lot of things the Louligans are known for from being SiLLy, to making a lot of noise in support of our clubs, to supporting a lot of local charities. But if you know anything about us then you also know that we Louligans like to throw a good tailgate. Our tailgate crew was second to none in the USL and you can be damn sure we will be second to none in MLS. In the Saint Louis FC era, we had just shy of 100 home games and nearly as many with a full tailgate (damn you forever COVID). On any given Saturday for 6 years, you could find us in the back of the Soccer Park lot out in Fenton, MO drinking a few cold ones, dining on some fantastic food either brought or prepared on site, and having an absolute blast surrounded by a few hundred of our closest friends and family.
When you look back on those 6 years, a lot of tailgating moments stand out. As we head into our final blowout to close out the Saint Louis FC era and embark into a strange new world, I thought it would be fun to look back on a few of those moments to get a sense of some highlights as my fellow St. Louligans remember them. Some common themes are clearly present in all of them, but in reminiscing, the biggest theme present was joy. In living through those moments and in remembering them, every single memory brought joy to those who experienced them. One of the greatest parts about being a Louligan is the camaraderie and friendship you create by sharing in these moments. There are no doubt some amazing tailgates that won't be mentioned here, but through either popular vote or sheer absurdity, here are a list of 5 of the top tailgates, in no real particular order, from the Saint Louis FC era:
5. October 5, 2019 vs Louisville City (King's Cup with whole hog roast)
In what would be the final King's Cup matchup between STLFC and Lou City (the final final playoff match not-withstanding), our Tailgate crew went all out. As one of our tailgate czar's, Aaron Mednik puts it – "The whole hog as something we had talked about doing for 2 years and just needed everything to align since we needed the team's permission to stay overnight and cook it. Pat (Pat Barry, STLFC President) gave us the green light for the Louisville match. We got a 175 lb hog, supplies, a smoker pit and started prepping it after work the night before. We had plenty of food, beer and a firepit at the tailgate as we hung out on a picture perfect October night. Dwayne brought his camper for us to crash in for a few hours. We tried recording a "lost podcast" at 2am before realizing that Mark (Gardner)'s phone was almost dead. The next morning, we shredded Cooper The Pig and got everything ready for what was for the most part, a typical King's Cup tailgate." While a lot of tailgates, especially those on Saturday's, included food, this one stands out to not just the tailgate crew but to all those who attended that tailgate. It was exciting to talk about it with the tailgate crew in the week leading up and it made for a fun week on social media to talk about roasting and eating Cooper to kick off this edition of King's Cup. Also, if you still have a commemorative cup from this tailgate, you have a collector's item in your possession.
One of the hallmarks of the King's Cup tailgates were the traveling Lou City fans. The Coopers, like us, are fantastic traveling fans. We went to their home and they came to ours. As such, the above picture was presented to our tailgate crew by the Lou City guys to commemorate the history and this match. From Claude Karraker – "Louisville fans were always pretty classy. I still have this etched bottle they brought us as a way to thank the tailgate crew. The bourbon is long gone."
4. October 13, 2018 vs OKC Energy (clinched first playoff spot/MLS4THELOU just kicked off)
In what was the final game of the regular season for STLFC, the entire St. Louis soccer world was abuzz with the recent press conference and announcement that the Taylor family and the Kavanaugh family were joining forces in another effort to bring MLS to St. Louis in the form of MLS4THELOU. This Oct 13 match was the 2nd match since the announcement but the first weekend match and as we all know, weekend matches are just more fun. Aaron Mednik describes it as "a very large crowd and a lot of buzz. During the game, Tyler David was hanging in our section and after the game, we all rushed the field to celebrate."
With so much energy (no pun intended) surrounding the MLS announcement, STLFC had somewhat of a perfect storm of excitement. With a sellout crowd of 6,018 in attendance, the tailgate had a special quality of excitement surrounding it. Jim Kavanaugh and Carolyn Kindle Betz both made appearances. For CKB it was what would be the first of many MLS4THELOU/CITY SC tailgate appearances in the coming year plus. With the external excitement surrounding soccer in St. Louis, STLFC gave the fans the finish they wanted. While we didn't win, a tie ensured that Saint Louis FC would be making their first ever playoff appearance. Karen Montgomery remembers it as "the excitement and happiness sharing in finally reaching a post season match. Being on the field and celebrating with my friends and fellow supporters and players, like Sam (Fink), who waited so long for this day".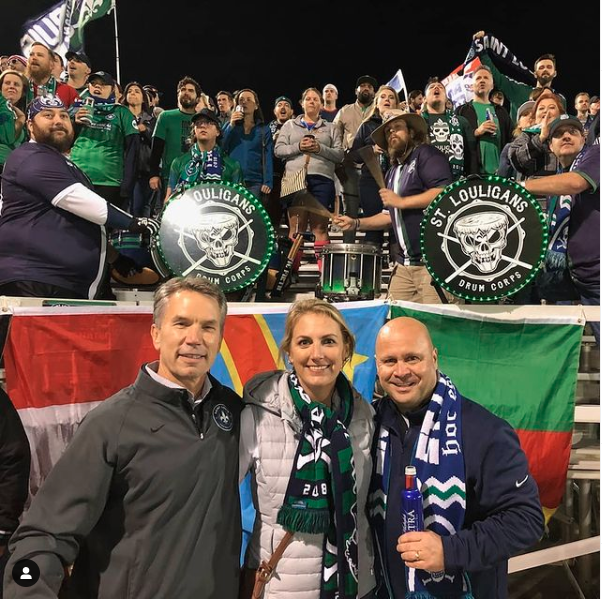 3. March 7, 2020 vs Miami FC (last full tailgate for STLFC)
Everything about pre-pandemic 2020 is mostly a blur at this point, but going into the 2020 season, we were full of hope (or at least I was). 2019 had seen an amazing stretch run and then an against all odds ability to miss the playoffs, but it also saw an extremely memorable quarter final US Open Cup run where we beat perennial MLS teams, Chicago Fire and FC Cincinnati at home and then made an equally memorable trip to Atlanta where we fell to the eventual US Open Cup champs, Atlanta United. Taking that energy and excitement, coupled with at this point, the unknowns of Saint Louis FC's future, you had a significant buzz about this match. Would it kick off our last season? Would it be one huge blowout of a summer? Would it lead into the next chapter of STLFC?
None of us knew at the time nor could have imagined that this would be the last proper tailgate of the Saint Louis FC era. The circumstances surrounding this tailgate make it one of the more memorable ones we had, as Jim Sullivan said – "Last year's home opener was a great day. Sadly, it will be forgotten, being in the year that really wasn't." Luckily the record books won't forget that match. "Newcomers" Miami FC were given a welcome to the league by our boys in green and blue. A proper tailgate should come with a good win, and the club ended up sending everyone home happy that night with a 4-1 victory. Every fan came into this one excited and at least for this day, ended up leaving excited. "I can remember being excited for the new season," said Karen Montgomery. "I'm pretty sure I had missed most of the preseason that year because of traveling so this would have been my fist time seeing everyone in a while. I was excited to see the new players and new coach. And 4-1… what a way to start the new season!"
Plenty of memories were made that way, and in some cases, tasty memories. Our intrepid tailgate crew pulled out a special Cuban sandwich tailgate and created a memorable environment to that kind of backdrop. Aaron Mednik remembers it as "there was a lot of excitement for the season kickoff. The weather was good and we were making Cubans that day. Everyone showed up earlier than normal to prep the tailgate and chill out before the rest of the Louligans arrived. We had a full keg and a 1/6 barrel from Schlafly as well as a 1/6 barrel from Wild Sun and drank almost all of it. Soon after that game, everything shut down due to COVID. While I think we can all agree that COVID wrecked our swan song with STLFC, I am thankful that we got to have at least the one big event before the shit hit the fan."
2. April 30, 2016 vs Vancouver Whitecaps 2 (Weather delay/Road Ranger running out of beer)
Some tailgates are memorable for food, some for beer, some for the game that follows, and some for circumstances surrounding the game. This was a relatively rare tailgate that was memorable for the tailgate itself. "The tailgate that would not end," as Anthony Flores put it so well. Tailgates typically start 2-2.5 hours before a match, so that would put this tailgate at starting around 5pm for this would-be 7:30pm game. At about 6:40pm, just before players began their pre-game warmups, fans and players were told over the PA to seek shelter, and the stadium was emptied. Far be it from mother nature to stop a party, the weather delay may have lasted for over 3 hours before eventually forcing an official postponement – the atmosphere down at the tailgate area was its typical excitement and more.
Karen Montgomery recalls "You know sitting in the stands, then they tell you to leave the stadium and go back to your cars? So you know what every good Louligan does – goes back to the tailgate area to drink more. I remember opening the trailer back up, blasting music. At one point, the guys are like, 'we're making a beer run'. They come back, it's raining, and we're drinking, blasting music. At some point they called the match but we were having so much fun that all of a sudden there's another beer run. I just really remember playing kick the can in the rain and having an all-around great time with my friends. The guys letting us stay and have fun in the parking lot just shows what a great relationship we had with the team and the FO."
This match along with our next memory really illustrate the fun relationship our group had with the Saint Louis FC front office. Rather than telling everyone to pack it in, or forcing everyone to disperse, you have the front office just looking down at the group and as Andrew Vernon put it, comments that "…they're still out there." Of course, that's not to say there wasn't an element of danger but that only adds to the excitement. "A whole-ass tree fell over in the woods and we were just like 'nah, it's fine'," recalls Matt Brown. Mitch Morice adds "It shook the ground when it landed. We watched it, turned around, and kept partying."
Of course, part of the fun with this night is looking back and remembering that the gas station across the street from Soccer Park, Road Ranger, barely had enough to keep the Louligan party going. As Stuart Hultgren remembers, "Knowing that USL guidelines required a 30 minutes delay after every lightning bolt spotted, we quickly surmised that the tailgate would run out of beer sooner rather than later. Before long, chants of 'more beer' were ringing in the parking lot as hats were passed around for a beer run. I grabbed Joe Nelson and the two of us made the first of nearly half of a dozen beer runs to Road Ranger. By the end of the eternal tailgate, we had cleared most of the beer out of a whole gas station." The night eventually ended and I'm sure nobody really remembers the actual Whitecaps 2 match, which was eventually played on May 25 to a 1-1 draw, but no one will ever forget the tailgate that wouldn't end but that emptied out an entire gas station of beer.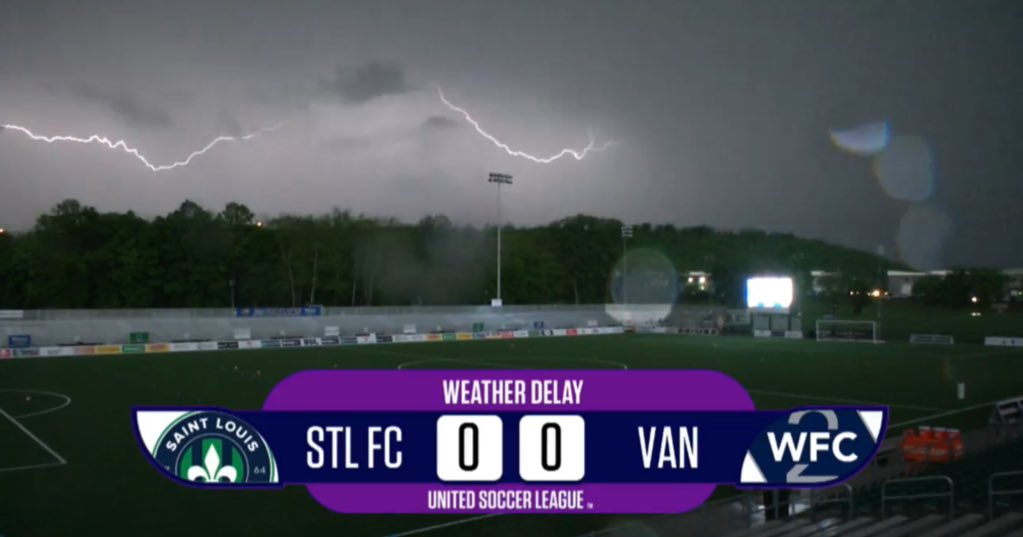 1. September 7, 2019 vs Nashville SC (the Stanley Cup tailgate)
June 12, 2019 saw our beloved St. Louis Blues win their first ever Stanley Cup title. Our city came alive like I have never seen. It from the moment that Cup was lifted, to the OB Clarke's party to that epic parade down Market, St. Louis went blue and we went hard. One of the perks of winning the Stanley Cup, as all residents of St. Louis quickly learned, was that the Cup made A LOT of appearances throughout the region. Players, coaches and staff all took the Cup for an incredibly memorable ride. The owners, not to be outdone, also received their day with the Cup. They could take the Cup wherever they wanted and do whatever they wanted with it. Jim Kavanagh's day with the cup came on September 7, 2019.
One of my favorite parts to this story is that Jim could have done absolutely anything with the Cup and he could have involved absolutely anybody in his life. But this man who lives and breathes St. Louis, and more specifically, lives and breathes soccer in St. Louis, wanted to make sure that the most passionate supporters of soccer as well as all fans of his club, Saint Louis FC, got the chance to see and experience the Cup in person. The Cup arrived at Soccer Park early on Saturday, September 7. Prior to the tailgate, there was an indoor event with photos taken by staff and some key members of the Louligans who helped to make this entire day happen. What followed, was one of the most incredibly organized things that I believe the Louligans have ever done. As the Cup Keepers, Jim Kavanagh and others rode the Cup down to the Louligan tailgate area, numerous Louligans worked to create a system that somehow managed to corral hundreds of people into a line that snaked around the parking lot, all leading to the Cup being placed on a table with the Louligan tailgate trailer and flags behind. For what seemed like hours, but in reality was only about 30-45 minutes, everybody who was there for the tailgate – friends and Nashville foes alike – had their turn taking a picture with the Cup. Friendships were forged and memories that will last a lifetime were made at the tailgate that day.
But the tailgate was not the end of it. Our traditional march to the match this night was led by none other than Jim and the Cup. I have never seen it elsewhere and I cannot imagine it happening again, but the Louligans were ushered into Soccer Park that night, chanting, singing, and drumming as loud as can be, by Lord Stanley's Cup. As the Cup took its' place on the field, in our corner prior to the match starting, one of the all-time great tailgates and pre-games that combined a city's most beloved sporting teams, came to a close. As for the game, it would not have been the perfect cap to a perfect night at Soccer Park had STLFC not gone on to win. They defeated Nashville that night, 1-0.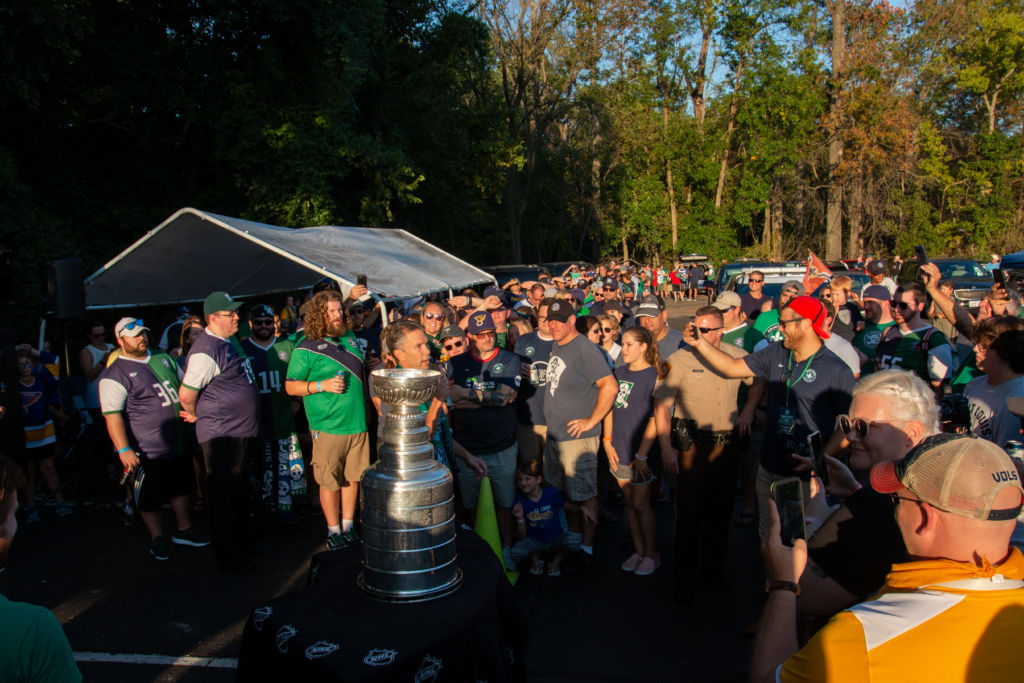 With so many fun memories that were included here, there's a laundry list of tailgates that you just need to show up and ask about to hear the random, seemingly surreal details. Things like DJ Red Bull showing up to our tailgate and everyone ignoring his gigantic bus/booth except for Mitch, who went over and succinctly said "it's time for you to go," only to be told that he was told by management to be there. One text later and DJ Red Bull found out the hard way that being asked to be by the entrance to the stadium is not the same as being at the tailgate. Or a King's Cup match where a friendly guest found himself passed out under a table. Endless shenanigans, friendships created, memories made and more, in the 6 years that Saint Louis FC provided us a tailgating home. It is also important to note that none of this would have been possible, as illustrated by the tailgate that wouldn't end, without the partnership with STLFC's front office. We know that the atmosphere will be bigger and the size of the tailgates may be greater in the coming years, but this run and these people created something truly special that will have built the foundation for everything yet to come. Aaron Mednik provides a glimpse into that relationship that helped to create to many memories we have and will forever tell. "One thing that most people never experienced, was how Jeremy (and sometimes Tom, Pat, or others) would come hang out with us before the tailgate started, have some beverages, shoot the shit about anything and everything."
Like the St. Louligans ourselves, the tailgates will persevere. We will make new friends, new memories, and get a little SiLLy along the way. On June 12, 2021 the St. Louligans are throwing a "Meet the Louligans Tailgate Extravaganza" before and during the St. Louis Scott Gallagher USL League 2 match. It was never planned this way, but this will be our chance to say goodbye to the STLFC-era while simultaneously welcoming any and all new St. Louis CITY SC fans to the fold and experience as much of what we can make a normal tailgate while we build towards 2023.