Ok, I haven't completely lost it. I know Saint Louis FC has an offseason and it's just begun.  But, just because there are no STLFC games to attend doesn't mean there's nothing to do.  First and foremost, pat yourself on the back for helping to make the 2015 USL season so great. I realize we didn't make the playoffs, but this summer was a lot of fun for soccer fans in St. Louis and all of you played a part in that. Whether you came to one game or made it to all of them- we proved that St. Louis is still very much a soccer town. Sell outs (or near sell outs) for half of the home games for a team that wasn't exactly lighting up the scoreboard is a testament to the passion of our fans.
So what's next? Obviously the front office will be working on putting together a team for next season. Deciding which pieces of the puzzle to keep, which pieces to let go and looking at who to bring in to improve our standing in the league. I know we've all come to love some of our boys, but sadly this is the business of pro sports- some really good guys will be moving on and we have to make peace with that.  If any of the players are reading this I just want to thank you guys for your efforts.  Even if you won't be rejoining the squad for next year you were a part of something very special and we'll always remember that.
In the meantime the Louligans will be having several events during the winter break. Some will be functions with STLFC and some will just be silly reasons to get together for a beer and talk soccer.  First and foremost we'll be organizing a 2015 season review town hall.  We'll have some representatives from the team out to answer fan questions and we'll talk about some of our plans for next season. We plan to record this meeting and release it as a podcast episode so those of you that can't attend will still get to hear the discussion.  No firm date has been set, but we're hoping to do it in October (depending on the schedule of STLFC participants).
Speaking of podcasts we'll be doing more public recordings. Our #PizzaGate fundraiser got some donors that ponied up enough money to host and sponsor a podcast at the location of their choosing.  We're going to start scheduling those soon and will let everyone know where we'll be so you can get together and witness the magic live. (Mitch even bought a fancy speaker so you can listen live.) And some of you will be guests on the podcast too- $100 donors to #PizzaGate will be invited on for 15 minutes to talk about whatever they want.  That could get SiLLy.
We're also going to be setting up watch parties for the USL championship game and MLS Cup final. We may do this in conjunction with STLFC or just on our own. We'll provide more details as they become available, but this will be another good time to get together with the group for some fun.
In November we've got another great reason to get together for a little tailgating and live soccer.  The USMNT is coming to town to kick off their World Cup Qualifying Campaign at Busch Stadium.  We'll be partying and working with the St. Louis American Outlaws. This is going to be HUGE.  Night before party will be at the AO home bar Amsterdam Tavern and the tailgate party on game day will be outside Busch stadium.  Everyone will be welcome, but I encourage you all to become members of American Outlaws for all the perks you get. More details on these events as they become available.
After the USMNT game it won't be long until Christmas is upon us.  Andi and the St. Louligan Ladies will be organizing their annual Christmas party with us and American Outlaws. It's always a good time. I think this will be the 3rd or 4th annual and they get bigger every year.
Once we cross into the new year is when STLFC stuff starts to get rolling.  Season Ticket Holder events will start happening. Meet the staff, pick your seats, open houses, etc.  Seriously if you aren't a season ticket holder you should really consider it- click here for info.  If you want to stand in section 8 (or 9 or 10) with us, season tickets are the way to go. $150 for GA tickets is a bargain and I have a feeling tickets in our corner will be harder to come by on game day than they were this year. Plus you get tons of perks as a season ticket holder.  Matt Bird did some math last year, by the time the season had actually kicked off you had already recouped your $150 in free food & drinks at the various season ticket holder events. Plus you get to meet your fellow season ticket holders and have one on one time with the players and coaches that you don't get if you're not a season ticket holder.  Seriously- we were on a first name basis with most of the players before a ball was even kicked. If you're new to our group these events are a great opportunity to get to know everyone.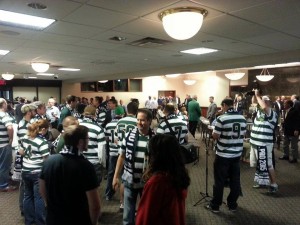 Last season we held our AGM (that's Annual General Meeting, Kyle) in the lead up to the kick off.  It's here where we address issues coming up and plan for the season.  We discuss all kinds of things and drink beer. It's at this meeting where we talk about road trips, scarves, shirts, tailgates, tifos, and anything else that comes along with being in the corner.  This is the meeting that lets you know what's expected of you as a Louligan and a place for you to suggest things in a public forum for the group to weigh in on.  Since we don't charge dues- this is the time we usually ask you to take a blood oath to swear your allegiance to being SiLLy.
After that the player signings start really happening and pre-season games get going and our worlds become soccer centric again. Spouses and families wonder where you are on Saturdays and why you can't be bothered with household chores.  It won't be long.
Finally- I need to address something that comes up every winter, but even more so this year. We have been approached by at least 10 different local colleges or universities about bringing our SiLLiness out to support their team. While flattered, we simply cannot do it- as a group. We all love soccer and want it to succeed at all levels in this country and in St. Louis. The fact of the matter is that we A. Cannot choose one local college over another- we all have loyalties to different schools and it would be a huge internal battle if we chose to support one and not another.  B. We need an off season ourselves. Our families put up with a lot of our soccer madness and they deserve some of our weekends. And most importantly C. This takes far more work than you realize. We really do a lot of things behind the scenes to make our presence successful. It's not as simple as showing up on game day. To do what we do without 100% commitment would be doing ourselves a disservice.  The same could be said for the local indoor soccer teams. Some of us hate indoor soccer, some of us love it.  You wouldn't get complete support if we chose to back an indoor team.  What we will do is support other supporter groups for these teams.  Especially if there is a student group supporting their college.  We'd love to give you some promotion from our Social Media outlets. Send us a message and we'll tell others who might be down to support your school about your group. We'd also be happy to provide any advice on how we do what we do if you need help getting your group going. We're always available at Twitter or Facebook to answer your questions.
The St. Louligans are NOT a mob for hire. In the past some have approached us that way. Offering free tickets or discounts to get us out to yell and scream.  We don't do that.  We show up to STLFC because we all believe in what they're doing.  If we show up without that passion it will show.  So, while you may see Louligans or shirts and scarves at various soccer games around town- those people are there because they want to be there and are having a good time.  It will not be a Louligan event, but we're all soccer fans and will find places and ways to express that. 
Going forward our support will be primarily focused on our highest level local professional team STLFC. We will also always love and support the St. Louis Lions PDL club because they sustained us when we had nothing else.  And we'll always hold a special place in our heart for Fire & Ice SC as the top women's soccer side in our area.  Anything else is just a bonus.
So, in the meantime- Listen to our Podcast (itunes & stitcher). Follow us on Twitter. Like us on Facebook. And check out our Instagram account. Those are the easiest ways to keep up with what's going on with the St. Louligans. Can't wait to see you all again. Hang in there- the new season will be here before you know it. #SeeYouAtThePark