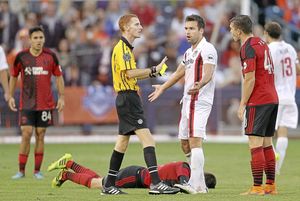 We said it a few times on the podcast, we are a few players short from being really good. A couple of proven producers in this league and we can seriously think about competing. With that, we can definitely welcome Chad Bond to the fold. Chad was 4th in the league's standings for assists last year, in only 24 games too!
Born in South Wales, he looks every inch the rugby player that the area is so famous for producing: solid enough to deliver a massive hit, yet fast enough to avoid the retaliating blow. At 28, Chad is a veteran of the league having played for OC Blues, Sacramento Republic and, most notably, as the team MVP in the inaugural Tulsa Roughnecks season last year.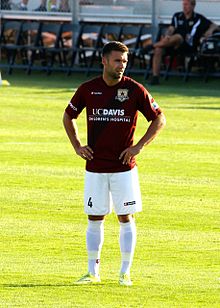 "Last year I played as a defensive midfielder.  This was new for me, but I really enjoyed the role," Chad explained. He scored 1 goal and provided 8 assists as a CDM. "Central midfield is my favorite, getting forward and creating chances. I grew up idolizing Steven Gerrard, Patrick Viera and my favorite was Xabi Alonso."
A Swansea City supporter, Chad played for his hometown club under Roberto Martinez before leaving to ply his trade at other local teams, such as Newport County, Llanelli and Port Talbot. After 2 stints in Spain and Sweden, it was the USA that called next with Chad playing in Orange County and Sacramento.
"My entire time in Sacramento was mixed. It's a great club with a lot of good people involved. I just didn't fit in the manager's plans and that happens sometimes in football." Chad goes on to say, however, that it was through the Republic that he was noticed by Tulsa. "I had a great time there last season, both personally, and for the club in its inaugural season. The fans were great and I had a good relationship with the manager. It was a tough decision to leave."
With Saint Louis potentially playing the Roughnecks up to 4 times next season, Chad is unsure of how it will be when he faces his old team next season. "I am expecting to get some abuse from their guys but, I know it will all be in good humor. I have no problem with it."
On what he knew of Saint Louis, he is quick to admit he didn't know too much about us. He was unavailable to play against us early in the season due to red tape.
"I had seen things on Instagram and Twitter about how passionate the fans are and getting good crowds. That's a big draw for any player.  Speaking with Coach Schilly and the GM [Alumbaugh] and having them explain their vision for the club was a massive selling point for me."
All the Louligans wholeheartedly welcome Chad to the club and look forward to see him marauding and bossing our midfield with Barks and Bushue.
Feature picture credit Timothy Tei/TulsaWorld