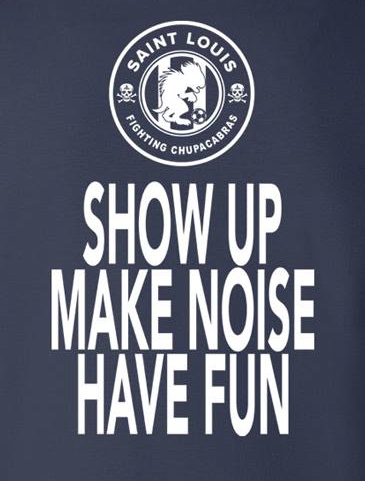 So another major announcement today for Saint Louis FC  with the unveiling of our inaugural schedule.
We've been waiting a good long time with baited breath, ready and waiting to plan road trips, tailgates, viewing parties and the like.
Realistically, with the conferences split in two, and the extra 3 local rivalry games, the only realistic away games we can make are Louisville, Tulsa and Oklahoma City Energy.
The big splash was made on Saturday when we learned our first game would be away at Louisville on March 28th. As part of the Kings Cup supporters series, this will be the first of 4 games against our nearest foe, with the other away game being on May 30th.
That's the good news. On the away game front, our game at Tulsa immediately follows…….. On a Thursday evening. Which blows. That's a 2 days off work kind of trip and a pain in the backside. However I do understand that the teams that share baseball stadiums will have to be flexible for scheduling reasons.
Our first game at home is against the Pittsburgh Riverhounds on Saturday April 11th. I was especially pleased with this. The Riverhounds are a storied American club, Playing a well known team will helpfully add some of the fence sitters to come out and watch. I am convinced after someone has been to one game, they'll be a regular attendee.
On the USLPRO site here, it shows us playing Colorado Springs on June 19th. we have mused at this point it is a typo and should be home to Tulsa, if not it will be nice to see another western conference team against Saint Louis FC. [edit, it is apparently not a typo and we'll be playing Colorado]
If you're looking for some road trips further afield, We play at Charlotte over 4th July weekend immediately after playing Wilmington 3 days earlier on the Atlantic coast. Also within the space of three days we play both Toronto and Montreal in Canada in the middle of July. (Poutine and Molson anyone?)
Sunday the 6th of September we're away at Harrisburg PA. Lots of driving possibly, but what better way to spend labor day than driving home with 3 points from the City Islanders?
As for the Thursday games, thankfully the other 2 of the 3 we have are at home to Toronto and Charleston.