I get it. The irony isn't lost on me. I'm English, the England team are about to play another CONCACAF minnow in Belo Horizonte. The story of 1950 and the USA's unlikely win against England is well known, but is only half known. It should be as famous as the Lisbon Lions. However, outside my new hometown of St Louis, Missouri, it is all but a memory. Six players (five of whom played in the England game) and the manager all came from St Louis. Four came from within a city block of each other. The biggest upset in World Cup history is a story that unfolded within 20 miles of my front door.
Right now, if you look on Google Maps, the block of Daggett Avenue between Lily and Macklind in The Hill, just off I-44, is Berra Park. There is something lovely about the fact that a soccer field nestles between the baseball diamonds. For Daggett Avenue was home to four players who would go onto make World Cup history. It's just a short walk to cover their houses, their workplaces, and their lives.
My first trip down Daggett, I had no idea where I was going. I had my camera slung over my shoulder and a guy stood outside smoking turned to me and said "taking pictures"? "Why, sure" I said and explained what I was interested in photographing. "Pee Wee and Gino lived over there, and Frank lived around the corner on Marconi, Charlie worked at the school on the next block." I thanked him profusely for his knowledge and off I set. There, across the street from one another, is Frank Pee Wee Wallace and Gino Pariani's childhood homes; cute little single family homes. Proud and tidy, just like every other home in this staunchly Italian neighborhood.
Gino Pariani's house at 5108 Daggett Avenue.
Frank Wallace lived at 5119 Daggett Avenue. On our second trip, while Andi and I were taking pictures, we met the current resident of the home – Ms. Kay Brooks. She's old enough to know all the players, lived on The Hill all her life and owned a beauty salon on the same road about three doors down from the Pariani home. She claimed that many people come to see the house and she likes people who pay their respects.

AO member, Matthew Hutchinson outside Frank "Pee Wee" Wallace's home
A short walk down Daggett comes to the intersection with Marconi. Calcaterra Funeral Home is on the corner. This was owned by Frank Borghi for a while and in 1919 Marconi was his childhood home. It's bizarre now to think of these men, who found greatness for 90 minutes against mighty England, were just regular men of that age. Wallace was a mailman, Pariani was a dock worker on the Mississippi River and Borghi was an undertaker first and foremost, a goalkeeper second.
AO StL member and Louligan Matt Bird outside the Borghi home
Charlie Colombo, the lion of a defender, lived at 5565 Elizabeth Avenue. Famous for his "rugby tackle" of Stanley Mortensen in the final minutes of the game, Colombo was a quiet kind man, a teacher and mentor of the local children at St. Ambrose Catholic School and Church. It's a religious place, obviously as a house of worship, but standing outside seeing the statue honoring Italian Immigrants and the embedded plaques in the pavement honoring the local families is a class touch in a class neighborhood.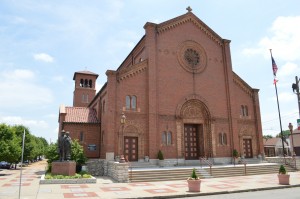 St Ambrose Church and School, where Charlie Colombo worked
AO StL member and Louligan Andi Gebhart outside the Colombo home
After Colombo's foul on Mortensen, it was Borghi's miracle save from the resulting free kick that ensured the upset happened. To the delight of the Brazilians in the crowd that were supporting the underdogs, Borghi was carried off the field on their shoulders after the game.
Wallace, Pariani, Borghi and Colombo all played for St. Louis Simpkins Ford, a storied team which also won the double of St. Louis Major League and National Challenge Cup (now, more commonly known as US Open Cup) in 1950. A fifth member of Simpkins, Robert Annis, also went to Brazil, however, did not play. Simpkins played many games at the old Public Schools stadium located just off North Kingshighway. There is still a school there now, and the old stadium was over Kingshighway from the school and it is hard now to envision that in 1950, Simpkins lost 5-0 on this ground to Manchester United on May 25th and Besiktas beat the US All Stars 5-0 on May 31st. Everton, Liverpool, Plymouth Argyle, Dundee and Sochaux would also grace North Kingshighway, playing against CYC All-Stars, Simpkins and Kutis all throughout the 50′s as European teams tried to gain extra revenue in the off season by playing in the original post season friendlies.
We find Harry Keough from the Kutis team that won two US Open Cups of their own. Federal Census forms from 1930 and 1940 show that Keough lived at 7121 Vermont Avenue in the Carondelet suburb of the city between I-55 and the river.

Like Wallace, Keough worked for the Post Office in 1948 after leaving the Navy, but it was on and off the field where he made his mark. Eight national titles as player and five NCAA titles as a coach of SLU ranks Keough up there with anyone past or present in the game, not just nationally, but internationally. This is especially fascinating when you consider this was all done on a part-time basis while maintaining a day job.
I was lucky enough to speak to Keough's daughter Colleen. "He really was a wonderful father" were first and foremost among comments from her. Harry was an avid swimmer and baseball player, too. After the US was eliminated from the 1952 Olympics soccer tournament in Helsinki, the US soccer team played an exhibition baseball game against Finland and won 19-1, with Keough being the catcher. Whilst the England game might have been his most famous victory, it wasn't, it seem,s his biggest victory whilst representing the USA.
It was Walter Giesler, US Soccer coach from St. Louis, who noticed the young Keough the five Simpkins players picked to represent the USA in Brazil. Much like today, with the omission of Landon Donovan from the US roster, the six St. Louisians courted controversy.
"Outside St. Louis, protesters howled. Giesler's provincialism would destroy the club, they said. We have no chance with these guys, they said. One of the players, Jack Hynes of the New York Americans criticized the selection process in private. His remarks showed up in a New York newspaper. The USSF booted Hynes from the team and never again picked him to play for the United States" – from the excellent book, Soccer Made in St. Louis by Dave Lange.
Passenger Manifest back from Brazil.  Giesler, His wife, Borghi and Keough are listed.
[Editted to include new information in comments below, Giesler is buried in DeSoto, MO] Giesler passed away after collapsing during the 1950′s team induction to the hall of fame speech in Philadelphia.
Charlie Colombo (sec 027a lot 0106) and Harry Keough (sec 039a lot 0SLU) are both remembered at Saints Peter and Paul Cemetery off Gravois Avenue.
Harry gifted his body to medical science, and as thus is remembered at the St. Louis University Memorial for persons whom made this last gift, which is located in the back left of the cemetery. Charlie is remembered with a simple ground laying stone with his wife, Eleanor.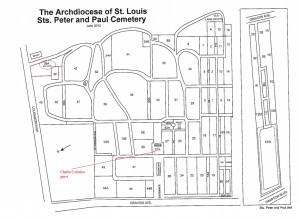 Gino Pariani (sec 043 lot 0709) and Frank Wallace (sec 048 lot 0148), much like living across the road from each other, are both buried at Resurrection Cemetery in Affton. Gino's final remembrance is in section 43, with a headstone immediately by the parking lot. Frank is laid to rest next to his wife, Ann, with a single in ground headstone within section 48. The arrows on the map are approximate locales of their final resting places.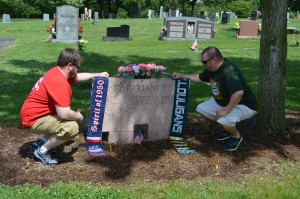 AO Stl president Ryan Smith with AO member and St Louligan Jason Patrylo at Gino Pariani's final resting place.
Andi at Frank Wallace's grave.
by Andi Gebhart (@gebby1984) and Matthew Bird (@matthewb76),with big help for reference from Soccer Made in St. Louis by Dave Lange and Game of Their Lives by Geoffrey Douglas, Colleen Erker,
American Outlaws STL and St. Louligans members.