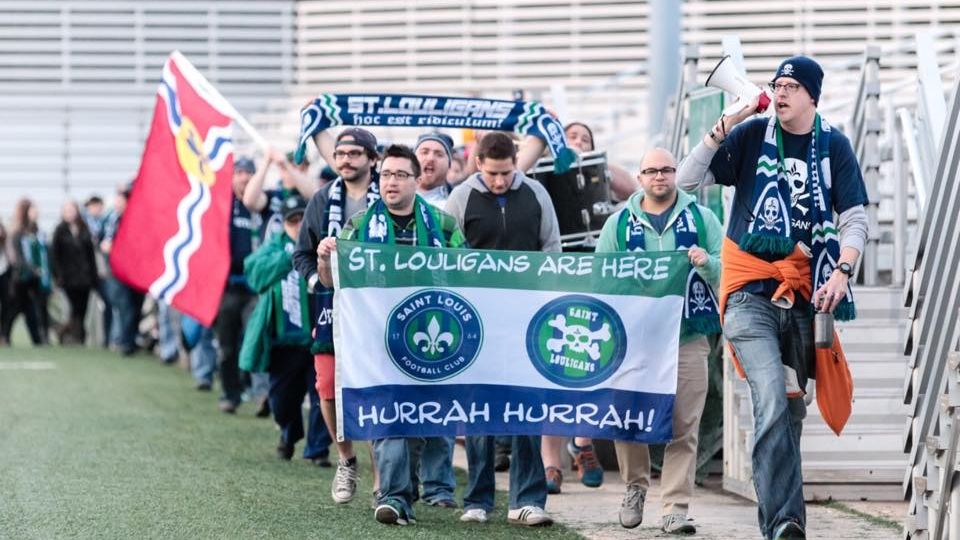 Well, we're ten games in. What's the verdict? How's things on the field?
We know off the field things really couldn't be better from our standpoint. Coming to games is excellent experience for veteran and new fans alike. A recent survey on the clubs website asked what people's favorite aspect of the game was and "St Louligans" was 80% clear winner.
But on the field. How's things? let's take a minute to review the games. Played 10. Won 3; Lost 3; Drew 4.
Louisville away 2-0 loss
Season Opener, full of hopes and dreams. dashed in an hour as we find ourselves 2 down. We played pretty good football, only for the most part it was sideways and backwards.
Tulsa away 2-0 win
We knew we could beat Tulsa, we'd done it just a few weeks prior in the preseason. This game was better as we controlled the game from the outset. I remember in the first 5 minutes Parker Maher getting the ball in midfield and him lurching forward in a bursting run. Our sideways mindset was gone and our forward play was exciting. Hardware hit the post and it was just a matter of time that Lynch scored to open his account. Gaul had a good turn and shot to get us a second and we looked to be cruising. Mark Pais came up big in the last 20 minutes. We knew Mark was good, just not this good. However it was a bit of a concern how we took our foot off the gas and let Tulsa dictate the play.
Pittsburgh home 1-1
It was all going so well. Patrick Doody took an inswinging corner that the defender lost in the moment and Barklage swooped in to slam it home. We were all over them, 9 shots in the first half. Except yeah. The second half not so much. I don't think we took our foot off the gas, I think the longer it was 1-0, the more nervy we got and the inevitable happened and we ended up hanging on a bit in the end. Frustrating not to finish the game out and get the home win. It was a great day though, sellout crowd, the smoke bombs, the chanting. A real taste of things to come.
Rochester home 0-1 loss
Rochester are good. No doubt about it. However the loss of Barklage was the bigger disappointment than the game. We wouldn't see our anchor in the midfield back until the Open Cup 3rd round in late May. The frustrating thing about the game was that we seemed to have weathered the Rochester storm. We'd kept it tight while they had the ascendancy, and were creating our own chances that we couldn't convert (a season long theme.) They countered and scored during our best period of the game.
OKC Energy away 2-1 win
WIN WIN WIN WIN WIN. Through the haze of beer that Landon and I had consumed in the tailgate and the game, we played really well. Despite going down a goal early, we played really really well. Different lineup having Hardware and Ambersley swap places really did work in our favor. Short term loanee Greg Cochrane came in and didn't miss a beat for Barklage. Gasecki made his first start and looked really assured in the back, it was his thunderbastard of a shot that clanged off the post that Ambo hit in the empty net. What was really encouraging was how we saw the game out. We didn't have the anxiety of the last 20 minutes that we had against Tulsa. We saw the game out in a cool calm professional manner. Except Jermie, he decided to push their guy over and got a red card. I'd do the same if someone tried to kick me in the bollocks too though. Best game we played all year in the league.
Bye week. They suck.
Wilmington Hammerheads home 1-0 win
This winning thing is awesome, could totally get used to it. We played pretty bad though I thought. the optimism of the OKC game was gone. This was a battle as Hammerheads came in and played a strong disciplined game and could have quite easily nicked it themselves. It was fitting though that the winning goal was Saint Louis through and through as a Mike Roach corner was met at the far post by a towering Sam Fink and bobbled over the line. We went crazy. The game also took us above Louisville! That last all of three days as they themselves went and twatted Wilmington 3-0
Torontwo 1-2 home loss
This game never happened, well the first minute did…… The nadir of the season thus far. We were the better team. By far. They were quick and strong and took their chances well, but it NEVER should have gotten to that point. A give away in possession for their first and a sliced clearance for their second and we're scrambling for something from a game that should have been three points all day long.
Louisville home 3-3
Louisville are a good team, they not only proved it against us in the season opener, they proved it since in the majority of the games they've played in only losing one at Charlotte Independence. This, I feel, was a point earned. It's hard to criticize because we blew the lead 3 times, I feel that had the weather delay not happened we may well have gone on to win. Then again, if the game had gone on another 10 minutes, Louisville would have grabbed a winner. The team played well, so did they.
Louisville away 1-1
We deserved something from the game. Again, They were disappointed with the result, so that has to give us some satisfaction.
Pittsburgh away 1-1
Despite the 2 draws against Pittsburgh, I honestly think we're the better team. It's frustrating to have the better possession, the more fluid passes only to have, essentially 2 shots on target that trouble them. Great to see Barklage and Hardware back on the field naturally. You have to hope there is some solidity to the lineup now with Renken looking as good as he has the past few games.
I personally think we're a good solid team. I don't think our record is a good indicator of how good we are. After OKC Energy I was upbeat. Thought were were on a roll. I was looking at teams floundering like Harrisburg and Charlotte and thought they'd be an easy 6 points. However most teams around us now seem to have gelled quicker and found the chemistry we're lacking. We always seem to be a final pass away, or a wrong decision from being totally clinical. There is no point beating quality teams like Oklahoma City and getting gutsy draws to Louisville only to shit the bed against Toronto (and almost did to Des Moines)
The Open Cup is a massive tonic, and the extra games will have helped us gain extra chemistry. No matter what happens in KC on Tuesday week, it's a game I want the players to go out and enjoy. They earned it.