It was a question I quietly posed to myself in Oklahoma City; I kept it somewhat to myself and my immediate circle. "What exactly is Mike Ambersley doing on the right wing? Especially trying to track back against that wind in the first half."
Again against Tulsa, with younger legs on the bench, Ambo started and played majority minutes. Maybe I am missing something, but Conner and David, I think, have fared well enough to start.
I really don't like to question the coach or lineups, especially publicly. I did against Sacramento, however. The omission of Hardware through injury (I know, right?) meant that Mike once again found himself on the right wing. I made a couple of quips online about Ambersley starting on the wing for STLFC when MLS comes along in 2020. Well aren't I just a hack, a know nothing dunce who has to eat crow. Don't get me wrong, in times like these, I am glad to be wrong; I launched myself out of the seat higher than most when Mike raced down the right wing and netted.
The win against Sacramento was a character win, under a barrage the defense stood tall and we took one of the two chances we needed.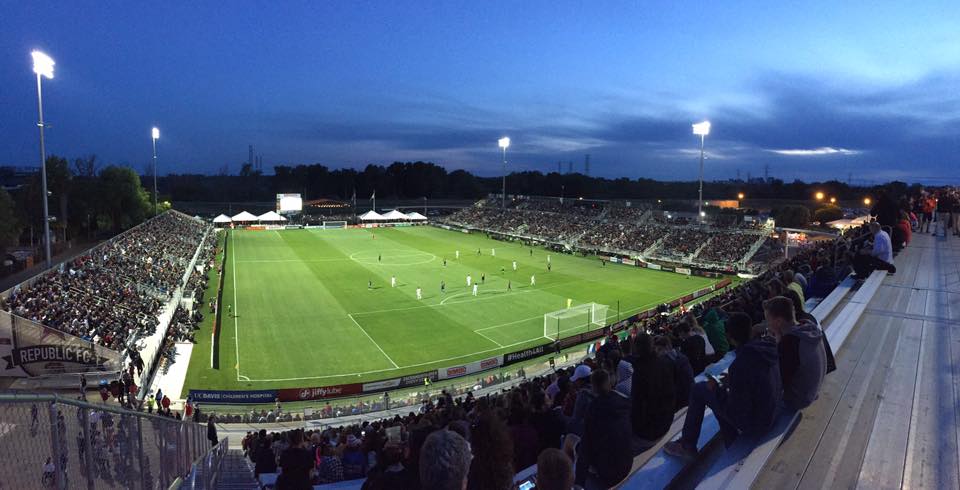 Following the vitriol spewed by some after the LA Galaxy game, which was pretty abject, the club has gone unbeaten in four. We have had two clean sheets, and I only felt we dropped points to Tulsa at home. Having said that, we've played on the road the USL runner-up 2015, USL champion 2014, Western conference regular season winner 2015, and Western conference runner-up 2015, and only lost once to any of them. That's not too shabby. Whilst we are in fourth mainly due to played more games than most, the stark reality is we'd be right up there at the top if not for a last minute loss in Salt Lake.
Maybe we're too conditioned after last season to be pessimistic. However, put in terms like "unbeaten in 4, clean sheets and wins," we have reasons to be cheerful. Saint Louis is a strong team. We will need to be, too. This conference is no joke.
We play Vancouver next (who are unbeaten), Swope Park (who are stacked) and then Louisville, who are leading the pack once again. We'll cross those bridges in the weeks ahead. However, every time I look at the schedule and think to myself, "Wow, Vancouver/Switchbacks/San Antonio look strong," I have to remind myself. "Well, so are we." Nobody will want to play us–with good reason.
We have reasons to be cheerful. Enjoy.