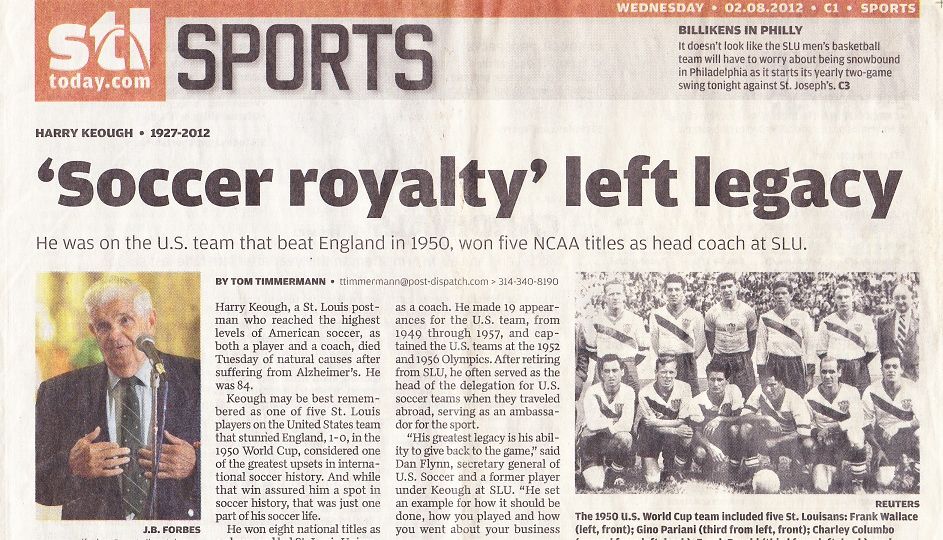 We don't have much going on right now; we're all waiting on spring for the next chapter in our city's soccer life. Also I purchased FIFA 15, so obviously my writings and articles have tapered off of late.
With Landon Donovan announcing his retirement recently, I saw a question posed on twitter to name the five best CONCACAF players of all time and where Landon sat amongst them. There was lots of musings for Hugo Sanchez and Cuauhtémoc Blanco, and Clint Dempsey. Not a single person mentioned Dwight Yorke. Now, I understand that familiarity breeds familiarity. However if we can forget a Champions League, Premier League and FA Cup winning in a single season player in 1999. What chance the players of our past? Just how good were these men?
I write this now, following on from the "five lads from St Louis" article for reason that Andi and I concentrated on the Hill, and didn't really do Harry justice in that piece. I write this now for there isn't much to talk about apart from Saint Louis FC, and I write this now for the USA game today, and tomorrow would have been Harry Keough's birthday.
Bruce Arena won five NCAA soccer titles and went on to become a MLS and US National team coach. Harry won five titles with SLU and went on to become a supervisor with the USPS. That may be a flippant statement, but it's an amicable comparison. Bob Bradley was Arena's assistant at Virginia, and never won the NCAA in his own right, but enjoyed a successful period as USMNT coach. So it is very probable to say that had Harry been born half a decade later, he'd have been the talk of the entire soccer nation. He'd have been Caleb Porter….. Just better.
But naturally, soccer was different then. A bygone era of heavy leather balls and waterlogged boots running on cabbage patch fields. Keough cut his mustard in a less cut throat time. Nonsense. To diminish his achievements would be akin to doing the same to Ferenc Puskas, Herbert Chapman and Stanley Matthews, and, Dwight Yorke.
Harry was born on this day November 15th in 1927 in south St. Louis to Patrick and Elizabeth. He picked up his love of sports from his father who appeared on the $64,000 question game show answering questions on baseball.
Harry however picked up his love of soccer through his older brother, Bill playing at the Blow school playground next to his elementary school on Loughborough Avenue. This was a predominantly Spanish neighborhood, and Harry became interested in learning in Spanish from his long summer days playing soccer with this community, and reading about international games in Spanish newspapers.
It was while graduating Cleveland High School in 1945, that Harry won his first national championship with the Schumachers club, before joining the Navy in 1946.
Returning from the Navy in 1948, Harry played for Paul Schulte motors; the team would change names under various guises, to be called St Louis McMahon, St Louis Raiders and Kutis SC. It was with this team that Keough was called up to the US national team. His first cap was against Cuba in 1949 at the North American championships in Mexico. Finishing second in the tournament the USMNT qualified for the 1950 world cup in Brazil.
We all know about 1950 and the "miracle match" in Belo Horizonte. No more needs really said that hasn't already. However, there is so much more to Harry than this game. Indeed, in the prior match against Spain, Harry was captain of the team because of his knowledge of Spanish.
In 1951 Harry met and then subsequently married Alma Flores, a St Louis native of Mexican heritage. Alma's father worked for the Illinois Terminal railroad after he had hitchhiked up from Mexico in 1919. However just after Alma was born, the depression hit and the family moved back to Guadalajara from St Louis. When Alma's father was rehired and moved back in 1946, Alma hated it! She hated the weather and not knowing much English, with this she moved back to Guadalajara and lived with relatives. A chance visit back to see her family in 1951 led her to meet Harry and the couple fell in love. In order to communicate fully with his wife, Harry became fully fluent in Spanish.
Harry Participated in the Helsinki and Melbourne Olympics in 1952 and 1956. Interestingly, the US Soccer team played against the Finnish baseball team in baseball, and smacked them 19-1. Some would argue Harry's finest hour representing his country was in baseball not soccer.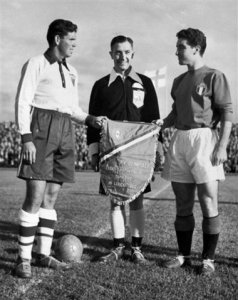 Harry, in the 1952 Helsinki Olympics before playing Italy
Harry's last USMNT cap was in 1957 in a loss to Canada.
Finding work as a soccer coach at Florissant Valley Community College, He was quickly scouted himself for bigger and better things and moved to Saint Louis University. He coached SLU to four outright NCAA soccer championships and one joint title. This would be impressive on any coach's resume. However to do it while a full time employee of the United States Postal service is beyond comprehension. He always started early, at 4am. Then during soccer season would come home by 1pm to take a nap then go to practice and games. According to his daughter, Colleen, he was quite the sleeper so luckily power naps were easy as this demanding schedule needed it.
His salary at SLU was bare bones at best, and any additional income squeezed from the athletic budget usually went to his assistant coaches. However Harry just loved soccer, and the fact that SLU allowed tuition remission for his children to attend college there was a huge bonus to him, His son Ty had a full four year scholarship to SLU. Ty turned down a scholarship at Yale to play for his father at SLU, with himself going on to represent the St Louis back four of the 1970's and 80's USMNT with Steve Pecher, Greg Villa and Tony Bellinger.
Privately, Harry was a simple man, enjoying anything with ketchup but mainly a burger, He and Alma travelled regularly. Aside from coaching trips with SLU, it was estimated that they drove approximately 40 round trips from St Louis to Guadalajara. They were blessed to also go to the world cups in Mexico 1970, Germany 1974, Italy 1990 and finally in France 1998. Harry made it to Germany again in 2006 with the help of his sisters Norma and Betty.
Harry and Alma lived at 7325 Rainor Court 63116 until moving to a senior living center in Webster Groves. Harry started showing signs of Alzheimer's around 2000, but it wasn't until 2008 when Alma needed help in caring for Harry until he passed in February 2012.
He is remembered at St Peter and Paul cemetery. Gifting his life to medical science there is a memorial to all who made this final gift.

Andi, Ryan, Jason and Matt, at the SLU Medical Gift remembrance. St Peter and Paul cemetery
I know as Louligans, we sometimes feel that Saint Louis relies a little too heavily on its soccer history. However, Harry Keough's record is second to none, not just within the American sphere of the game but on the international pedestal also. We gently doff our collective cap to this great man and proud son of Saint Louis.
Halls of Fame:
* National Soccer Hall of Fame – Player
* National Soccer Hall of Fame – Coach
* Missouri State Sports Hall of Fame
* St. Louis Sports Hall of Fame
* St. Louis Soccer Hall of Fame
* St. Louis University Sports Hall of Fame
* Spanish Society Sports Hall of Fame
* Cleveland High School Hall of Fame
* Ted Drewes Hall of Fame
Other Soccer Awards:
* National Soccer Coaches Honor Award
* Legends Award, Jack Buck Sports Award (Missouri Athletic Club)
* St. Louis Sports Commission 100 Sports Personalities of the Century
* Sports Illustrated Top 50 Missouri Sports Figures of the Century (only one chosen for sport of soccer)
* various CYC awards
* Doc Bauman Award, St. Louis Senior Olympics
* Keough Award (Named after Harry, Ty & Bill Keough) – Given annually to the top St. Louis male & female soccer players
Non-soccer Achievements:
* 1942 – Member of Cleveland High School State Championship Boy's Swim Team
* 1944 – Public High Champion 100 yd freestyle ; 2nd Missouri State 100 yd freestyle; 2nd place in Track, Public High Meet, Long Jump;
* 1949 & 1954 – Member SAY Club Municipal Softball Champions
* 1952 – Played on the U.S. Baseball Team in the first exhibition game for the sport of baseball in the Olympics, Helsinki, Finland (the U.S. Soccer Team doubled as the U.S. Baseball Team and defeated the Finnish National Baseball Team 19-1)
* Federal Civil Service Employee of the Year of Greater St. Louis, Managerial and Technical Skills
With thanks to Harry's daughter Colleen Erker Keough for her time.