Like most 40 year old males in St. Louis, I love BBQ.  I grill several times a week; about once every other month the smoker pit has something going on it.  I'm pretty proud of my brisket, and the ribs are pretty good (so I've been told by equally rotund eaters).  I spent a lot of time at my old job talking Q with Kevin Riley of Circle R Cookers instead of us working.  (Order his Sweet Pecan rub, you won't regret it.)  And around this time last year, they announced we were getting a Sugarfire Smokehouse down near my house in Fenton.
I'm not gonna lie: we eat there a lot, as it's minutes from my house.  My son Jack crushes a half slab of ribs with brute force.  Erin and I get something different almost every time, and have yet to be disappointed.  And they have Excel Bottling as fountain soda, so I'm guzzling Ski every time.  Sugarfire44 is probably my favorite BBQ place in St. Louis and we've got some top notch Q in town.
About a month ago, Mike and Virginia McCue were in Sugarfire44, Mike sporting the Louligan shirt.  While eating, the GM, Ryan Hannephin, stopped and talked with the McCue's about the team and our group.  Ryan indicated an interest in doing something with us, thinking it's a natural fit.  Mike shared Ryan's info with me, and I started trying to get a date where Jeremy Alumbaugh (GM of Saint Louis FC) and we could go up there and talk with Ryan about doing something together cool.  The season planning got underway for both us and the team, and it was hard to find a day to meet up.
And then, a tweet went up today.
Would ya look at that.
So, of course, I had to have it. It must be mine.  Threw on a Louligan shirt, and did way over the speed limit to get there.  I doubt they were going to sell out in 30 minutes of being open, but I wasn't going to take any chances.
Standing there, sipping on my Ski, waiting for the line to go down…and Ryan walks up.  I introduce myself, he immediately tells me how it's something he's been wanting to do, and they're excited for the upcoming season.  He points me out to one of the chefs, and you can tell they're excited for this sandwich.  I don't even need to say what my order is, just what side I want.  I'm so excited to get one, that I forget: I brought them a scarf.
Now the hardest part, waiting for the sandwich.  I'm so close…yet so far.  Stupid time go faster.
And then they call my name.  Holy shit.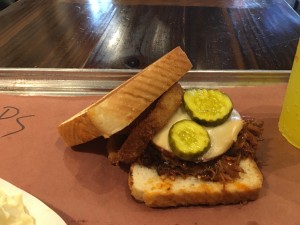 It's a damn good looking sandwich.  Piled high with the rib meat soaked in the STL Sweet sauce.  That sentence right there should be perfection for meat eaters.  But then we add the slice of smoked gouda.  Personally, one of my favorite cheeses…and it just compliments the rib meat and sweet sauce, just melting enough to bind to the meat.  I'm in heaven.  A crunchy flavorful onion ring, not some fast food crap.  Bread and butter pickle chips.  And all on texas toast.  Sorta.  Because there's a LOT of meat on there, and it falls off with every bite.
This tastes better than it sounds.  It's just a perfect mix, everything just right.  This is one of those sandwiches you don't like putting down, because you want another bite as soon as you're finishing chewing the previous bite.  Little sweet, little tangy, little crunch and sharpness from the onion, and the softest rib meat enveloped in a buttery bread.  Yes, it is a romantic experience.  My life was changed and it'll never be the same again.
OK, seriously, this would be an amazing sandwich regardless of the name.  And to have an awesome BBQ joint name a sandwich after us?  How cool is that?  So gameday, I think we have our lunch planned.  We've got our own beer, our own sandwich…maybe it's time for Ted Drewes to make a concrete for us.
On a scale of 1-5, I give this sandwich 5 flaming vespas.  No higher honor.