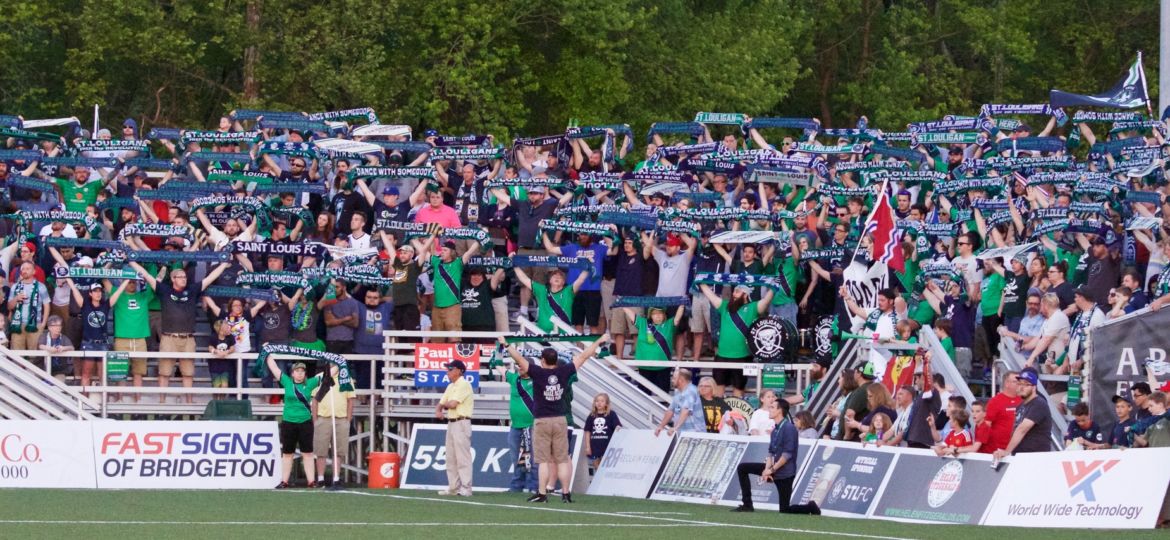 It's been a while since we've posted information about membership. For those that are new(ish) to the group, you may wonder how you officially become a St. Louligan. Well, I'd like to officially welcome you to the group. We charge no dues and we don't have any official sign-up procedure. If you want to be a Louligan, you're a Louligan. We hope you enjoy what we're doing and will want to be a part of it.
The 2016 Saint Louis FC season has kicked off with a bang. Our corner in section 8 sold out with season tickets and sections 9 & 10 are always full too. A winning record will also be bringing in new fans. So here's the deal, we don't charge anything because we don't want $20 to be a barrier for anyone. Show Up, Make Noise, Have Fun. That's it. Ideally you'll buy a t-shirt or scarf or chip in if we ask for donations to help us raise funds to do things like tailgates, tifo, podcast, charity, etc- but it's not mandatory. We follow a punk D.I.Y. ethic. People tend to do what they enjoy and what they're good at and it usually works out for the best. We're a hive mind- if you're doing something wrong somebody will call you out, if you're doing something right you'll get praise. You never know what little thing will strike a chord and rally people to our cause. I encourage you to do what comes natural and you'll find your niche. (Even if its just drinking a beer and talking to other fans about soccer.)
We've been around since 2010 back when AC STL played in the newly re-born NASL. When they folded we moved on to the St. Louis Lions in USL-PDL. We went to PIASA games (PASL) for fun in the off seasons. In 2014 we had a short-lived NPSL team in the city with FC Bordo that we supported. We also attend some Fire & Ice SC games in the WPSL. So we've been at the various levels of Amateur & Pro soccer in St. Louis for the last 6 years. 2015 marked the return of Professional Outdoor Soccer in the form of Saint Louis FC and we've continued to grow. No matter when you started following us or when you decided to join- we welcome you all. We don't have Platinum members or Gold Star members, we're all equals here. You get out what you put in.
Whatever your level of soccer knowledge or history with the game or our group we hope you'll have fun and stick around. For this season with Saint Louis FC all you have to do is buy General Admission tickets and gravitate toward the corner. What we do inspires our players. and they thrive off the energy the crowd puts out. It can push them on when they're tired or frustrated. After a goal they'll head to our corner first to celebrate and after the game they'll clap for us as much as we clap for them. There's a reason that the club is working with us to make sure we're there and a part of the game day festivities, they know having a strong supporter section is good for their players and for their marketing efforts. They put us by the scoreboard so everyone in the stadium sees us standing and making noise in the hopes that our passion will engage the rest of the park.
So back to membership. I personally invite you to become a Louligan because you love the game or because you want to have fun or because you want to be a part of what we're building here in St. Louis. Again, it costs nothing. Benefits include special team perks for the Supporters Section. Special giveaways. Scarves. Roadtrip packages. Use of the team facilities for Tifo days or Chant practice. First notice of big news and special events. And other things we're constantly working on. But without a doubt, the biggest benefit are the friendships you'll make. Friends I've made through this group over the years are my best friends in the world. It's not uncommon for us to get together to celebrate birthdays, play pinball, drink a beer or just hang out when soccer isn't even involved. I love my Louligan family and I hope to add more people to that list.
As this group grows we may change how we do things. We may one day have to charge for memberships or have elections for officers- but right now all we ask is that you come around and be yourself. There's a place for you no matter who you are. So, buy tickets and join us in the corner. We can always take over more sections if we need more room.
To stay up to date with all of our events and doings please follow us on Twitter, "like" us on Facebook. Listen to our podcast. And support the team.
ALSO- I just want to add, no matter where you stand/sit at Soccer Park, we invite you to be a St. Louligan. We love our team and all STLFC fans are in this together.