We've Been Waiting For You.
No doubt some of you are stumbling across this page for the first time and are just finding out about the St. Louligans. I just thought I'd take a few minutes to introduce you to our group and explain where we came from and what we're about. I know we're all excited about the upcoming friendly between Chelsea and Manchester City at Busch Stadium, but you should know there's more than that to St. Louis Soccer.
The St. Louligans were formed during the one (and only) season of AC St. Louis. You might remember them, the NASL franchise that played at Soccer Park in Fenton before the money went away and the team folded. Well, the Louligans were the crazy people in Section 20 in the corner. Originally there were 7 different supporter groups and we loosely organized under the umbrella of the St. Louligans. Once AC (and Athletica) folded, many of us weren't ready to quit going to games and having fun. We switched our allegiance to the St. Louis Lions of the USL-PDL as the highest level of outdoor soccer we had left. We dropped the individual supporter groups and just became the St. Louligans. We encourage everyone to support St. Louis Soccer at all levels. High School, College, and above.
As I said, we focus mainly on the St. Louis Lions. These are usually college kids working their way up the ranks of the US Soccer Pyramid. The USL-PDL is technically the fourth division of US Soccer. MLS is the top, NASL is division 2, USL-Pro is division 3. So, while these kids aren't pro- that's the goal. Many of the best MLS players started in the USL PDL. Just a few short years ago Teal Bunbury (now with Sporting KC) was in the PDL and played a couple games at Lions park. So don't look at the Lions as minor league, look at them as future stars. The games are cheap and you're right on top of the action. Plus we have a great time tailgating and heckling the opponents. It's a great way to spend a few Saturdays every summer. I won't lie and say the soccer is top notch, but we do have fun and the supporter experience is worth the trip.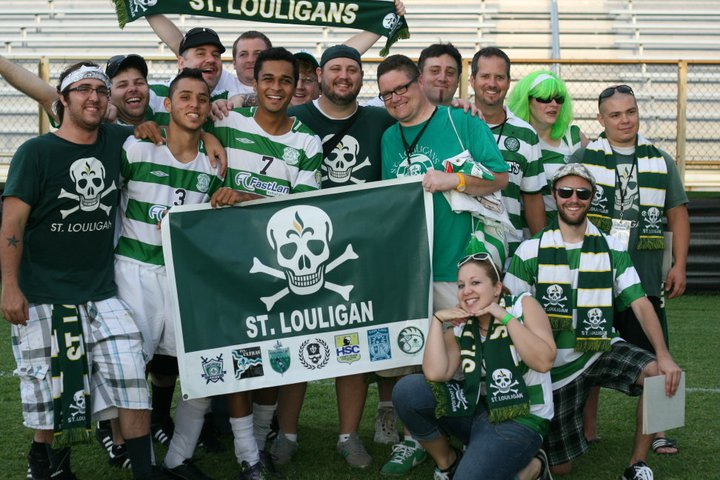 Sure we hope to have MLS one day, but until then- support what you have. There's no better way to prove to potential investors that St. Louis can support a team than to support what we have. Ideally we are set up for the Lions to move up the ladder to USL-Pro. Remember, teams like Portland, Seattle, Vancouver and Montreal proved themselves at the lower levels to gain the attention of MLS, and Orlando City is using this same method. So come out and give it a try. You owe it to yourself as a soccer fan to come out to at least one Lions game.
In addition to the Lions we have the Illinois Piasa pro indoor team on the East side. Rumors continue to swirl that St. Louis will get an MISL franchise. Women's soccer has two new teams in Fire & Ice SC and the St. Louis Defenders that we encourage you to support. And of course all the local colleges have great programs too. Pick a team and be a loud and proud fan.
Now, the big news is the friendly and I'm glad we're getting it and by selling it out in 10 minutes we're proving that St. Louis is still a soccer town. I hope everyone has fun at the game and makes lots of noise- but don't stop there. We'll be tailgating the big match and encourage you to follow us on facebook and twitter to find out where we'll be and to come by and join the party. We also have several other events throughout the year including watch parties for big matches and I'm personally inviting everyone. Follow us on our social media outlets to find out all about St. Louis Soccer news and events we're planning.
The 2013 season kicks off for us this Saturday April 6th at the new Barrister's in Clayton. At 10am we're taking over the new bar to sell our new scarf ($20) and talk about the upcoming St.Louis Lions season. We'll watch some matches on TV and have a few beers. I hope to meet some new people and I hope some of you will become St. Louligans.