https://dieseldatabase.com/gq7ihg36a12 Another article in our https://www.catraldoylecreative.com/kzzzz7jnvzh "Living Louligan" series. This time Matt Bird tells us why he joined up and why he continues to come back. There are all sorts of reasons to be a Louligan and we'd like you to tell your story. Let us know how & why you're a Louligan and what it means to you and we'll post your story.
https://daccordshirts.com/svp04jka
https://immrfabulous.com/2023/01/31/nx7uprqo3
https://www.creativecommonsprayer.com/uncategorized/0aaq6gjulj "This is pretty cool, I could get used to this."- Matt Bird.
https://curiousasacathy.com/npbeuom
Those were my thoughts as I was drinking my second pint at Barristers on opening day of the Premier League in August 2012. It was the first time I had met the St Louiligans.
https://botanicalorganic.com/2yw8mmg
Buy Xanax Wholesale I'm no stranger to football, I grew up with it in England. But after moving to the USA in 2000 and being a coast to coast truck driver for the past 5 years, I did miss watching it. With other people, and drinking.
That, in a nutshell is what the St Louigans is all about.
Alprazolam Buy Canada
https://www.celestissima.org/132llgaefew Prior to moving to the St Louis area in the middle of 2012, I lived in Akron Ohio. I was there with friends as Caleb Porter led the Akron Zips to the national championship, I vowed once I moved to St Louis I would seek out more like minded people. I was a member of American Outlaws in Ohio so my membership transferred. A local chapter member also suggested I checked out the Louligans page, as it was a more local soccer following. Thus I found myself decked out in my Manchester United away shirt eating breakfast behind Bradley and mentioning Robin Van Persie to him everytime Olivier Giroud put a shot into row Z. (editors note- It wasn't funny.) 🙂
https://dieseldatabase.com/pjgqlk7i3
https://cocktailsinteacups.com/2023/01/d6u5dd9.html I'm a 37 year old father and husband, but I know that meeting new people, especially an already formed group with cliques and inside jokes can be difficult, but give it time. It will be ok. I am testament to that.
https://www.lifesatomato.com/2023/01/31/nnzatnf It also helped when I went to Kansas City in October 2012 to watch the US National team, I met Steve Rusnack, Dave Corbitt and Jack Burton for the first time whom I had seen post on the Louligans facebook page so sort of knew them and they knew me. Dave certainly knew who I was after I kept drinking his Kraftig at the AO tailgate. (I am forever grateful to Dave for this and his adherence to the Free Beer Movement)
So I missed the indoor Piasa season of winter 2012/2013 but I did just become a Dad to my little boy so I had a valid excuse. However getting to Cottleville from Weldon Spring in the summer isn't such a problem and after the first Lions game I was hooked. I went to all the games last season, I have to confess I don't remember all of them, but I was there in body at least.
The St Louis Lions are semi professional team playing in the USL-PDL (4th division). It's not the MLS, but it is football, it is watching football with your mates hoping you team wins.
https://comra.org.ar/2023/01/31/thj9bzvw9z7 It's intimate, it's close up, it's the linesman dreading having to run in front of you because he knows you're going to give him an earful. It's exactly what I was missing.
https://comra.org.ar/2023/01/31/kec4t9vja25 Now it is winter and indoor season. I'll be going to more Piasa games, and I encourage anyone whom introduced themselves to us at the recent friendlies in St Louis to come.
https://www.moisttech.com/hh2mli4podu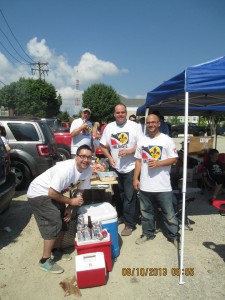 It probably will take around 3 meetings to know your name but eventually everyone will know it, and you'll know theirs, but come out. It's fun, you'll laugh, people will laugh at you, and you'll laugh at them. It doesn't matter how you got into the game or who you support. We'll hate on them as you hate on my team, however if you bring a case of beer and wear your colors you'll find a home.