The game didn't really mean anything in the grand scheme of things. The Saint Louis FC season winding down without playoff contention and Louisville City already having secured the playoff bye after finishing the league in second place behind Rochester Rhinos.
The game became a celebration of the season, a party to finish the year and to make friends and meet people whom we had only ever encountered online.
Lots of people don't "get" supporter culture. They have no need to belong. They don't understand why anyone would want to be associated with a group of drunk 30 year old men who having been granted a license for excess away from their spouses for an afternoon. People see the jokes and barbs that get thrown online, and are very often crossed into the realms of offense and think to themselves "Why be part of that?" and it's a fair comment. "Why can't you just go to the game and enjoy it and then go home?"
It's about friendship, family and being with whom you enjoy a common love of the game. Seems silly now having just mentioned the words "offense" and "drunk"
The first season of the Kings Cup rivalry is one that can sum up everything that is good about supporter culture in the United States of America and one that thrives in the lower leagues of US Soccer.
We're both expansion teams. Thrown together by luck, geography and happenstance. St Louis and Louisville are not traditional sporting rivals. However until FC Cincinnati (and a possible SKC2) enter the fray next year we are the closest teams to each other in the USL Eastern Conference. It felt an uneasy rivalry at first. I certainly had no animosity with Louisville City or their fans. I swapped merchandise with Martin French long before the schedules were announced. We laughed at their initial crest as heartily as they laughed at our home kit.
Then this picture was posted with on Facebook at our direction and the gloves came off.
The "banter" (oh how I hate that word) went into full flow from then on and I literally wanted to beat Louisville in our first game back in March more than I ever wanted to beat anyone at sports ever. Except we didn't. We lost. On the field we lost 2-0 but off the field we impressed. However as much as we wanted to keep the rivalry in full flow after the two ties back in May, we really cannot say anything when Matt Fondy is tearing up the league while we're floundering around during the dog days of summer trying not to get embarrassed in Montreal.
All credit to the Louisville Coopers, as much as we couldn't say anything about league position and our form, they really didn't rub it in as much as they could have. Believe me, had the tables had been turned and we were scoring for fun I'd have reminded them of the situation every single day.
So here we are. Final day of the regular season. The culmination of the inaugural Kings Cup that due to tie breakers we need to win the game 3-0. Well it really wasn't going to happen. However I don't think it mattered. The game became a party and as Louisville fans came over to to spend time with us in the second half the air of camaraderie grew. Guys I had tried to make fun of all season like Augustus (who being a Liverpool fan does deserve it) and Jay and Jordan.
McCabe scores for Louisville City in front of their fans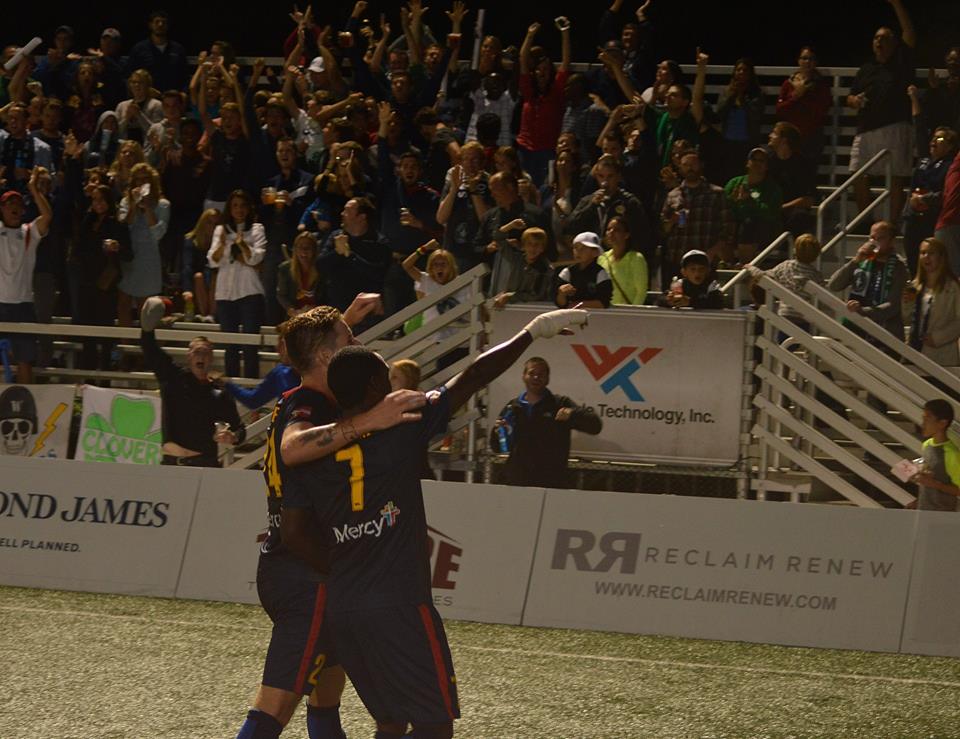 Jamiel Hardware returns the favor for Saint Louis FC
I'm delighted Saint Louis FC won the game. Absolutely no two ways about it. However I'm more delighted with the almost $17,000 both sets of fans raised to help our area food banks. As much as people see us poking each other with a stick every week, they don't see the good supporters groups do in trying to give back to our communities. They don't see the friendships born over this beautiful game.
So congratulations to Louisville Coopers on winning the inaugural Kings Cup. We'll be back with our mudslinging, our jokes, and try to poke you with sticks next year, we'll join forces in doing the same to the 10,000 Cincinnati fans they're expecting.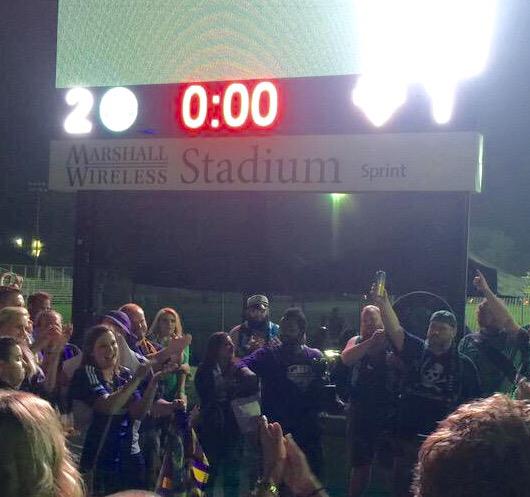 Cheers.
Can't wait for next season.