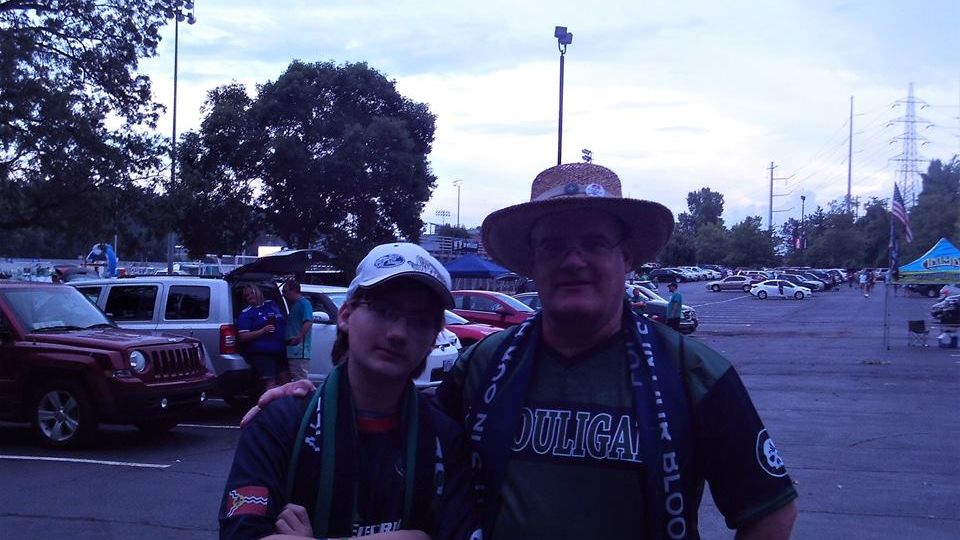 Today we feature another in our Living Louligan series. Jim Sullivan shares his story of how he became a St. Louligan. We hope you enjoy his tale and encourage you to reach out if you'd like to share your story.
At last year's last home game, along with other friends from the St. Louligans,  I was chosen to hold the Heineken banner at center field during the National Anthem.  We were all a bit tipsy and had a great time out there.  The reactions on the player's faces when they saw us out there with the banner were priceless, especially Tyler David's.  It was a great way to end a not so great season.  So, how did I get there?
I had a very Catholic upbringing during the 1970's.  The only real part of that I enjoyed was soccer, and lots of it!  For St. Joseph's I was on a team that won the CYC league several years.  This is what started my lifelong obsession with the sport.  Durning the 70's, there were like 5 TV channels here, one being Channel 9.  They would air Soccer Made in Germany, an hour long highlight show every week.  That was my introduction to the European game.  Mostly German games, but also International games too.  Awesome stuff!
In St. Louis at the time, actually from 1968-1977 we had the Stars, a pro NASL team.  I got to see them a handful of times, mostly at Francis Field.  In the 80's there were the Steamers and later the Storm.  Somewhere along the line, despite always watching the game on TV whenever possible, World Cups, etc., the local game stopped being in my personal world.
As I got older, maybe it was midlife crisis, I started really getting back into the sport, thanks to Premier and Bundasliga games being televised a lot.  Every weekend I was glued to the TV for hours.  Then one day, I'm not sure how, perhaps via a commercial, or maybe on the news, I heard about the new Saint Louis Football Club.  (I didn't know about the teams we had right before that, or I'm sure I would have gone to at least a few games.) I live in Fenton and having them play at Soccer Park made the whole thing really exciting to me!  Naturally, I attended the first ever game and had a great time.  I sat in the 'expensive' seats, as I treated myself well for my first taste of live soccer in a long time.  Across the field, in the corner, was a group, chanting, waving flags, lighting smoke, the St. Louligans.  I was impressed and wondered exactly how a group got organized like this so quickly.  (Again, I didn't know about earlier teams or that the Louligans were there for them.)  During that first and second season, I attended a bunch of games, often taking my kids.  I got tickets where I could (not the supporters section, as I was somewhat intimidated, why I don't know), but every time during the second half, I wound up behind the goal, under the scoreboard.  I eventually started talking with others in the corner and felt less intimidated by the group.  I also met others on line watching the games on Youtube, when they had the live chat.  Why exactly don't they have the live chat anymore?  It was fun.
Which comes to the 2017 season.  I bought season tickets for the first time, in Section 9.  I later moved to Section 8 and almost always wound up at field level in the second half, along the boards in the corner.  I started going to the tailgates and doing the march into the stadium.  I learned the chants, etc.  I assimilated, became a Louligan and am very glad that I did!
The main reason I am writing this is for all of the other "Newligans," or those thinking about joining us in the corner at the games.  Don't be like me, intimidated and worried about not being accepted.  Just DO IT!  Show up, have fun, make noise, it's really that simple.  Also, If you've been around a while and see a new face, say "Hi" to that person and make them feel welcome.  I will say that that didn't always happen to me last year and I did feel a bit awkward at times.
Last season was a huge bummer from the team's results point of view.  What made last year simply awesome for me, was meeting so many new people, yelling, screaming and having a great time at the games.  THAT is the reason why I renewed my Season Tickets for 2018.  Being part of the culture, having a team to support and being with other fanatics all doing the same thing, is important to me.  So, don't be afraid, just come on and dive into the deep end of the corner.  You'll be glad that you did.
We have a new coach and team for this year.  "He who shall not be named" is gone.  This is an exciting time for me and my Louligan family!  2018 season, BRING IT!!!  To quote the Grateful Dead, "I may be going to hell in a bucket, but at least I'm enjoyin' the ride!"  We all are!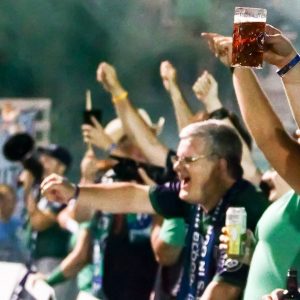 Jim Sullivan