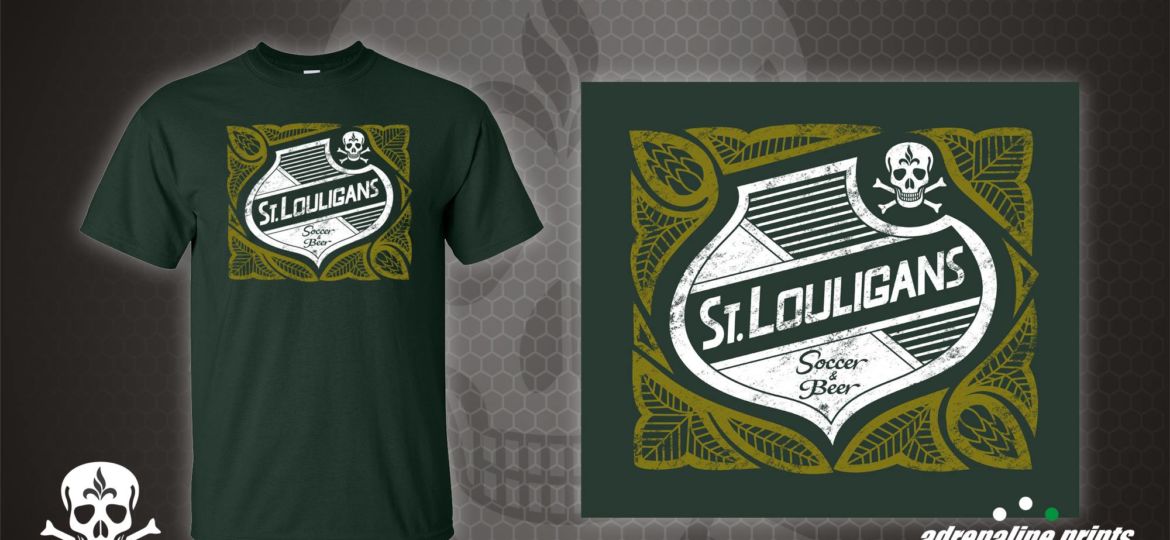 As most of you know and some of you are just finding out, there is absolutely no charge to be a St. Louligan. Cost $0. No membership fee whatsoever. BUT- we do still have expenses. When we plan tailgates, paint banners, hand out scarf buttons or have things printed it costs real money.  Usually its just people chipping in to help cover the costs. We do on occasion sell shirts and scarves to raise a few extra bucks to keep this little machine rolling along.  This is one of those times.  We're offering you a chance to help support the work we do and in exchange you get a fresh T-shirt.  So without further ado, here it is:
St. Louis is famous for many things, but if I had to pick just two things, they would be Soccer & Beer. Luckily for me, those are two of my favorite things. So the new shirt for the St. Louligans celebrates Soccer & Beer. It's been a few years since Ultras made our first shirt which marks our original members OG status.  The new shirt will indicate to those that follow that you joined up before the bandwagon and USL-Pro came to town. This year the shirt features a shield that was made famous by Lemp breweries and it's Falstaff brand, more history here.  While St. Louis beer history is usually tied to the Busch Family and Budweiser, Lemp was one of the biggest in all the land. Even though Falstaff is no longer produced, the logo should evoke instant recognition for those of us over 30 and especially those of us that grew up in the area.  Even though our tastes have matured to prefer many of the great craft beers St. Louis micro-breweries produce, this shirt looks the business.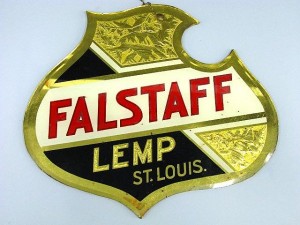 In addition to the Beer- themed logo, this shirt contains a secret weapon. A built in bottle opener. Most of the beers we enjoy aren't the twist off type, but with this shirt you'll always be ready. The hem contains a bottle opener yet the shirt remains machine washable and stylish as all get out.  Check here for a video demonstration.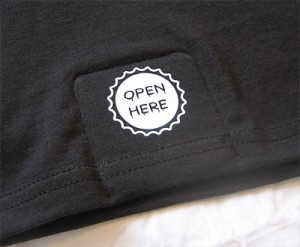 The color is St. Louligan Green (dark like our souls) (that's a joke, we're very nice people) with white & old gold accents.  The shirt is available in sizes S-3XL and also available in Tall sizes.  The price is $15 for pre-orders ($17 for talls). After the pre-order ends there will be a VERY limited number available for $20.  If you're ordering the shirt but need it shipped it will be an extra $5 to cover postage and packaging. Pre-order ends on Monday March 17th– so order before then to save $5 and guarantee you get one.  After the shirts are printed (early to mid April) we will have a Lions Pre-Season party at a St. Louis bar (TBD) where you can pick up your shirt and/or season pass (or buy one if you haven't by then).  The shirts will also be at Lions games if you can't make it to the party.
Finally, the design was a group effort, but the final image was by St. Louligan Ryan Malaschak of Adrenaline Prints. They will also be doing the printing. We encourage you to use Adrenaline Prints if you're having shirts made for any occasion.  The idea for the built in bottle opener was from a new Louligan, Adam Breeze. After some searching Ryan found a source to make it happen.  I hope everyone loves the shirt as much as I do.  If you'd like a shirt but aren't down with celebrating beer, feel free to check out our CafePress store for more options.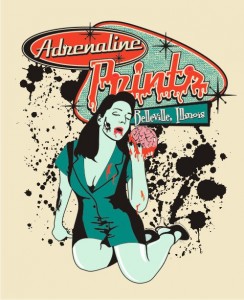 To order, PayPal $15 to treasury@stlouligans.com. (+$2 extra for tall sizes.)  (+$5 extra if it has to be mailed.)  Deadline for pre-order price is March 17th.  In your paypal order, please indicate the size and quantity you're ordering. Make sure you put your name, email address and physical address (if being mailed) in the comments.
I can't wait to meet more of you this season at the shirt party and St. Louis Lions games.
Brad,
Vice-President of Silly Hats