The season's are starting to change, and that means it's almost time for the outdoor soccer season to start.  MLS started a few weeks ago, and the other leagues start up in April.  We know we have the Lions and FC Bordo starting up soon.  But that's just where we are today, and a lot of people don't understand how it all relates.
We sit at one of the strangest places in US Soccer history.  We have a top division who doesn't really explain their transfer/player allocation rules, who makes it up as the different players become available, but is growing at an amazing rate.  We have a 2nd division that, quite honestly, is not quite a well-defined 2nd division.  We have a third division that is really a second division in nature but not in cash.  And then there's a few 4th divisions who really don't compete nor cooperate.  It reminds me of the multiple leagues in St. Louis in the first half of the 20th century.  (I highly recommend reading "Made In St. Louis" by Dave Lange for that story.)
Speaking of St. Louis, we've dipped our toes into multiple levels of that pyramid.  And we haven't been really satisfied with what we've had.  But I truly believe today that we need to change that, and we have that opportunity.
Let's work our way forward in time from 2010.  We all know that we had AC St. Louis for a whole season.  That taste gave us soccer junkies the worst jones for the past 4 years.  And that's been a good thing; it's driven the Louligans to keep working, to keep trying.
But what we don't talk about is the mess that was, and still is, NASL.  The league was created because a group of individuals didn't get what they wanted.  Not the most auspicious of beginnings.  And personally, I don't feel it's where St. Louis should be.
The foundation of the NASL was a group of USL-1(now known as USL Pro) owners upset with the integrity of the USL after Nike sold the league to NuRock Soccer Holdings instead of the owners.  In hindsight….What the F**K was Nike thinking?  I mean, really.  Can you imagine the NFL owners not having the strongest voices in the league?  This friction caused several teams to split off, and create the NASL with the St. Louis franchise.  (That's a summarization…I'm avoiding the legalese and the technicalities as it's pretty absurd.)
But, as time has gone on the NASL really hasn't been good for US soccer.  Several of those initial teams have folded; one moved back to USL Pro; others moved on to MLS.  The split-season format is confusing to many, and isn't very easy to explain to newcomers.  And Traffic Sports Marketing was heavily involved with owning several teams and players rights.  (This is not a disservice to Traffic; moreso that having one entity responsible for so much of a league questions the integrity of the actions and the stability.)  The NASL originally created a schism where none was needed, and hasn't really set itself apart from USL-Pro to justify the 2nd division badge, other than spending.
The "third" division is USL-Pro.  I use the quotation marks because for all intents and purposes, the USL-NASL levels are more 2a and 2b.  The level of talent is virtually interchangeable, and there's no real distinguishing features that indicate one is better than the other in terms of on field-product, save the NASL's ability to pay a bit larger salary.
USL established what we know as their Pro league system in 1996, with FIFA granting a 2nd division designation.  The league had granted franchise rights to the St. Louis area to Tony Glavin, when the Lions started playing in USL-PDL.  Those rights being taken in St. Louis ignited AC St. Louis being involved in the NASL breakaway.
With that time and experience, USL has established a foundation for soccer in the United States.  The PDL is a developmental league; MISL was an indoor league (although that situation is a disaster and probably isn't worth what I've already said); and now with the MLS affiliation, the relationship between USL-Pro and MLS teams creates a direct correlation between the two tiers.  This gives the opportunity for players to grow their game along a path to and in the professional ranks.
So….
We've been going to Lions games since the 2011 season.  It's been a unique situation: we try to give our all, but it's different than it would be with a pro team.  The short season is just a tease.  Eight home games go quickly over the course of two-and-a-half months, especially with a few 2-game weekends.  But PDL talent isn't to be confused with the pro ranks; these are college kids that are working on improving their game to go to the next level.  It's not wildly different than the college game; the more senior guys see more time, the younger work their way into the squad over the course of the two to four years they are on the team.  Most of the time, once you've grown familiar with a player, they move on.  Except Jonny Brown.  (Love ya, Jonny!)
As of 2012, St. Louis is ranked 19th in the Combined Statistical Area (this including St. Louis, west past St. Charles, south to Farmington, and the Metro East).  The top 10 have MLS franchises playing or planned.  The 11-20 range is a little more divided: 6 MLS teams, with one just announced (ATL).  Five of those seven teams started in the USL, and were some of the most recent additions to MLS.  Suddenly a pattern is exposed of the maturation of a soccer franchise.
You see, if there was a cartel of very rich individuals willing to spend their money to get us a MLS franchise, we'd have one.  Geographically, historically, and population respective, we're an ideal candidate.  Instant geographic rivalries with KC and Chicago.  The birthplace of soccer in the United States.  Over 30,000 kids playing in the various youth organizations around the area.  We have all the boxes checked, save the money one.  And sadly that's the 1st box; if you can't get past the first question, you're done.
Time for Plan B.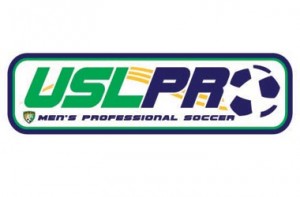 Plan B is a bit more DIY than splashing cash.  Plan B is get a USL-Pro team, work at it for a while, and get enough financial support while having the support at the gate.  Once that achievement is unlocked, it's a short path to the MLS.  Just ask Portland, Seattle, Vancouver, Montreal, Orlando.  Six of the last eight expansion teams were teams that moved up from a lower division.  The partnering with MLS teams gives the USL teams a leg up on an NASL franchise getting an expansion slot.  You can't put a price tag on that familiarity.
Well, how do we get there since you said there's no big money men?
Fielding a USL-Pro franchise takes much less start-up capital than a MLS or NASL team.  You're not looking for billionaires, just multi-millionaires.  "Just" being a relative term here.  But in our case, it's vital.  An ownership group can be made up of more multi-millionaires, which are more common than billionaires.  And getting more people with less is much easier than getting few people with the most.
Sadly, the last thing left is time.  Time for all the investors, time for the approval, time for building a staff, time to wait until kickoff in 2015.
Mitch Morice