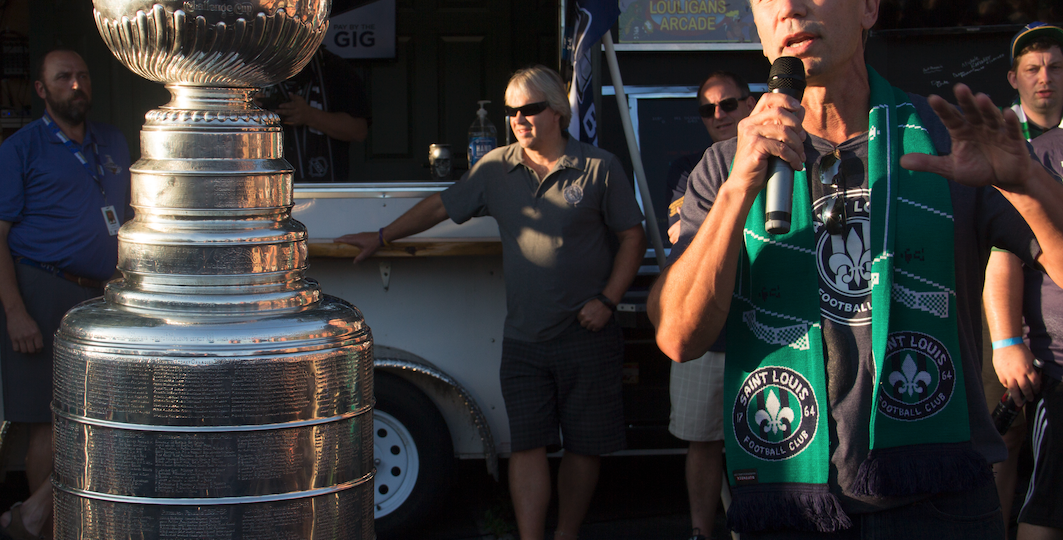 And, quite frankly, it was epic.  Thank you so much to Jim Kavanaugh and Tom Strunk for bringing Lord Stanley to the Louligans.
Due to time constraints, we kept the line moving to get as many people their moment with the Cup; we've got the pictures uploaded now and are available for you to download.
A few words about the folders…
I tried to name them for everyone I knew the names of.  Obviously we don't know everyone; so unfortunately the people I don't know (or forgot your names) are in the numbered folders.
There's over 100 of them; I wanted to get them up as soon as possible for people to grab. The number order is equal to your place in line: So if you were towards the front of the line (around 6:30) it'll be a smaller numbered folder.  If you were closer to 7pm, the higher numbers are where you'll find your pictures.
The pictures are in full size and do not have watermarks; they're yours to do with as you please.  Edit, enlarge, make a poster, have at it! I took several pictures of each person/group, so hopefully one of them you're happy with.  With the sheer volume of people and small timeframe, they're by no means professional.  We tried our best to keep people out of the background and focused on my camera, but at times it was herding cats.
If you find yours in a numbered folder, please shoot me an email at mitch@stlouligans.com, or a tweet (@MitchMorice) and let me know so I can rename the folder to save other people the hassle of searching that folder for their pictures.  Again, I apologize for the chaos, but separating 1400 pictures has been an all day effort.
If it was your first time out, welcome, and come back and enjoy.  Not every game has the Stanley Cup, but it does have some great soccer and people.