We knew at some point, this article was going to be written.  His reputation around lower division soccer is much better than we locally had appreciated, and with the unrest with MLS4TheLou and STLFC's status, it was only a matter of time before someone made him an offer he just couldn't pass up.  Today, Chattanooga FC announced that Jeremy Alumbaugh is their new Managing Director of Football.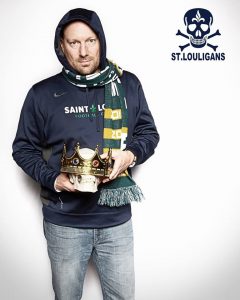 Jeremy has always been a friend to the Louligans, and was instrumental in how we were integrated into the club's culture.  From the initial meeting with Brad and I, he set the tone early that the supporters made the club authentic.  
We set up a meeting at our then-home bar, iTap Soulard.  Brad and I were nervous, as the 800-lb gorilla of STL soccer in SLSG had the appearance of "we do what we want".  The first words out of Jeremy's mouth after introductions was a reference to a podcast joke from a few weeks ago. We made a joke about doing his homework, and Jeremy admitted that he had been listening for quite some time.  That probably should have been a strike against him. 
We talked for a while, and Jeremy's passion for what the corner could be if we wanted it to be, and how important to the authenticity the Louligans could be, was inspiring.  When we asked for our old section (20) back, he refused. "That's the past, and I want to put you guys next to the scoreboard so when people look at the score, clock, or a replay, you're there."  In hindsight, that blocked view should have been strike two. 🙂
Brad and I walked away with a new confidence we'd never had. Someone wanted us as a major part of a professional team.  Over the next few weeks, texts flew between us and Jeremy, and we realized he really was serious when he said he was one of us, would be in the corner if he wasn't working.  The group were excited to hear these things as well, and we looked forward to each event. The first season ticket for STLFC was given to the Louligans to bring new fans, and still is.  It really was a partnership in all senses, and Jeremy quickly became a friend to many of our group. 
There's been some rough times too.  The seasons haven't gone as planned.  Big signings didn't work out, playoffs weren't made, hearts were broken.  But every time, Jeremy stood in front of the Louligans, and invited discussions about it.  He never shied away from that part of the job; he'd hear your complaint, talk to you about it, tell you what he wanted to do to regain that confidence.  
When he-who-shall-not-be-named was coach, Jeremy took the heat. He shot big, and it was a miss.  But he took every criticism, appearing on the podcast to take fans questions and concerns. (His frequent use of "we're gonna get after it" on the podcast is where the title of this article comes from.)  It's no surprise he's the most capped guest on the pod; something happens, good or bad, he was there to deliver it to the fans.  For many, Jeremy made the environment for us to be successful as supporters, made the players and staff available to have that emotional connection to this team.  It's OUR club because of Jeremy Alumbaugh and the culture he created five years ago.
His gameday ritual of Centipede and a Stag with Jake Trokey was always a laugh.  He might drop hints about the starting lineup, see what we need, and then off to put on the jacket and be professional.  He'd deliver a pregame speech to the club banquet room, and off to the routines. His stitions (he's "not superstitious, just stitious") during a game kept him away from the corner, but post game, he didn't shy away from the fans.  After the trip to Atlanta for the Open Cup this year, fans on the bus came back to handwritten thank you notes on their cars from the GM.  He texted a lot of fans on New Year's Eve wishing them well in the upcoming year. The little things were big, and showed how much he cared for the fans and appreciated their support.  
Jeremy is a fan through and through.  The first year, with him in the middle of the Louligans at Louisville, celebrating with us and giving the double finger to the frankenpitch (which USL was not happy with), will be a memory for all of us just how much he's "one of us".  He's promised that when he comes back to visit this season, he's spending it in section 8 with us. Liverpool fans often see him at the Amsterdam on game days, drinking his Busch beer and pacing. Jeremy told the story on a pod about he and his wife Tammy playing foosball early on in their relationship and it getting overly competitive.  He's one of us.
But most of all, he's our friend.  Nobody got angrier with him when things were south than Brad and I did; few celebrated the big moments as much as he did with us.  His wife Tammy and daughter Sidney are part of our family on gamedays as much as any Louligan is. This position he's taking with Chattanooga is a big step for his career, and won't be his last move upward.  The qualities that made him special to us will endear him to Chattanooga FC fans, and someone higher up the food chain will steal him from them as they did us. I'm happy for my friend, sad for my club, and wish him the best as his career advances.  
Just not if they play STLFC.  🙂