The Louligans are the only supporters group of soccer in Saint Louis.
This weekend's game at the Edward Jones Dome, featuring Real Madrid and Inter Milan, was again a huge success due to the fans of soccer that came out: 54,184 of us.  Add that to the Chelsea v Manchester City match at Busch Stadium, where 48,263 came out, and 102,447 tickets were sold.  That's an amazing total for a city that has no professional outdoor soccer team.  No MLS, no USL-Pro, no NASL team.  Two indoor teams, and two lower division teams (mens and womens).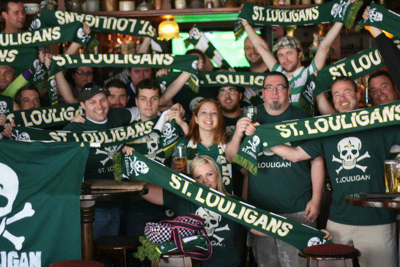 So what do you guys do then?
We support what we have, and show that we're ready to do what it takes.  The St. Louis Lions and the Fire and Ice SC just wrapped up their seasons; the Fire and Ice ladies (we jokingly refer to them as the "Britneys") won the WPSL's Midwest Region in their first year of existence.  The Illinois Piasa have moved back to their original digs in Granite City as the team prepares to kick off their seventh season, while the St. Louis Ambush will be opening their inaugural season soon.   We've got plenty of soccer to support in the greater St. Louis area.
How do I become a Louligan?
Get out to events.  Come hang with us before and during the games.  We try hard to be PG-13, but sometimes a truly awful referee (who's a failed actor) might send a few of us into R-rated territory.  That happens at Blues, Rams, and Cardinal games, so it's nothing unexpected.  But we're not the crazy fire-bombing, fight-causing hooligans of the old days.
We're passionate men and women who want to do what we can to make St. Louis the soccer capital it used to be.  We have an amazing history, and the support we and the rest of St. Louis have shown tells the world we're ready to have a professional team.  We just need the big money people.  If you're one of those, call Don Garber, MLS commissioner, for us, will ya?
We've got a Cafepress store for all our regular schwag.  We have scarves available as well; they're $20 and you can paypal/email us at treasury@saintlouligans.com to get one.  Not many left.  We do special runs of shirts as well, making them semi-collectable.  But most of all, we spend our money at St. Louis soccer events.  If teams have things to sell, we buy them.  We buy concessions.  We frequent the sponsors of the teams.  But most of all, we make noise and cheer them on.  The players love what we do for them.  We're talked about at national league meetings, how we're a gold standard for other teams to have this type of support.
So join us.  We don't charge fees, we don't make you do anything silly to ge initiated…just love the game, and be ready to have fun.