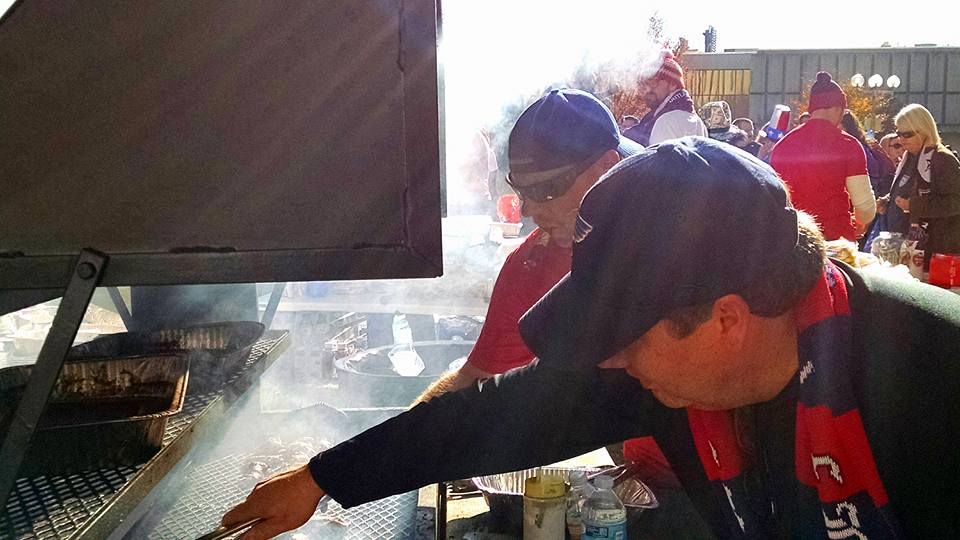 Erich VonNida shares his story- What happens on GameDay.
Erich, along with Mark & Brittney & various other members work hard on Gamedays to make sure the tailgate party goes off without a hitch. I'm convinced that some people think this happens by magic at every home game, but the truth is that these people put in a full day's work before you even see them. Here's a day in the life of Erich. Remember this when you see that donation bucket on the food tables- this isn't possible without generous contributions.
July 11th…
We decided to do a rib night at the game tonight… It's a good thing I defrosted 4 racks of ribs for tonight. I pulled them out of my fridge and slathered each one with my special rubs for "Ribfest". About 10am I fired up the grill, got the charcoal chimney lit and cracked open my cooking beer, a Hopped and Horny sounds about right. While the charcoal is getting hot, it's time to ice the coolers. After a quick trip to Schnucks for 40 pounds of ice, I was able to get the community beer cooler, the tailgate posse cooler, and the kiddie cooler all loaded up and chilled.
Charcoal is finally to temperature, time to put the meat on the grill. Load up the rib rack and away we go. Low and slow for the next 3-4 hours. That gives me plenty of time to get the truck loaded up. I head out to the garage and get the numerous tables, coolers, chairs and everything else. This includes the 3 lost and found chairs, someone's jacket, and the two coolers I don't recognize, but ice up anyways.
Finally, its 1pm, time for a little rest and relaxation. I pop another IPA, light a cigar and wait for the ribs to finish. Then I realize I forgot to get the crock pot ready… Whoops. Get that all set up and ready to keep the ribs and temp. Ahhh… back to my stogie.
About 3pm the ribs are done, my cigar is toast and it's time to get ready to leave. The truck is loaded, the beers are cold and the ribs are hot. I change from my cooking clothes to my tailgate clothes, tossing my match gear in the truck.
We get to Soccer Park around 5. A bit early, but the parking lot attendants finally realize that we need to get in that early in order to get everything ready.
Mark and I basically pull in together. I start unloading and setting up tables while he pulls out the generator and the sound system. He fires up the generator and we get the slow cookers and sound system powered on. Now we're ready to roll. We lug the coolers from the back of the trucks, get out plates, tray, napkins, utensils, and everything else we need to enjoy the feast. We crack open a beer, just as the generator pops. Time to reset it. Generator resets and holds for the rest of the tailgate.
Around 5:30, the crowd starts to trickle in. Before we know it, there are hundreds of our closest friends partying and having a good time. We're handing out beers and waters left and right, the food is getting inhaled and everyone is having fun. Around 6:45, Mitch starts hollering about the march in… Time to start picking up. Mark, Sarah, Brittney, and I start to scramble and get the important stuff put away.
March and Match. It was a nice march and we had great weather. Bryan Gaul scored early for Saint Louis F.C. and it looked like it was going to be an amazing night. Unfortunately, Richmond scored 3 unanswered and the game finished 3-1.
The Drum Corps led us out of the stadium with a funky beat and we returned to the parking lot for the after-party. As is now tradition, we party again, win, lose or draw.
Now the real clean up happens… Drinks are flowing, cheese balls are being devoured, and everyone is having a good time. After the lot attendants come and tell us to leave for the 4th time, we get everything cleaned up, packed away and we head out.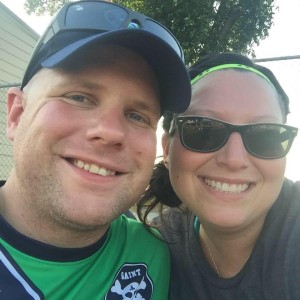 Once I get home, I realize that although I got rid of two of the mystery coolers, I gained another chair. Hmmm… guess I'll hold on to it until next match. All the coolers were dumped out and cleaned out and stored away until next weekend.
During last season, Mark and I got together as often as we could to discuss what we could do better. A lot of that comes down to donations. Both Mark and I tried to pay ourselves and others back whenever they spent a significant amount of money towards a tailgate. With that said, I know I spent a significant money out of pocket, ensuring everyone had a good time, had plenty of refreshments, and wanted to come back, time and time again.  With this upcoming season, we will be grilling before each match. Due to our increased food costs, we truly appreciate the donations given to keep everything going to meet our high standards. – Erich VonNida
I know I'm not alone in thanking Erich and the entire tailgate crew for their hard work. Please remember to donate when you can. Also- we're having a trivia night coming up that will raise some money for the Soccer Park Restoration Fund as well as to try to help the Tailgate Crew to get a trailer to make gamedays a little easier. If you're interested in the Trivia Night, click here for more information.  Thanks.