Are you the guy who asks on Facebook when an event is?  EVERY SINGLE TIME?
Come to think of it, this won't help you at all.  Nothing we do will help.
But for the rest of us, we've set up a calendar that you can now subscribe to, using your Google, Apple, Outlook, whatever you use.  The STLFC games home and away, watch parties, special events, all will be added to the calendar so you can check what's going on every week with the Louligans.
So first things first, click on the calendar link.  
Scroll down to the bottom of the calendar.  You'll see a "Subscribe" button.
Click on Subscribe, and you'll get options to choose which calendar you want to add the subscription.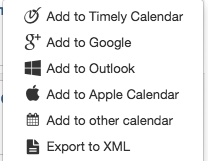 You can do this both from a Mac/PC browser, or an iPhone as well.  I don't have an Android to test with but I imagine it's the same.