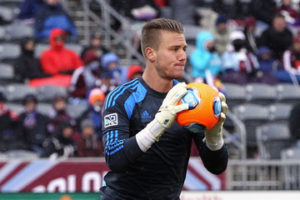 John Berner is a goalkeeper for the Colorado Rapids of MLS.  He was born in St. Louis, went to SIUE, played for our own St. Louis Lions before being drafted by Colorado.  John recently reached out to us and asked if we'd publish his letter regarding the stadium vote today.  Who are we to say no?
We are proud to post his letter.  John is exactly who we talk about when we say St. Louis is a soccer town.  We want the next John Berner to follow the same path, but instead of going to Colorado, play for his home town MLS team.  
With all the talk of St. Louis getting an MLS team, I thought I would share some of my thoughts….Growing up in South St. Louis City, I was raised on soccer. Morning games playing for Immaculate Heart of Mary School at Wilmore or Carondalet Park, then hopping in the car to drive to Soccer Park, or Sport Port to play for Busch Soccer Club in the afternoon. I honestly can't remember a time in my life when soccer wasn't involved, and the St. Louis soccer culture was instrumental. From the scrappy Shamrock youth club to CYC, from Busch Soccer club to St. Mary's High School proud soccer tradition, the historic Kutis Soccer Club, leading to a D1 scholarship just across the river at Southern Illinois University Edwardsville along with playing for the St. Louis Lions of PDL, to now MLS with the Colorado Rapids. I would like to think that I've been through, and seen, the entire soccer landscape in St. Louis and it still seems to be missing the final piece of the puzzle.
Now going into my 4th season as a professional soccer player, I have been lucky to have seen the soccer culture in most other cities in North America. I am confident in saying that St. Louis is up there with the best. St. Louis has every necessity for establishing a successful MLS franchise and it honestly blows my mind that we don't have one yet. Hundreds of pages about the history of soccer in St. Louis have already been written, but I'll keep it short. From the six St. Louisans Frank "Pee Wee" Wallace, Gino Pariani, Charlie Colombo, Frank Borghi, Harry Keough, and Bob Annis that helped the United States defeat England in the legendary 1950 World Cup. To the 80's when local collegiate powerhouses SLU and SIUE would face off in the Bronze Boot game at Busch Stadium and draw crowds over 20k every year. Not to mention the prolific Steamer/Ambush days and the local legends that played for them. To now, the various thriving youth clubs in St. Louis such as St. Louis Scott Gallagher and Lou Fusz, the incredible rivalries throughout our cities high schools, to the area colleges that have brought home over 30 NCAA/NJCAA National Championships. Schools such as Quincy, Rockhurst, SLU, and SIUE, to name a few, that have success in their respective divisions every year and consistently field St. Louis players. College soccer's highest award " The Herman Trophy" is presented in St. Louis every year, honoring the man who created the award, St. Louis' own Bob Hermann. And now the current pros: The list goes on and on of St. Louisans that currently, or previously, have played and had major success at the professional level. It's certainly no coincidence that players from St. Louis continue to feed and thrive in the professional ranks.
St. Louis is a soccer city…period. Everyone across the country knows it, including todays coaches and current pros. To see USL's STL FC having the success that they are is quite impressive.The following of the team, and atmosphere during a game, is well worth the price of admission, even if your aren't a soccer fan. Go see for yourself and I can guarantee that you will have a good time. Jim Kavanaugh, the St. Louligans, and everyone involved out at Soccer Park have done an incredible job of bringing the beautiful game back to the city. I believe it is time to take the next step. The interest level across the city of St. Louis is off the charts. STL FC selling out nearly every home game, International and European matches coming to town and consistently bringing 40k + people to watch. Plus the cities huge immigrant population and their love of the game. To cap it all off, soccer is now considered the most popular sport among millennials.
We have all the pieces in place to build something truly special here. You couldn't ask for a better location for a stadium: A downtown venue right down Market St. from Busch Stadium, Scottrade Center, and Ball Park Village. BPV and the new Arch grounds are great steps in revitalizing the metropolitan area, but that is only a fraction of what needs to really happen. According to an article on STLtoday.com written less than year ago, "The St. Louis region has added an estimated 24,000 people since 2010. Among the 25 largest metro areas, only Detroit has added fewer people. More people have left the region than moved in during the past five years."  When I explain to people that I want to move back to St. Louis when my playing career is over, they usually laugh and ask " Why would you want to do that?" Because St. Louis is in my blood. It's my home and I care about its growth and development. Bringing a MLS franchise and downtown stadium would be a huge push forward for the city in the right direction. Not only would it bring in about 500 permanent jobs, but it would also certainly boost the economic scene for surrounding restaurants, hotels, bars etc. Now to hear we have a guaranteed All Star game coming to the city if the stadium were to be built? What more can we ask for?
St. Louis bleeds soccer, there is no question about it. The ownership group of SC STL has done, and will continue to do, everything in their power to make this happen. I can assure you that they are the right people to bring downtown St. Louis a meaningful and profitable organization, all the while keeping the community top of its priority list. Unfortunately we have gotten to the point that if St. Louis is unable to solidify a stadium downtown, we will be missing out on a MLS expansion team. It would be a huge disappointment to soccer fans and more importantly, a huge missed opportunity for economic growth for the city of St. Louis. As St. Louis' own Joe Buck stated in a recent tweet, "We have one chance to bring MLS downtown. And this is it. No second chances. So, let the people decide".
So, there you have it. Let the city vote. I can promise you that if it does go to a vote and you do vote yes, you would be doing this city a great service. Not only does this city need a MLS team but it so rightfully deserves one…  #MLS2STL