To most uninformed Americans, the idea of a "soccer supporters group" brings up negative aspects.  Violence, sexism, racism, fat drunken louts.  (OK, the last one is accurate.)  They're problematic in the stadium, cursing and disrespectful.  Won't someone think of the children? Outsiders have seen/read about the movie Green Street Hooligans, and that's all they need to know about supporters: that's who SG's are no matter what.  To people with uninformed views on soccer and St. Louis, tweets like this one sum it up:

That's a sportswriter for the local paper, who hasn't been to a STLFC game, because USL isn't as good as MLS.  SG's have racist and homophobic chants elsewhere, so we're all painted with that brush.  Offers to talk or come to a game fell on deaf ears; the die has been cast.  This is what we have to overcome with the public who doesn't understand American supporters groups.
We've had our moments as a group.  There's been incidents where an individual or several went off the rails.  It happens.  Usually it's an issue of being overserved, and you'll see that at a Blues or Cardinals game as well.  But it's small percentages, and doesn't represent the whole group, much like one drunk Cardinals fan isn't an indication of the whole fanbase.  We've been called a lot over the past seven years: Worst supporters on 3 continents, elitists, drunks, cliquish, sexist, etc.  We may make a mistake or two, but we try to correct it as soon as possible.  We want to make St. Louis a better place for all soccer fans.
Truth be told, our group is generally a great group of people.  We all come from different walks of life: musicians, scientists, tattoo artists, sales people, teachers, IT staff, laborers, lawyers.  We're a big dysfunctional family.  When we lost an early member to cancer, the hugs and consolations were as plenty as donations in his name.  A member's son passed away, and a collection that was boosted by a local business helped the family pay for the costs.  When it comes to getting together for a good cause, nobody bats an eye.  We get to hang out, party, and do some good for the community.
Part-way through this past season, we added a charity aspect to our merch table, dubbed Charity Du Jour.  Extra tickets, stickers, and buttons required a donation, and that went to a specific charity each game.  We were able to raise $10,271 this season that went to a dozen charities, and that wasn't even the full season!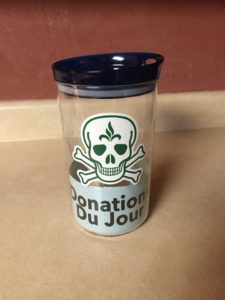 The previous season, we raised a massive $13,310 for the STL Food Bank with #pizzagate, named for a misunderstanding by the Louisville front office that STLFC GM Jeremy Alumbaugh shared with us on a podcast.  The Louisville Coopers raised $3200, an awesome figure, for their local food bank in conjunction.  Saint Louis FC fans and the front office, including the owners, contributed heavily and we couldn't be more proud of the 50,000 meals it provides for the needy.
But our favorite efforts have always been our food drive game against the American Outlaws St. Louis chapter.  (Is it really "against", since there's such a huge crossover between the two sides and we often "trade" players at half-time?)  The first year, we raised 400 meals for the St. Louis Food Bank and the Outlaws took home the trophy.  The second year, we raised 1486 meals, and the Louligans took home the trophy.  Even last year, when the game was flooded out, we still got together to collect almost 400 meals worth of donations.
This year's match was well attended, which was impressive given the gametime temperature of 10 degrees.   Luckily there was no wind blowing, but it didn't matter when it's THAT cold. It's cold out there.  St. Louis Food Bank delivered 55 gallon trash cans for the food collection, which was a huge help in organizing.  Special credit goes to Ethan DeMunbrun, son of Brad, who braved the cold to collect the food from cars as they pulled up.  Those were frozen, hard earned service hours for school.  
The Outlaws ended up winning the game 4-3, as the Louligans couldn't capitalize on two instances of multiball (don't ask).  Everyone who wanted to play got on the pitch: longstanding and new members, young and old (elementary school legs ran crazy with Otis Register and Christian Wygant on the Louligan side, and Drake Gottman on the Outlaw side)…even STLFC CFO and MISL trading card model Tom Strunk took a few shifts on the pitch for the Louligans.  Rehydration was provided by Urban Chestnut Brewing Company, who donated a dozen cases of beer to the cause.  Jeremy Alumbaugh was there to scout the talent with his daughter (and Louligan) Sidney….finding no talent at all.  
Everyone who attended had fun.  The game was serious and silly at the same time, which was a good indication of people bringing a great attitude towards it.  But they came with bags of food, which was even better.  Some members were taking donations from neighbors and friends, taking that extra step to do the community right by the Louligans.  The donations overflowed from the containers, piling up alongside the bins.  We didn't quite hit the record, but we brought in 1211 meals worth of donations.  For as cold as it was, and 12 degrees is COLD, that's still an impressive number.
Since that first game in 2014, we've raised nearly $30,000 in charitable efforts, including smaller projects like the Komen walk and individual member's efforts.  Every time we announce a new initiative, or talk about what we can do, our membership doesn't ask why, they ask "how can we help?"  Because we're not the insults, we're not the stereotypes.  We are Louligans: made by St. Louis for St. Louisans.  We know when to bring the ruckus and when to bring help.  So keep an eye on social media for our events, drop a buck or two here or there.  Every bit helps, and it's great to know you did some good while having some fun.  
Thanks to those that played, those that braved the cold to support, and to Saint Louis FC for hosting us again.  Next year the Outlaws get Pat Kelly so we win. (He's been on the losing team two years in a row.) Come out and take his place!