You've probably seen the Baker family at every event with the Louligans in the past year.  Matt somehow found time over the holiday break (ignoring new baby Mallory?) to do some research and explain the origins of MLS and how it has evolved from a business standpoint.  More to come hopefully from Matt so I can name his columns "Baker Street".  – Mitch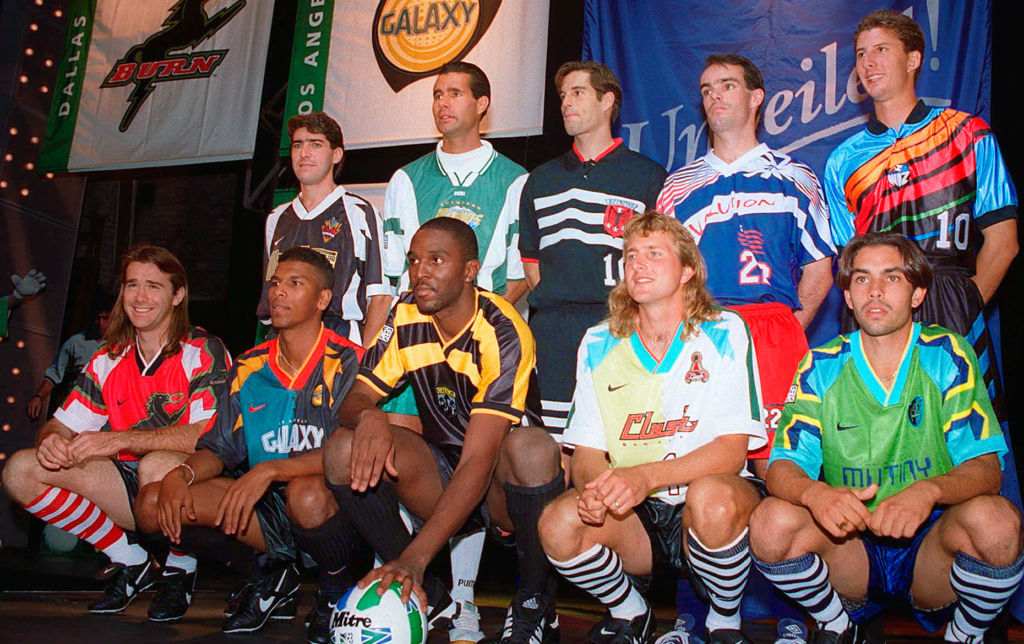 St. Louis has a rich soccer history. It's something we've all heard over and over. It's something we live week in and week out with Saint Louis FC in USL Championship. However, St. Louis' experience with top tier professional soccer is less than rich.
For outdoor soccer, we've had only the Stars in the 60s and 70s with the original North American Soccer League (NASL). For one reason or another, the top level has eluded our city. But as of August 20th, 2019, that all changed and come March 2022, we will see a Major League Soccer team take the field that calls St. Louis their home. As St. Louis is beginning the transition to having an MLS team and as we Louligans work through what that really means as supporters, I thought it would be a good time to look back at how Major League Soccer came to be and why it exists the way it does.
In 1988, FIFA awarded the 1994 World Cup to the United States. One of the conditions that FIFA imposed upon the US was to create a top tier professional soccer league. The original NASL folded in 1984 and top tier professional soccer no longer existed in the United States. The group that would become MLS was selected in 1993, and MLS began play in 1996. The sheer fact that this was what the US club soccer landscape looked like in the late 1980s and early 1990s puts it at stark odds with most of the soccer world, and especially our friends across the Atlantic, where association football as we know it was born in the 19th century. There is a large contrast between how we view soccer in the US today against what it looked like just years before MLS began.
In 1990, long before Don Garber had anything to do with soccer in the US, a man named Alan Rothenberg was elected president of the United States Soccer Federation. He was also named Chairman of the World Cup 1994 Organizing Committee. Along with these duties, he was also tasked with fulfilling US Soccer's promise to FIFA to establish a top tier professional soccer league. It was Alan Rothenberg who led the establishment of MLS as we know it, formed in 1995 as a limited liability company. As such, there are no "owners" in the traditional sense of other US sports leagues. Since the league is essentially a single corporation, there are investor-operators who own a share of the league itself. Each investor-operator has a representative sit on a Management Committee that manages the business and affairs of MLS. There are also subcommittees such as the Expansion Committee that may be fairly familiar to us in St. Louis, as they played a key role in approving St. Louis as an expansion city in 2019.
There are a lot of reasons for establishment as an LLC, mostly on the business side for controlling costs and revenue sharing. From my vantage point, it's important to consider the business side then as much as we think about the soccer side now. Establishing a league, ensuring its long term economic survival, and setting it up for a competitive future is a lot to balance, and the single entity nature of the LLC was the answer to this. In fact, in the court case FRASER v MAJOR LEAGUE SOCCER, it was specifically cited that by creating the LLC and operating as single entity, Rothenberg hoped to avoid antitrust problems and lawsuits that other sports leagues such as the NFL had previously encountered. MLS won that case based on the fact that it is a single entity and cannot conspire against itself. Whether or not this structure is good for the game long term is debatable and, in fact, MLS has veered quite far from its original single entity structure.
In 1996, just 2 years after the 10-team league began, MLS had 3 investor-operators. Today, each of the 30 teams has a unique investor-operator. A lot of the information we have from the early MLS business model come from the aforementioned course case. However, the way the league looks in 2020 is almost night and day from how it was founded and how it was defended in that case. For example, roster rules such as GAM (General Allocation Money)/TAM (Targeted Allocation Money) and the Designated Player rule (also known as the David Beckham rule, since it is what allowed David Beckham to come to MLS) allow for individual teams to go above and beyond league salary caps to more clearly compete with each other and obtain higher levels of ownership of their own teams.
I am hoping to go further into league rules and setup as well as current league happenings in future posts, however, to understand MLS now, you need to understand the climate of when it was created that led to those early decisions which have shaped the league we know today. This is not comprehensive by any means, nor is it an attempt to argue for or against how MLS operates today, but hopefully it provides some detail on the founding of MLS and why certain decisions were made. As MLS approaches its 25th anniversary, I do think it's important to know how and why it started, as what we are about to step into will be highly influenced by those early decisions.
-Matt Baker