Matt Baker has been around for just a short time compared to a lot of our group, but in that time has jumped in with both feet. A strong proponent of both what we have and what we will have, Matt shared his thoughts with us in this article about the place of the group in the professional soccer environment in Saint Louis.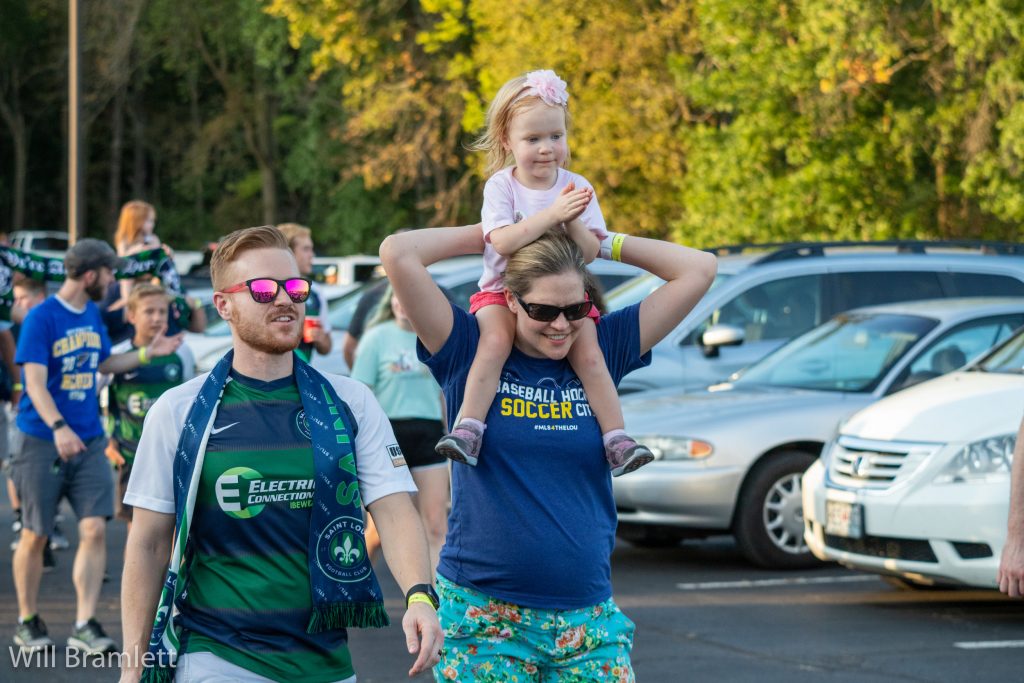 For over nine years, the supporters group for soccer in St. Louis has been the St. Louligans. There hasn't always been a team to support, and there has never been a top tier, first division team for St. Louis to claim ownership of. Yet, the St. Louligans have existed as the largest, loudest, most diehard, and best-known supporters group that the St. Louis area has ever had. The history of the St. Louligans is well documented on this website. A unifying force of smaller supporters groups, the St. Louligans have themselves persisted longer than any professional soccer team in St. Louis in the 21st century. With a culture and history all their own, from tailgating to marching, to chanting, to the man of the match celebration post game, the St. Louligans have cemented themselves as a fixture, and the most central of components, in the game day experience of professional soccer in St. Louis.
The history, culture, and traditions of the St. Louligans are very important with regards to how they will fit into the supporters culture in MLS. There is great variety in MLS supporters groups. From how they were founded, to how many each team has, to the interactions with the teams themselves. There truly is no "one-size fits all" model for how a supporters group exists in MLS. There are some key points that a supporters group must have, if you ask anybody familiar with the sport of soccer. Words such as "organic" and "independent" are among the first that often come to mind for what supporters culture must contain. It's a passion for the team. It's a passion for the sport. And it's a passion for the area that the team plays in. If you've ever been to a St. Louis professional soccer game, then stop me if this all sounds like something St. Louis already has.
Organically formed and independent are defining characteristics for supporters groups for a multitude of reasons. Soccer itself has some of the most passionate and diehard fans of any sport on earth. You see this personified by the independent groups of MLS. Timbers Army, The Cauldron, Sons of Ben, Dark Clouds, the 3252 – all examples of supporters that are vastly different in their organizational models, their origins, and their interactions with supporters and teams – yet all have an organic development to them and remain independent from their respective teams. They grow out of a need and desire for fans to join together in common cause, to cheer their teams using the means allowed to them by the league and their front office – flags, smoke, chanting, tifos, etc. 
Independent is something you'll see in all supporter group descriptions. There is a relationship between every supporters group and the team's front office; however there shouldn't be a chain of command or leadership structure that extends from the front office to the supporters group. This would diminish the ability for the supporters to authentically cheer and criticize their team, as well as water down the overall fan experience and sanitize the experience for the group that is the heart of a team's fanbase. You need only look at the backlash that LAFC experienced when a job description was posted prior to their first season, with verbiage that the responsibilities would be to "Vet and validate candidates among LAFC Originals who may become the leaders of the LAFC supporters group". LAFC quickly changed course, updated their job description, and backpedaled this plan of action. This all goes back to the sport of soccer being unique in its culture, its fans passion, and the way fan organizations and teams interact. Relationships must exist between a supporter group and the team – however liaisons, supporter relations personnel, or other positions on the team up through the President and ownership are much more appropriate avenues to coordinate those relationships.
All of this said, St. Louis is in a unique position as MLS prospects become more of a reality. We have an independent organized group with defined leadership in place that's existed for nearly a decade. There's experience to draw from in organizing supporters, organizing events such as charity games, annual group meetings and watch parties, handling PR, working social media, running a podcast, creating tifos that have dazzled fans, and much, much more. It is a foundation with a wealth of experience that most clubs have not had the ability to draw from. It offers the MLS4THELOU group the ability to start their supporters culture in a much more advantageous position compared to teams that entered the league without existing supporters groups.
While this is a fantastic and fortunate place for MLS4THELOU to start, there is undoubtedly room to grow and expand. MLS is a whole new ballgame, not just in fan/team interactions, but in sheer scope. The numbers needed to consistently fill an MLS supporters group section and create a meaningful wall of noise is more than the Louligans typically draw in USL games – no surprise there. The bright side, is we all know of the more casual fan who is just waiting for MLS before they really dive all in. This type of fan will clamor to the Louligans and will be embraced, I have no doubt. The supporters group culture in soccer is unlike anything a baseball or even hockey fan is used to. The diehard sports fans that St. Louis have will flock to the opportunity to be a part of the history and family that the Louligans have built. The Louligan name is already well known in the area and even to a more casual fan, is synonymous with soccer in St. Louis, and the kind of atmosphere that is needed in an MLS supporters section.
Beyond even that, realistically, there can and likely will be additional supporters groups that will form. This isn't a bad thing. Every club has multiple supporters groups for a reason. Each independent group in MLS offers something unique to their fans and to the team. Some are brought together under a unified section name or some other moniker– but the important thing is that each can have their unique identity, culture, and history, while still supporting their hometown team in the loudest and proudest manner.
I for one, am extremely proud to be a St. Louligan. I'm proud that my two year old daughter can sing our chants, loves wearing her Louligans clothing, and has a beaming smile on her face when we're among our extended family at games now. I look forward to sharing years and years of moments and games with my children, raising them as Louligans, supporting whatever professional team St. Louis might have. The St. Louligans have proven in the past 9 years that we will show up game after game, and we will support our team through thick and thin. We're the foundation of St. Louis soccer supporters now, and I truly believe we can and will continue to grow alongside a potential MLS team in St. Louis.