2020 has ruined everything.
But, even though we can't get together and play our traditional AOSTL vs St. Louligans Winter Classic, we can still make sure the St. Louis Area Foodbank is taken care of. We won't be able to do in-person drops for physical food collections, so what will we do?
The same thing we did all season: make it virtual.
We know the Foodbank is able to turn one dollar into four meals. They're able to stretch our dollars further than we can with groceries, etc. So we're setting up our donorbox and doing this all virtually. The donation period will be extended, starting January 11th and running until February 1st. That extension of time should help us make up the difference we'd get from in person drops (and the post game, alcohol influenced cash donations!!).
But we can't just ask for donations. Usually there's glory and a beat up trophy that come out of this event. A jersey (more on that!) And a few injuries.
Luckily for us, our friends at Saint Louis FC gave us the most premium schlaffle prize ever. A literal piece of history of every home game of Saint Louis FC.
That's right. Four of the seats the players sat on during games.
Want to pretend to be Tritts, jumping out of the seat and pacing?
Or pretend to be Jonesy, boiling over, ready to scream and yell?
Maybe you'll go deeper in history, pretend to be Preki Jr. and just sit there waiting for dad to put you in the game?
You could be Dale, losing patience at Charlie not understanding strategy?
Jump out of your seat, pretend you're Taka and run across the field before the game is over!
Once they're in your house, you can cosplay as anyone in STLFC team history. (Except Mark Regester; Preki wouldn't allow him on the bench.) A fine addition to any homestead.
But they weren't done there. We also have a set of the cornhole (or bags, whatever you prefer to call them) that the team put out on gamedays for fans to use. Cornhole was on ESPN in 2020 with no other sports, so maybe you get on ESPN in the next two years before CITY comes around.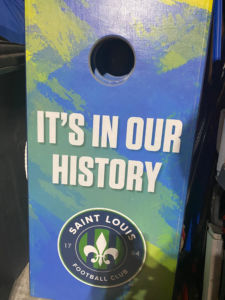 But that's not all. We also have two Schlafly signs.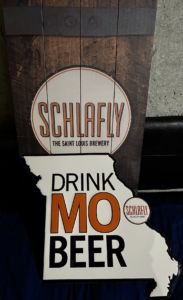 And a Louligan Merch pack: shirt, scarf, and two coozies.
RULES OF THE CONTEST:
-Making a donation will automatically get you the discount code for the 2021 Louligan jersey (soon to be announced)
-Any donation of $10 or more gets you a "ticket" to the schlaffle for the cornhole boards, signs, and merch pack.
-Any donation of $25 or more gets you a ticket for the seats.
-Every $10 increment above $25 gets you another ticket. So if you donate $100, you have EIGHT entries into the schlaffle.
-The number of tickets is based on your TOTAL donated. For example, if you make three donations of $10 separately, you'd have $30 total donated and would qualify for the seat raffle.
The seats will be drawn first; IF YOU CANNOT TAKE THE SEATS: you can pass (and choose from the remaining three prizes), and the seats will go to the next ticket drawn.
WE WILL NOT DELIVER THE SEATS.
They are considerable in size, and on a sturdy steel frame. It'll require 3-4 people (Mitch and his decrepit back will NOT be one of them, so please don't ask) to pick up and move as they're heavy and awkward; they BARELY fit into Mitch's Expedition EL (extended). Measurements are (roughly) 4'x2'x8′. Arrangements to pick up the seats in Fenton need to be made within two weeks of winning, as Mitch's wife wants the garage space back. 🙂 Get a friend with a truck, van, long SUV, rent a truck from Lowe's ($19 for 90 minutes), whatever YOU need to do to get these majestic and comfortable seats home.