Start time: 7:30 PM CT
Toyota Stadium at World Wide Technology Soccer Park
Gates open at 5:30pm CT for tailgate
DO NOT ARRIVE EARLY!!!!!
March into Stadium at 7:00 pm
Opponent's Record: 2-1-1
Last Results: Win, 2-1 vs OKC Energy
About our Opponent:
Matt Bird gives us the lowdown on our opening opponent:
I've watched Fresno play twice now, and surprisingly, they've done alright despite losing to the Llama circus from Vegas. Obviously having only played in a few games in their short history, we don't know what to expect. Although, they'll be buoyed by their most recent win against OKC Energy with a sweet free kick from Juan Caffa. We should win, I hope we win, but I said that about a lot of games last year. Except it isn't last year anymore. So let's Sha la la la again eh?
Latest This is SiLLy! Podcast: https://stlouligans.com/archives/3325
Western Conference: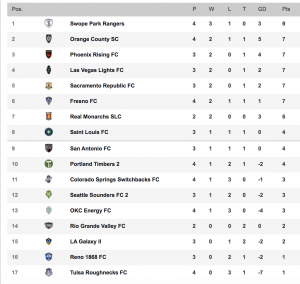 How to watch:
YouTube
Charity Du Jour:
This week is the Make a Wish Foundation.  We have several members active with Make a Wish and we hope you keep the generous actions of last week going.
Louligan Cartels:
Drums and capos: We march in 1/2 hour before kickoff. Anyone can join the march in! Drummers usually need assistance carrying in the drum stands, so if you can help out, see them as they organize prior to the march.
Tailgate: The tailgate will be doing the annual chili cook off!  We'll have several to choose from; try them out and vote on the winner.  A recommended donation is $5; you can pay them cash, or pay at the merchandise stand.  Gran Cruzin Cigars will also have the mobile cigar lounge at the tailgate!
Newligans: If you're new and this is your first game day, say hi! There will be several of our Newligan Cartel walking around, wearing badges showing their name on it.  Feel free to grab one of them and introduce yourself; they're wearing that badge as a way to indicate they're there to help you join the crowd.  There will be a Newligans table by the trailer in case you don't see a badged member.
You also can exchange your ticket at their table for a wristband for the march in, so we can proceed through the gate more efficiently.
Merchandise: We will have the 2018 Louligan scarves and the 2018 This Is Silly! Podcast scarves.  if you pre-ordered one, you'll be able to pick it up.  If you didn't and you want to get one, we will have extras for sale.  $20 per scarf, cash or credit.
The red line will be the march to the game.  The march starts 30 minutes before kickoff (7:00pm).