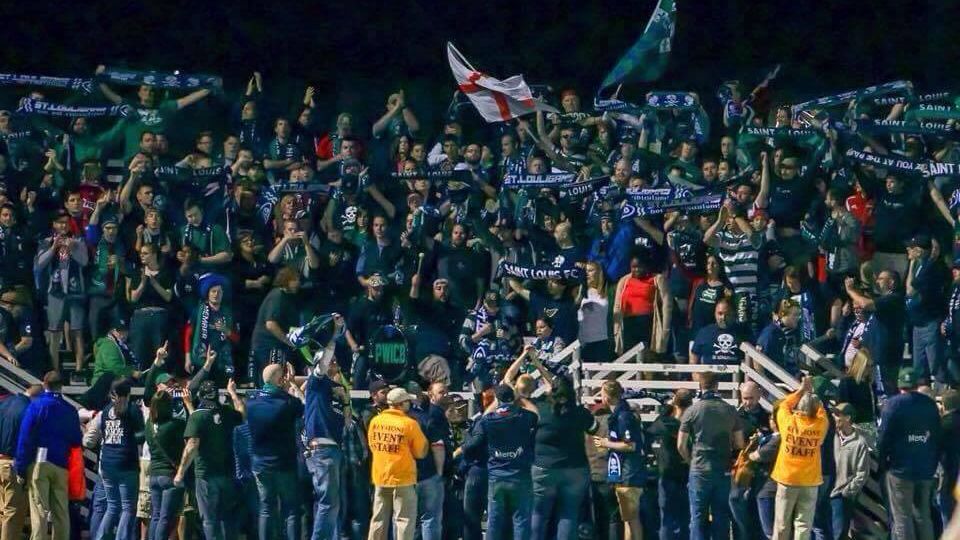 On August 20th, it was finally made official: St. Louis will have first division soccer for the first time since 1977.  During the past 40-plus years, we've had a lot of lower division teams available in St. Louis; some have had staying power where others did not.  St. Louis is far from unique in this, but the Louligans do have a unique perspective.
The Louligans were formed in 2010 supporting AC St. Louis.  ACSTL was formed at a strange time in US soccer; MLS was at the top of the pyramid, but the lower divisions were unstable.  Nike was selling USL to NuRock Soccer Holdings, and a portion of the existing owners were not pleased. Seven USL-1 teams, a USL-2 team, and the new St. Louis team broke off to start a new Division 2 league, petitioning for USSF sanctioning.  There's a lot of history there that is confusing and ugly, but the important takeaway: the Louligans were created in Section 20 at Soccer Park during this time.

We've got a great wrap-up HERE about how the Louligans were formed.  So I won't go into that part; the focus of this article is the various levels of the soccer pyramid we've been around for.  The important part of the story is that the Louligans were founded for a Division 2 team. This upstart league was a great place to develop the DIY meritocracy model the Louligans continue to use today.
Once the demise of ACSTL came about, we were looking at being a supporters group with no one to support.  Enter the St. Louis Lions, a PDL team playing in Cottleville (St. Charles).  
USL PDL is a fourth division tier of US Soccer.  The PDL stands for Premier Developmental League; now it's been rebadged as USL League Two.  PDL is not considered a professional league, so a majority of teams' squads are composed of college players looking to keep playing during the summer on an elite level without compromising their eligibility.  There are some "semi-pro" teams, and a mix of players that are trying to get back into higher levels of play. While the quality of play is lower than a full professional squad, the great opportunity is in seeing players that are in academy systems, on top flight college teams, or will be in MLS in a few years.  Notably, Tommy Heinemann and Lawrence Olum, who both spent many years at the top flight, played for the Lions at one point.
The Louligans spent four years following the Lions as our primary focus; unfortunately, the seasons are short (16 games), and we took in whatever soccer we could.  This is when we started going to the Fire and Ice games (women's WPSL team), Illinois Piasa (indoor soccer in the PASL), and FC Bordo games (NPSL). NPSL is also considered to be Fourth Division, although there is no official designation as only the top three tiers are defined by US Soccer.

But in 2014, we got the call from Jeremy Alumbaugh, who would be the GM of the soon to be announced USL-Pro team.  Playing in Division Three, this team would soon be known as Saint Louis FC. We were headed back to professional soccer!
The failures of NASL as a second division league have been written ad nauseum at this point.  The US soccer landscape is cratered with failed teams and leagues, and will continue to be for some time.  The tribalism and the "I can do what they couldn't" attitudes often create a conflict that ends up costing fans in the end their team they love and support.  
As a result of the NASL implosion, that left USL as the Second Division league (not by default, but by meeting the USSF criteria).  USL announced the rebranding of USL as USL Championship, the creation of a new league, USL League One, that would be a third division league, and the aforementioned rebranding of the PDL.  Besides the nomenclature, this also set to mimic the English FA in terms of defining specific levels of play. USL has hinted that promotion/relegation is in the future, which many are excited about.  
So now we get to this past week.  MLS in St. Louis.
Which, if you're following along, means that the Louligans have gone from 2nd Division, to 4th Division, to 3rd Division, to 2nd Division, to now First Division soccer. 
By my research, and by no means would I call it as exhaustive as I would have years ago when I had more free time, the Louligans will be the only SG in the United States to go down and up the modern US Soccer pyramid in support.  Finding history of the different SG's is hard, as many times the MLS associations have whitewashed histories.  
The Timbers Army's website says they were founded in 2001, which means they only did Division 2 (USL/NASL) and MLS, but casual conversations among Louligans seem to remember hearing they were around for FC Portland.  Maybe a reader knows better. The Dark Clouds in Minnesota did USL, NASL, and MLS, but never got down to fourth division. I'll avoid the easy joke about Chicago Fire's mismanagement. All other MLS teams are either MLS creations, or additions of established USL/NASL teams that stood firm in those leagues until "ascending" to MLS.  
Ours is without a doubt a unique path.  If not for the stability and respect from the front office of Saint Louis FC, who knows where we'd be today.  Would someone else have stepped forward? Would an existing team make leaps and climb the proverbial ladder? I'm glad we didn't have to find out.  I'm also glad to see that this isn't common place in other cities, where fans starved for the soccer and camaraderie had few options. There were times at the Lions that there were a dozen of us facing the blazing summer sun watching our boys in green.  Now, hundreds of us telling Saint Louis FC all we really want is goals. Few have stuck through since the beginning, but new or old, we're all in every saturday. 
In two years, you'll find us in the supporters end at the MLS games.  I imagine our numbers will have grown by then, and there will likely be other groups as well picking up the slack.  But until then, you know where to find us.