In addition to being SiLLy & supporting St. Louis soccer, part of the mission of the St. Louligans has always been to give back to our community. We've done this over the years through donations to various charities. Mostly small contributions, volunteering or participating in charity events, anonymous donations or just taking collections for people in need. Last year we hit an all-time high by collecting over $13,000 for the local Stl Area Foodbank. We still might unveil a large campaign for this season, but today I wanted to let you all know about something new we're going to be doing at tailgate parties and how you can help.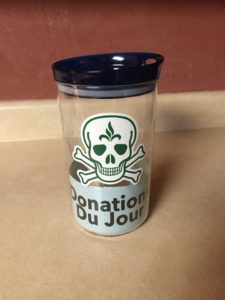 Many of you know that we usually collect extra tickets on gameday and help redistribute them at the tailgate merchandise table. Normally we try to give them away to first timers or sell them if the person who gave them is looking to make their money back. A lot of times people have offered to make a donation for those tickets and we usually throw it in the drummer's beer fund or in the tailgate food donations. A couple of weeks ago we decided to start putting those donations to charity. Instead of collecting them up and giving to one charity at the end of the season we thought it would be cool to give each week's collection to a different cause. That way we can spread the love around a bit.  From now on we'll have a bucket at the merch table labled "Donations Du Jour". If you get a ticket from us we'll ask that you make a donation (large or small- totally up to you) to the new bucket. You may also just make a donation if you're down with that week's cause. So please, if you've got a ticket that you can't use or is going to waste on gameday, drop it off with us and we'll try to find someone that wants to go to the game and raise a little money for charity too.  Win-Win.
Also, this in no way affects the food donations. If you eat from the free tailgate spread we ask that you donate there to help cover the cost of the food that the Tailgate Posse provides. This is just an extra way to help do some good in our city.
This week's charity will be the Unsung Heroes Soccer Organization that raises funds for men and women in the public safety profession that have been injured or lost their lives serving the community. We have a few members of the Police force in our group and maybe some firemen too. One of our members and Tailgate Czars, Erich Von Nida, will be playing in a charity game on Saturday Afternoon and we'll donate our collection to that game's haul. If you're looking for something to do before the tailgate, head out to Vetta and watch the Police v Fire Department in some indoor soccer.  If you can't do that, consider throwing a buck into our Donations Du Jour jar.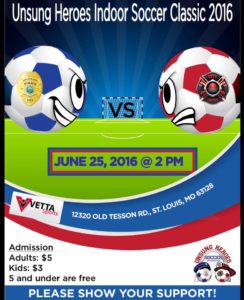 As always thank you for being the best fans in the world and also for your continued generosity.