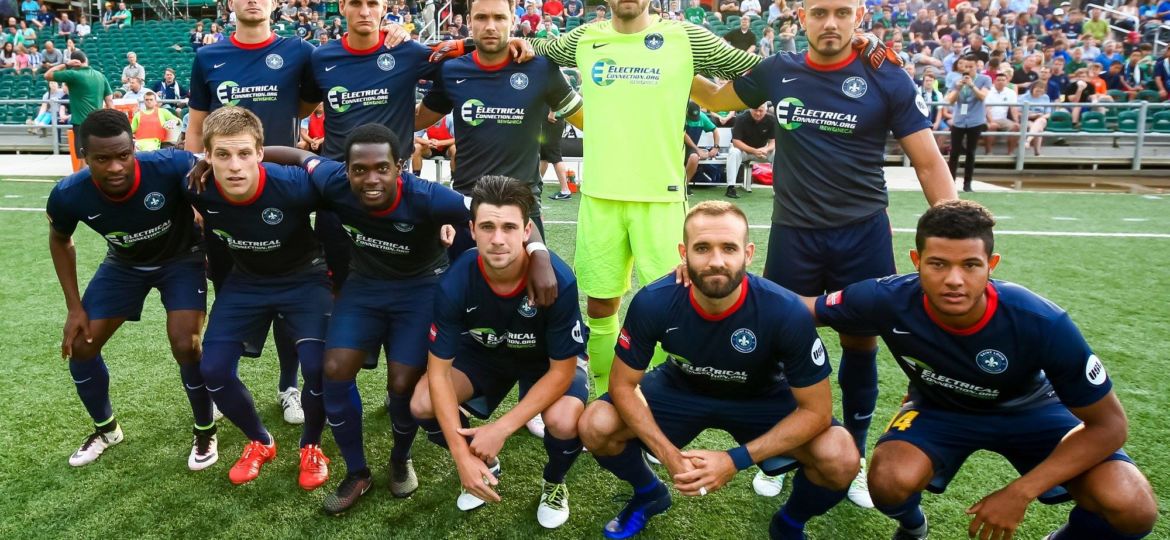 If you'd have told me, back in March, that I'd be writing the season review when other teams are still playing I'd have looked at you funny. That is just how much confidence I had in this squad. It's not bluster either, just ask Karrakers, Limestall, McCue, Corbitt and the other waifs and strays who travelled to southern Indiana for our preseason game against Indy Eleven. We were excited. Herrera scored, Chad Bond and Tyler David ran the midfield and Cochran looks solid in the back. Hardware and Dixon terrorized them down the right hand side and it looked like we had the makings of a very good fluid team.
Driving back with Mike and Derek we were all in agreement: it was going to be a much improved season.
I drove to Itap for the first game of the season full of confidence and excitement until Brad took me aside. "Team has come out. Herrera pulled something and isn't in the eleven." I was stunned. After a 2015 full of injury woe, this wasn't how it was supposed to be.
The day was a massive letdown. Omar Holness collapsed which suspended play a long while and it seemed to disrupt our rhythm. We were playing pretty well all things considered, until the last minute. We conceded a late winner. Sloppy play and the inability to see a game out would become a bane of our season.
The next game we travelled to Southern California where Jack McBean ripped us to shreds and we lost 3-0 to Los Dos. Two games in and we were in deep trouble.
Next on the docket was Western Conference regular season champions in the form of Orange County Blues. Ryan Thompson came in at goal, Drew Conner started in midfield and we looked lost for the first 25 minutes or so and went a goal down in what looked like a continuation of the LA2 game. Eight minutes their lead lasted. We got a free kick, a good 35 yards from goal. Patrick Doody and James Musa stood over the ball. In my mind I am thinking "Doody is going to float this to the back post in another trademark freekick of his we've seen so many of. WTF is Musa doing standing over the ball? I mean get in the box James…. Don't even think about hittin…. OMG Musa you fucking beauty." The game was far from won however. Blues got a penalty in the second half, but you just knew somehow that Thompson would stand tall and he duly did making a good save. Despite Ryan going off a few minutes later and Pais having to replace him, the momentum had swung and there was only ever going to be one winner. Hardware missed a great chance with about 10 minutes to go but it was Vince Cicciarelli who announced his arrival with two goals in the final five minutes to steal our first points of the season.
James "Pirlo" Musa dined out on the strength of that goal for weeks…..
It is a long way to Oklahoma City. I didn't go on the bus…. thankfully. I can't imagine the trip on the bus. Everyone who got off that bus trudged to the tailgate area like a bedraggled refugee. Again, we played well in a hurricane. After going a goal down early we bounced back when Vince once again got on the end of a superb Chad Bond corner and Doody scored from a free kick that either got a slight touch from Sam Fink or Fink bamboozled the keeper into thinking he would get on the end of it and it harmlessly bounced in. We were leading 2-1 but had the wind in our face going into the second half. That aside, we more than held our own and could have gone further ahead if some decisions had gone Cicciarelli's way. He was proving more than a handful and we looked to offer a serious threat up front aside from the addition of Herrera. It was a wonder goal, that equalized for Energy. A wind assisted curling beauty of a shot that knuckled its way past Pais by Coy Craft, it took a point for Energy in what turned out to be a 2-2 draw. Still not bad against an always tough Energy side.
First home game was Tulsa. It's fair to say the Roughnecks are awful. That would be born out in the season and the 0-0 was a disappointment. Herrera should have scored two goals in the first ten minutes but as much as we huffed and puffed we couldn't get past their parked bus.
Sacramento away at Bonney was our fifth away game in six. They hammered us. With Patrick McLain in net for us against his old team he was peppered as Republic took us to the woodshed. Thankfully they didn't breach us as we defended for our lives. Ambersley ran down the right after being set free from Herrera and his shot deflected of Kiffe and we won 1-0 in a consummate away game. I went to bed laughing my head off tucking 3 points under my pillow.
Swope Park Rangers came to town, and left having been embarrassed in what may have been the best game we played all season at home. Three new players got on the score sheet as Tshuma opened the scoring after 10 minutes and we were rolling. Confidence was surging from our 8 points in the last 12 and the crowd knew we were invincible this night. Chad Bond scored a great free kick on 40 minutes with Herrera breaking his seal and treating section 8 to his trademark somersault for the first time to cap off a perfect game.
We were 3rd in the league, looking good.
We beat NPSL champions elect AFC Cleveland 2-0 in Open Cup in front of approximately 12 people. Taka played well running the center in a match that was tailor made for him. The highlight for me was Jordan Roberts scoring his first goal for the club, a clever run down the left cutting inside for a neat finish in the corner. With Tshuma, Herrera, Cicciarelli and Roberts now scoring things were looking up.
Louisville away. It wasn't great. Lost 2-0 in a game we didn't deserve to get much from, but neither did they. Davis scored a neat goal to give them the lead and a bullshit penalty in the last minute gave them an unassailable lead in the Kings Cup to send the 4000 announced 7500 crowd home happy. Thanks for putting away fans smack behind a foul pole too. Wankers.
Tulsa, as I have said many times, is the best away trip in USL. Our team stays in a hotel 4 blocks away and it is a lovely walk through a nice district with bars and restaurants to Oneok field. The beer is cold, you can congregate close to the tunnel the lads come out to warm up at, it is just a nice time. Especially when Irvin Herrera scores 4 goals as we batter them 5-2. It's odd though. Tulsa had Davoren sent off early in the game when we were 1-0 up and we conceded two quick goals to go in at halftime 2-1 down. (Hence me being pissed off on Youtube flipping the bird) and I drove home the next day more angry at the sloppy play conceding the two goals than I was at us winning the game 5-2.
In a rearranged game after the washout, Whitecaps 2 came to town riding high top of the league. They took the lead in the first half and looked ok, then again so did we. In the second half however we played our best 45 minutes of football I have ever seen us play. Hardware equalized in the 63rd minute and frankly there was only ever going to be one winner. We pummeled them just couldn't find a second. Still, all was going well at this point and again we proved we could compete with the best in the league. There were still no alarm bells ringing for what was about to come.
The home game against Rio Grand Valley was also 1-1. We didn't know it at the time, but RGV are a quality team, but because back then they were lower in the league than us, we felt it was 2 points dropped. That however wasn't the complete story.
Jordan Roberts battled to win a cross on the right byline and won the ball with his back to goal. He passed it back to Dixon halfway between the box and the halfway line. Dixon played a pass to Herrera just outside the 18 yard box. Irvin turned and pinged it first time in off the post. It was quite simply the best goal I have ever seen scored live. It was phenomenal. He was celebrating before it went in. We had ourselves a goalscorer.
[mom_video type="youtube" id="WXPAaSBa7CM"]
We blew the chance to host Sporting KC at our place when we lost to Minnesota United in the 3rd round of the US Open Cup. We never looked in it really. Indeed, USL Clubs floundered at this point in stark contrast to the year before.
It is disheartening, to travel the best part of 800 miles only to see the team give up a goal after three and a half minutes. That said, Colorado Springs is a good team. We knew that going in and I suppose that is what disappointed me most is that knowing that we'd have to be at our very best to get anything from the game and we were so flat. Steve Trittschuh has built himself a phenomenal team out there, no doubt aided by being 6000 foot above sea level as we looked gassed after 20 minutes. It's a strange phenomenon being at a game while everyone else is at Itap watching, they're all mad on Facebook and Twitter afterwards, we're on vacation and going out to the Ivy House for frosty brews afterwards sure does soften the blow. Colorado Springs is awesome though, Pikes Peak, Manitou Springs, seriously, go there. 
No matter what happens, We'll always have the 7-1 home demolition of Tulsa. Seth Rudolph made his league debut and scored within 4 minutes and the floodgates opened. Tulsa were bad, let's not kid ourselves, but we simply just sliced through them. Everyone scored who should: Vince, Jamiel, Jordan, Irvin and Seth times 2…. they were queuing up for goals. After 2 losses and 2 draws in the past 4 games Saint Louis FC were back on track. 
It is probably around here that I would say things started to go wrong. We're comfortably in the playoffs at this point, 4th or 5th maybe. Scoring goals and playing some really good football. We hold our own against the good teams in the league such as Sacramento, OC Blues, Vancouver and RGV. Smashed the crap out of poor Tulsa. Things are going well. I look at the schedule and see Arizona on next up. Easy peasy just give us the three points and we'll come back home. Well no. We hit the bar twice, once from a Chad Bond free kick and a Jamiel Hardware rocket. We play well in really stifling heat. "It is the hottest I have ever been in my life" said Jordan Roberts afterwards. and he only played 20 minutes. However the team used to it punish us. Just as the altitude for Switchbacks is their advantage, us not being able to cope in 110 degree desert is Arizona's advantage, and they make us pay. 
We came home and beat Portland Timbers 2. We got lucky on the penalty but we'll take it. 1-0 in a nothing game. 3 points though. 
We have an inverse correlation that says, the more people we have at an away game the less chance we have of winning it. It certainly rang true when we had as many fans as SPR for their game at the Swope Soccer Village. There were Saint Louis fans all over the place. In what should have been a party against a team we smacked 3-0 a few months ago turned into a bad night as we conceded early on a giveaway and couldn't pull one back. The game was played either side of monsoon like conditions. I shall be forever grateful to Dave Corbitt for driving home in some of the worst weather I have ever experienced on the roads. If you remember the rain took paint off Adam Burkard's car. It was a thoroughly miserable day.
Seattle Sounders 2. they were bottom of the league. Had been bad. They had put a bit of a run together before coming to soccer park just in time to play us. We tied, luckily. Fink scored in the 86th minute to rescue a point against one of the worst teams in the league. Hurrah.
Cincinnati at home… They came in and manhandled us. Omar Cummings did especially. Another game you'd like to think you stand a chance in yet we simply weren't at the races and were 2-0 down before clawing a Tshuma consolation at the end. Dissent for Dale Schilly is really loud now. Fans can see a summer slump akin to the previous season.
Tulsa away. Again….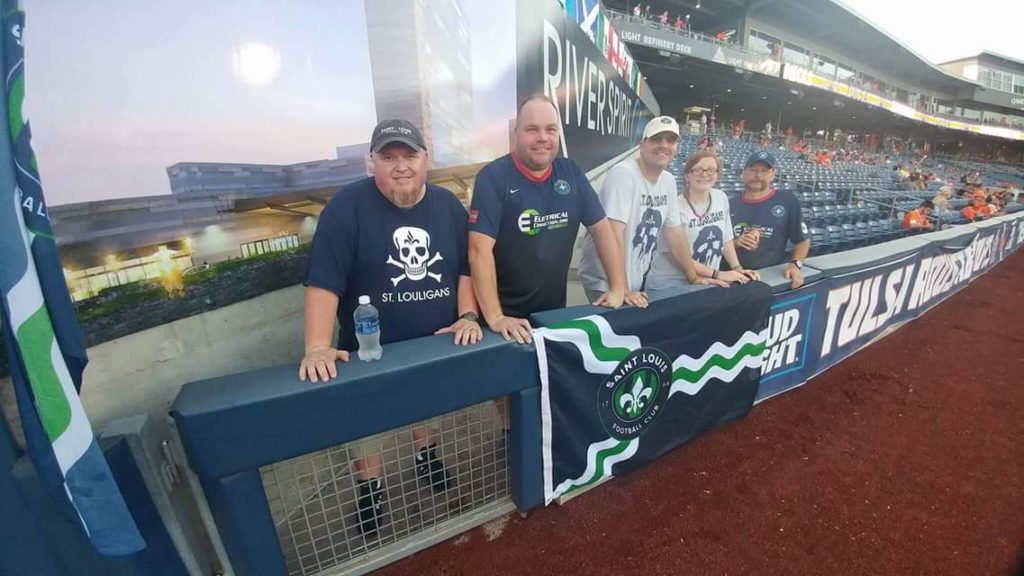 Drove down I-44 full of optimism and surely another hammering of the worst team in American soccer. Mike McCue, Dan Doke, Emily, Farko (sp?) all there to watch. Alongside half the front office of the team Dale tried to shake it up a bit. Fair play to him for doing so. Vince Cicciarelli got a start and missed from 2 yards out in the first half. Same old same old. Tulsa weren't the same team who we had seen in games past and we struggled to get anything going. In the second half, standing on the other side of the field, I distinctly remember watching a cross float over as either Pais or a defender cleared it to the top of the box and I could see it was going to drop perfectly for a first time volley. "We're in trouble here." I said to Mike….. and just like that we're down a goal. Worse was to come in the final minutes as Tulsa scored a second and won. It was probably their best result of the year. We went out drinking with the Roustabouts after the game. It was a good night and I welcome their hospitality. 3 points dropped none the less.
Another tough game in Colorado Springs at home. I honestly didn't expect much: if we can't beat Seattle, Tulsa and Arizona how bad is one of the leagues top teams going to spank us (again?) Surprisingly though, sea level must be a great equalizer. We out played them and deserved better than the 2-1 victory. We won the toughest game of the home setting us up nicely for the run in. Or at least that is what I thought at the time.
Water is wet, sun sets in the west, Saint Louis FC will draw against OKC Energy, 0-0. I am not one to moan about referees, honestly I am not. We should have had a penalty though. Roberts was cut down in the box while in on goal.
Swope Park at home, another slapstick goal given away by us as Cochran and Thompson get in a muddle and Diego Rubio steals in for the easiest goal he will ever score. Herrera nets a penalty and another draw. Dropping points is sliding us quickly down the table.
I give Sacramento fans a lot of (deserved I think) grief. I think they're entitled, however they traveled well to STL and I spoke to a few as you do and they were complimentary of what we have. Made me feel good to hear "You've a good thing going here" from someone who supports a team whom prides themselves on doing things the right way.
The nadir. Biggest game and biggest crowd of season sees us three down to Sacramento Republic within twenty minutes. We stop drumming for a bit, stop chanting. It's bad. It wasn't supposed to be like this. We salvage something towards respectability to come back to 4-3 but the damage is done. It was 4-1 and Republic were coasting and allowed us to score two after letting their foot off the gas.
Dale Schilly is released as coach the following Monday.
Tim Leonard's first game is away at Swope. For why it is played at CMP I am not sure, place felt like a cavernous empty bowl.
St Louisian Tommy Meyer fluffed a back pass with 10 minutes to go and Cicciarelli pounced. He hit the ball well into the bottom corner, it seemed to take an age to cross the line. We were jubilant. Probably the happiest 10 minutes I've had supporting this team. It couldn't last. Gardner will say I jinxed it as I jumped the gun on celebrating a little too much….. We conceded in the last minutes, again. Dropped points and more crushingly, we'd still never seen a win when we travel en masse. In a vacuum the game was good, and result was fair. However with our playoff chances now hanging by a thread it wasn't good enough. The home and away series against San Antonio were must wins.
Saint Louis FC 0-2 San Antonio – Fuck off.
OKC Energy, another draw. Like all before them, it was a good game and a fair result against two tough teams. Energy will be going to the playoffs though and us not. That is depressing when we have been their equal all season. Another goal for Tshuma, the guy quietly now putting in some performances he is healthy. Wish he had been fit all year.
We tried something different for the FC Cincinnati game. We tried to do a podcast during the game. It wasn't our best idea to be honest, mainly because the game was turgid. For 80 minutes we offered nothing and Cincy couldn't break us down. Okoli was having chance after chance but the pressure was on them somewhat to get the win too. We seemed so ponderous, especially in a game we needed to win. It was so frustrating, knowing we needed 3 points but looking like we were happy for a draw. A draw looked on the cards in a mental last 10 minutes though as Doody equalized. True to form however, in the final seconds we conceded a soft penalty (very soft) and we once again had failed to get anything. It was also the first game that I could have gone to that I decided not to. As Okoli slotted home the winning penalty it was a good decision. Did you know they get 18,000 at FC Cincinnati? I have to mention it, apparently you are not allowed to write about a soccer game in Cincy without mentioning the attendance.
It doesn't matter that the season has gone south, the playoff hopes lie in tatters, you still get off your feet and scream when Herrera scores a hat trick in San Antonio and we snag a really good win on the road. A great performance by the lads. Probably the first dagger in the hearts of San Antonio's hopes too. Fair play to the fans who went down there to watch. There really is nothing better than watching your team win in someone else backyard. 
Louisville beat us 5-1. I still suffer from PTSD.
We were driving back from a family outing into northern Missouri when the final game started against OKC. I was watching the stream and at kickoff we drove into the backwoods a bit and lost 4G. The stream buffered so I reload the game on YouTube. The game came back to them celebrating and us kicking off again. I just laughed, that perfectly sums up the season to be honest.
In conclusion, you'll notice that the season review is front loaded. Thanks to Ryan Glass for telling me that we got 22 of our 34 points in the first half of the season. To only get 12 points in the same time frame is not going to get you in the playoffs. It was especially disappointing considering this was the second season we suffered a summer slump.
I thought we did better against teams who were playoff bound, yet we only won 1 point per game against playoff bound teams with 20 points in 20 games. We attained 1.4 points per game against fellow basement dwellers (14 in 10 games). Still our inability to achieve maximum points against the teams around us, Tulsa and dropping a big three points to Arizona proved costly.
Playing wise, the biggest stat that stood out to me, was that Mitch Lurie had twice as many playing minutes as Vince Cicciarelli. With his 5 goals it seems crazy that our second most proficient goal threat only played 550 minutes (compared to Roberts and Tshuma at just over 900 each but 4 goals a piece.)
Cicciarelli averaged a goal a game statistically.
Barklage only played the equivalence to 10 games all year. These were heavily laden to the front of the schedule and similarly to last year it appears he was sorely missed.
For next season it is obvious to me that whoever the new coach is that he will have his work cut out for him. This is a big offseason for the team. The decisions being made will sculpt the future two to three years going forward. Maybe upto 2020 when there is every possiblity of joining Major League Soccer.
Whilst the end of the season left me with a sense of blah, it is still the best value for entertainment dollar in St Louis sports. The summers spent supporting this team, our team, is everything it should be and then some. Let's get some rest as I feel 2017 will be bigger and better.
Thanks to everyone, tailgate crew, drummers capos, beer fetchers, people who have made me roar with laughter, people who console after losses. Most of all people who understand that supporting this team is a massive part of life now, we endure the highs and lows with the results together. Thanks to Mark Guthrel (@Guthrelphoto) for the feature photo of the team, also Will Bramlett and Jason Patrylo who have contributed photographs for the article.