This article comes to us from Mario Camere. Lots of you know Mario and miss him since his move to Philadelphia, but the trade for Nick Bibbs worked out well for us.
The United States: A Soccer Nation
Had you told me last year during the 2014 FIFA Men's World Cup that so many people in the United States would be following the USWNT, I likely would have laughed at you. Don't get me wrong, I love the USWNT but it would not have seemed realistic that so many would follow a tournament that has been so poorly advertised and has aired mostly on Fox Sports 1.
While the United States' participation in World Cups always garners increased viewership from casual fans across the United States, things are changing. Laugh all you want football, baseball, and basketball fans, the United States is now a soccer nation.
Do not believe me? Look at this chart of Nielsen's social media TV measurements:
As you can see, from June 22 to June 28, the Nielsen Twitter TV Ratings featured six soccer matches in the top 10. SIX! Unsurprisingly, the USWNT took the top two spots with its matches against Colombia and China, respectively. The USWNT's match against Colombia ranked first despite its airing on the Fox Sports 1 network! More impressive was the USWNT's match against Germany which drew both higher Nielsen Twitter ratings and a record-breaking 8.4 million average viewers! (Source).
For the final on Sunday against Japan, an estimated 25 million television viewers in the USA tuned into the game. Kansas City and Saint Louis held the biggest viewing numbers of national metro areas. For the US games and the 52 game tournament overall, Saint Louis had the highest viewership of the nation.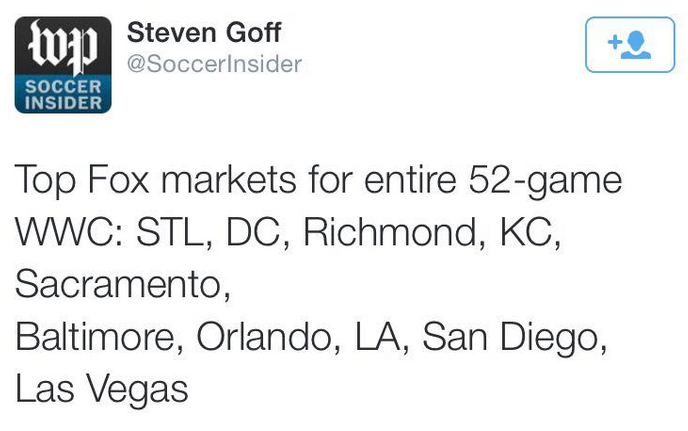 Americans are also watching more and more soccer outside of the World Cup. The 2015 Champions League Final, which saw Barcelona beat Juventus to be titled Champions of Europe, drew an average of 3.6 million viewers. (Source) Americans' interest in the Premier League continues to increase thanks to NBC's acquisition of
the EPL's television broadcast rights and their decision to broadcast every Premier League Game across their television, internet, and mobile platforms. Even so, fans continue to pack soccer pubs at the weekend in order to catch their favorite teams with local supporters groups. International clubs continue to make their way to the United States for big-time summertime exhibition matches. (USA Today Manchester United v Real Madrid Ann Arbor MI)
Domestic soccer has also had its increases. 2014 saw the MLS break attendance records (MLS attendance). Even in the USL, a lower division of the United States soccer hierarchy, more and more fans have made their way to catch their local clubs (USL Soccer). If one is unable to attend, he or she can now stream every match live and in HD on YouTube.
Yes, viewership is one factor of the United States' transformation to a soccer nation. Still, soccer has experienced growth in participation, especially at the youth level. US Youth Soccer reports that it witnessed a 9 percent participation increase in 2014 alone. (Youth Soccer numbers). Soccer is the largest growing sports league in the United States.
The United States has become a soccer nation. Are there still other sports that are more popular than soccer? Yes. However, there is no denying the tremendous growth the Beautiful Game has had in United States.
Hoards of fans flocked to bars and to watch parties on July 5 and witnessed the US Women and Carli Lloyd demolish Japan to win their third star. They will flock to stadiums across the country this July for the 2015 Gold Cup which will also feature the United States Men's National Team. They will invade stadiums throughout the country to watch international clubs such as Chelsea, Barcelona, and Manchester United play the 2015 summer installment of the Guinness International Champions Cup. At the same time, fans will continue to attend MLS, USL, and non-league soccer matches. Countless soccer lovers will continue to play in organized leagues, rec-leagues, and pick-up games across the country.
However you look at it, there is no denying that the United States is now a soccer nation. "I believe" Beautiful Game is here to stay. You can join in the fun every game at Worldwide Technology Soccer Park in Fenton when Saint Louis FC play. Whether you are holding out for MLS, or just looking to hang out with friends at a game, this club is going places alongside the games popularity nationwide, join us.