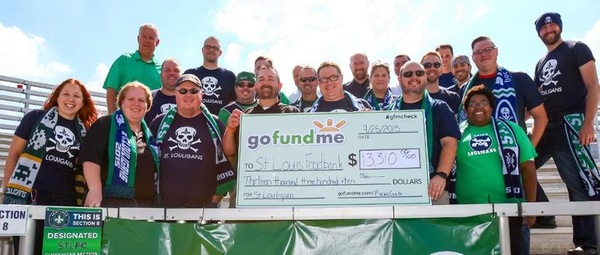 The St. Louligans have always been a charitable bunch. But that generous nature really kicked into high gear during 2015, the inaugural season of Saint Louis FC. We recognized that our membership and platform got much bigger once we were supporting a professional team. We also understood that with that platform we owed it to ourselves and our community to find a way to give back. In 2015 we focused on a charity we'd worked with before in the St. Louis Area Foodbank. We had an all out fundraiser lasting several weeks to compete with the Louisville Coopers (SG for Louisville City FC). We ended up donating $13,310 to combat hunger in the city of St. Louis. In 2016 we divided our charitable efforts among several local and national groups with our Charity Du Jour program. We basically set out a jar at some home games and did raffles and special merch sales to raise money. At the end of 2016 we donated a total of $10,271.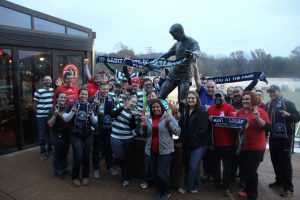 For 2017 we've expanded Charity Du Jour. We've done it at every home game this season so far and will continue to do so. So far, season to date we've raised $7,789. We've also received a pledge from Jim Kavanaugh (CEO of STLFC & World Wide Technology) & Tom Strunk (CFO of STLFC & World Wide Techology) to donate an additional $10,000 on top of whatever we collect this season to be split equally among all the charities we've selected this season. By the end of this season we will have contributed over $40,000 to the causes we've selected. Some call Supporters Groups unnecessary or divisive- but when done right they can make a difference, not just to the team on the field- but to their community at large. We take that challenge seriously and do our best to be a good example to other fans. We aren't alone in this, a lot of groups do great things throughout the world and we're happy to add our efforts to theirs.
When our 2017 season started, a part of our efforts were focused on helping our club and their bid for MLS.  A part of Jim Kavanaugh's plan for the city included a Community Benefits Agreement. Included in that was a commitment to work with 6 St. Louis charities. Boys and Girls Clubs of Greater St. Louis, The Mathews-Dickey Boys & Girls Clubs, Demetrious Johnson Charitable Foundation, The Little Bit Foundation, Urban League of Metropolitan St. Louis, New Dimensions Soccer Corporation. Sadly, it seems our hopes for MLS coming to St. Louis have stalled and may be dead. Never the less, we have committed to doing our little part for those charities. (And we know STLFC & World Wide Technology will also keep working with them too.) We have 5 more home games and the watch party for the last game of the year. That's 6 dates for 6 Charity Du Jour collections for 6 important charities.
If you'd like to help us raise money for some great local causes, swing by any St. Louligan home game tailgate party and throw a few bucks into our collection jar or join us at the final watch party of the regular season at iTap Soulard for Kegs For A Cause.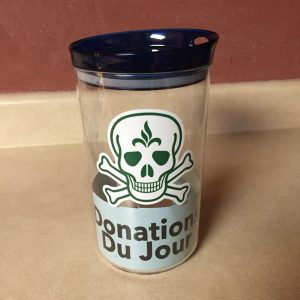 Here's the schedule for our Charity Du Jours for the rest of the season. Get tickets for the home games here. We hope you'll join us for all of them. Have fun and make a difference in our community. Cheers.
Wednesday August 8th, STLFC vs Tulsa Roughnecks
Saturday September 9th, STLFC vs Harrisburgh City Islanders
Saturday September 16th, STLFC vs Orlando City B
Saturday September 23rd, STLFC vs FC Cincinnati
Saturday October 10th, STLFC vs Richmond Kickers
Sunda October 15th, STLFC at Bethlehem Steel (Watch Party at iTap Soulard)